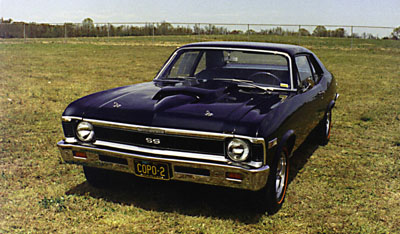 1968 was the last year for the Chevy-2. It was a time of change as the body design was dramatically changed from the popular design of the earlier models.When this new body was first introduced, the 350 was the largest available engine. In the later part of the year, the 396 was introduced. Two versions of the Big Block power plant were available. The first version was a 396 rated at 350 Horsepower (L-34.) The other version was a 396 rated at 375 Horsepower (L-78.) A breakdown of the total 1968 Nova's built with these engines is 234 (L-34's) and 667 (L-78's.)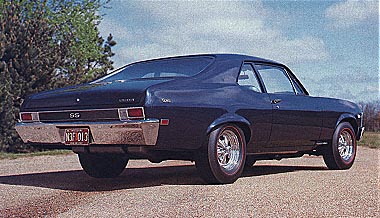 In a letter from General Motors Division signed by P.G Prior and sent to the National Hot Rod Association on May 14, 1968, notification was given that the 50th L-78 Nova had been built on April 23, 1968. The reason for this letter was that before NHRA would recognize the car as stock production to set up a class, a requirement of a minimum of 50 units were to be built and available to the general public.
Fred Gibb, a successful drag racer and high performance enthusiast, would come into view at this point. He owned and operated Fred Gibb Chevrolet in the small town of LaHarpe, IL for 36 years. His interest grew in the high performance Chevrolet's. As he became more and more involved, he became associated with Vince Piggins. (Chevrolet's Performance Engineer) This relationship would evolve into 2 different batches of COPO cars. Each order was for an initial order of 50 units. The Novas were the first, while the more well known ZL-1 Camaros were the second.
Fred realized Chevrolet was doing a good job in NHRA drag racing, holding it's own in the competition against both Ford and Chrysler with the stick shift classes, but only Ford and Chrysler were the main competition in the automatic classes. With this in mind, Fred and Vince together researched an idea into a reality. Thus, the COPO Nova was born!
The car chosen for this project was the newly introduced L-78 Nova. The transmission would be a completely re-designed Turbohydramatric 400 for competition purposes. In getting this Nova built, a special COPO number would have to be used to get a final approval for this special order of cars. Since 50 cars had to be built for NHRA to recognize them as stock production, Fred ordered 50 of these cars for his dealership in LaHarpe. The special COPO number given these cars was 9738.
These 50 cars were built for Gibb in the first 2 weeks of July 1968. [Date Codes: 07A and 07B] Delivery was made on all 50 units by July 15, 1968 according to another letter written on July 24 by General Motors Division and signed by P.G. Prior. This letter was sent to NHRA informing them that 50 Nova's were now built and delivered to Fred Gibb Chevrolet. A note at the bottom of the letter states "These Cars Were Made To Race." They carried a 90-day warranty!!
The specifications on these cars were all the same except, there were 4 exterior colors; Tripoli Turquoise, Matador Red, Grecian Green, and Fathom Blue. They had custom interiors with bucket seats, a center console and floor shift, in either black or blue. Other features on these cars are heavy-duty 2:70 radiators, special front and rear suspension with a 4:10 Positraction, dual exhausts, painted 14 X 6 steel wheels with E-70 Firestone Wide Oval Redlines, heavy-duty power drum brakes, and were radio delete.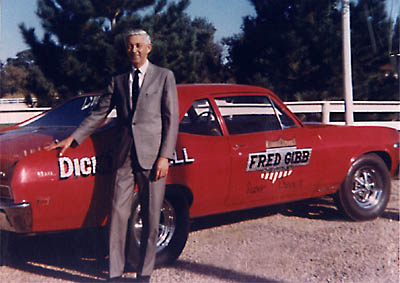 Gibb kept 1 of these cars for himself to race. He began advertising these cars and sold several through his dealership, however, Dick Harrell would get some of these Novas for upgrades and 427 conversions, to be sold through the network of Chevrolet Dealers he had established. This is how some of these Gibb COPO cars wound up being Harrell built COPO Novas.
Dick Harrell, known as " MR CHEVROLET" around the drag strips throughout the USA and Canada, was a devoted and staunch Chevrolet man even when the odds were against him. A person who was noted for his quick reflexes as a driver, and who did quite well in establishing himself as one to be contended with. In 1969, He won the AHRA Driver of the Year Award for his abilities in driving a blown fuel funny car.

Dick Harrell

As Harrell became well known with his abilities to make Chevrolets compete and win, Nickey Chevrolet of Chicago hired Harrell to develop the 427 Camaro. After being successful in doing this, another well known Chevrolet Dealer hired his services. This was Don Yenko, of Yenko Chevrolet of Canonsburg, PA. Dick helped engineer the 427 conversions for both Nickey & Yenko. In 1968, Harrell would move to Kansas City, MO, where he would set up his own network of Chevrolet Dealers. He would then become closely tied with another Chevrolet Dealer, Fred Gibb.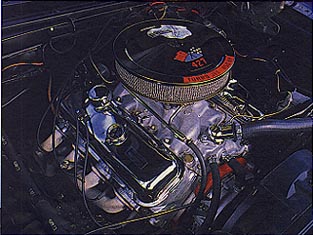 The Chevrolet Dealer Network he established in the state of CA included the Courtesy Chevrolet dealers of Los Angeles, San Diego, San Jose, and Thousand Oaks. Another CA Dealer was Crawford Chevrolet of Ventura, CA. Locations of others were Burt Chevrolet of Englewood, CO, Riley Chevrolet of Jefferson City, MO, Bill Allen Chevrolet of Kansas City, MO, Fred Gibb Chevrolet of LaHarpe, IL, and Courtesy Chevrolet of Phoenix, AZ.
I would like the help of the Nova owners reading this in trying to locate additional 1968 SS Nova's that would have been built the first 2 weeks (07A or 07B) of July, 1968. These would be the 50 Central Office Production Order (COPO) cars that were built for Fred Gibb Chevrolet whose location was LaHarpe, IL. These cars originally came with the 396-375 (L-78) engine with an automatic transmission. Some of these cars were sold through certain authorized Chevrolet Dealers in the state of CA as Dick Harrell Conversions. Any help on location or documentation would be greatly appreciated!
Since several of the Dealer Networks Harrell established are located in CA, some of these Novas may well be in the area. 2 have already been located in CA. There may be others. Any 68 SS Nova with an L-78 or 427 engine and a 3 speed Turbo, built the first 2 weeks of July 1968, would be a candidate for one of these cars. Some of the Harrell conversions had A&A Fiberglass hoods with a Corvette type stinger. Others would have Crager SS wheels, headers, etc. Even with the modifications on these invoiced as new cars, Chevrolet would still do the original agreed warranty and these cars could be financed through GMAC. Any information on these cars or information from anyone concerning facts about these cars would be greatly appreciated.
A National Nostalgic Nova Member
Ray Morrison