Loren Davis (your host here at Rams Central)
Then
| | |
| --- | --- |
| | |
| 1972 Vikings MC Hare and Hound (1970 Bultaco Pursang) | Hopetown Grand Prix 1974 (1973 Honda Elsinore) |
Now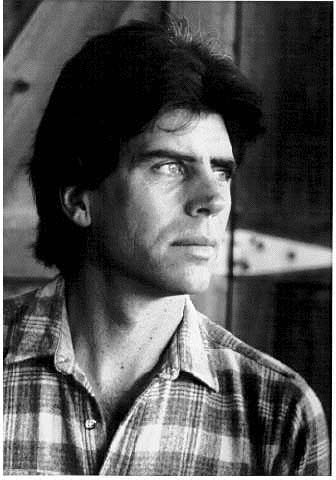 AHRMA/AMA National Vintage MX - Sears Point 4/29/01











And thanks to Ken Newton for digging around and finding me the Rams jersey. I'm wearing it in all the races.

The Elsinore restoration is complete and I'm back at the races. (I've got about 5 grand into this puppy now.) Additions include a set of reeds, porting, custom pipe and a whole bunch of mods to the frame and suspension system. This scoot now has a great power band and a lots of extra ponies. One of the tricker Elsinores on the vintage scene. Almost like a modern bike. This bike helped me take the Pacific Northwest 50+ Intermediate Championship for the 2003 season.

Racing and wrenching 30 year old bikes is a kick in the arse.

Vintage MX is bikes 1974 and older. If any of you get the hankerin to get back into it drop me a line. And check out the American Historic Racing Motorcycle Association (AHRMA). Lot's of old legends such as Dick Mann, Brad Lackey, and Jim Pomeroy just to name a few.



AHRMA National - Phoenix, AZ Feb 2002
In late 2004 at the age of 53 I was hired as a firefighter by the State of California. Beat out a bunch of 20 and 30 year olds. How cool is that!

Sept. 2005, I was hired as a part time fire and EMS instructor by the Sonoma County Department of Emergency Services.

And in July 2008 I took over as Fire Chief of the Mountain Volunteer Fire Department. A really great group of folks and a big challenge and responsibility. I'm enjoying every minute of it!


I'm also a certified fire instructor with the California Office of the State Fire Marshall and recently became an instructor at the Santa Rosa Junior College Fire Academy. I love teaching.
Here I am getting checked out in my buddy Dusty's LancAir 320. (I'm a long time pilot.) Hot little aircraft. Gotta keep waaaay ahead of it. Sorta like a Pursang with wings. Before Dusty modified the horizontal stabilizer it had a tendency to porpoise at the slightest provocation. Much like an old Kawasaki 238 Greenstreak. (A 6 foot piece of sewer pipe with a jet engine.)

Update - I now own this little hot rod. Lez see.... the toy count now stands at one truck, two boats, couple old scoots, and an incredibly fast bird.

Later Update - Sold it.
And I play a lot of hoops. Been the manager/player on a team named The Flying Pigs for about eight years now. Well, about as good as a bunch of 40 year olds can get anyway. You know, bailing off a scoot into a rock patch at 60+mph when you're a teenager is a lot less stressing than bodies banging into each other under the bucket when you're pushing 50.
In the 2000-2001 season we went undefeated. First time it's been done in league history as far as anyone can remember.
back row left to right - Chris, Adam, John, Tim, yours truly, Mike, Chuck
front row - Ken and Joey
So what have I been doing since I left desert racing back in the mid 70's you ask? Here's a few highlights.
First off... I moved out of the L.A. area and up to Sonoma County in Northern California back in 1975 and haven't looked back. I much prefer blue skies to the junk floating around So Cal. I live on 10 acres in the hills above Kenwood in the Valley of the Moon. If you're a fan of Jack London you might know the area. Even have my own private bass pond right off my front porch. Downside up here is the cold wet winters and the cold ocean waters. Miss surfing and swimming in the ocean and even with a custom wet suit it's just to dang uncomfortable. Oh yeah... there's no desert either. -major bummer-
Was a cetologist (whale scientist) for several years. Studied Orcas up along the San Juan Islands for a bit. Then boogied my rear to warmer climes and set down in Hawaii for a of couple years.
While partaking of the sun and sand and Trade Winds and the occasional wahine and working my butt off as a Grad student I was a researcher at the University of Hawaii, Kewalo Basin Marine Mammal Laboratory. There I helped train the worlds first talking dolphins. (Photo coming.) I also spent much of my time studying humpback whales around Maui, Lanai, and Molokai. Seemed to spend half my day underwater photographing the big lugs. (More photos coming.) The work I was involved with was published in different scientific journals and presented at international scientific meetings and the IWC. (But no... I am not one of them tree hugging enviros... may they suffer the same harm they cause others with their tree spiking and "monkey wrenching" and other acts of terrorism.) Also flew Search and Rescue with the Civil Air Patrol (USAF Auxiliary).
Then when Rock Fever, as in... get me off this freakin hunk o'rock.... overtook me I moved back to Sonoma County and became involved in the wine business. Co-founded a small winery in Healdsburg named Osprey Vineyards. Most we ever made in one year was 1500 cases. Our Chardonnay and Zinfandel was absolutely great! Won several awards. We used Bob Young Vineyards and Belle Terre Vineyards grapes for the Chardonnay and Teledeschi Vineyards for the Zin. Our one attempt at Fume Blanc tanked. Bummer.....
After that I got more and more involved with computers. (I had learned to program back at the dolphin lab by plopping myself down in front of a mainframe terminal with a book and just hacking away at it.)
I also worked for CNN running weekly programs on International Relations through their forum on AOL. (But that's behind me and now I can go back to referring to Ted's wife as "Hanoi Jane". Gawd I hate that woman.)
Been working on a screenplay that takes place during the Spanish Civil War. One of these years I might actually finish the blasted thing and then try to peddle it back down in Hollywood. (Almost finished...)
And there have been a few other adventures that I can't talk about in public. Musta been something I signed years ago. ;>
Now having said all this and outlining what has been a most interesting life over the part 35+ years I will say that nothing... absolutely nothing.... has every matched my years of desert racing. Several of my good friends I met on bikes. In fact I met my best friend after the two of us battled it out over 70 miles for first place in the Masterlinks Hare & Hound back in '71. I also met my ex while I was laying on the ground pucking my guts out under a buddies truck at the finish line of the '72 Barstow-to-Vegas race. (I had been running between 15th and 19th overall until I got real sick about 20 miles from the finish line.) She said hi, I hurled... seven months later we were engaged. Fond fond memories. (Well ex-fiancÚ actually but since all my friends have real ex's and I've never been married I guess she's the closest to qualifying for that dubious distinction.)
Here's a picture of me and my best friend and desert hot-shot Darell Brassfield (Shamrocks M/C) and his daughter Rebecca. I was down south near Ventura as part of a Strike Team on the Day Fire in Sept. 2006 and Darell and Rebecca were able to come over to our staging area and visit for about an hour.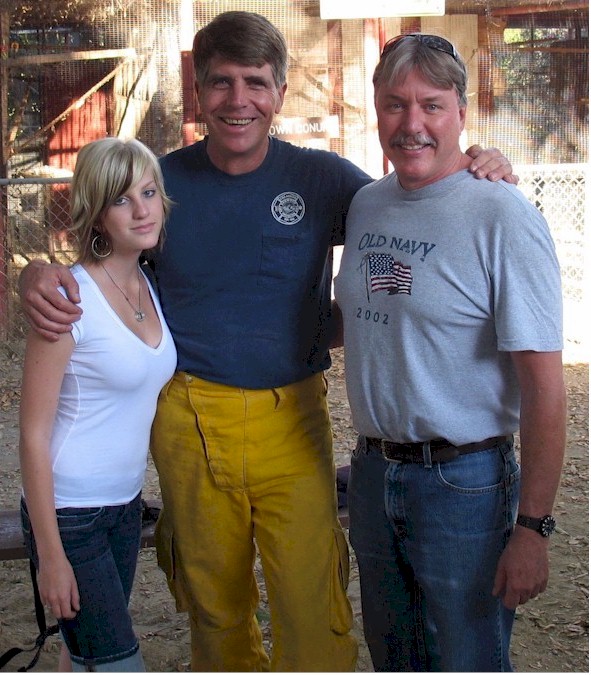 It's not the trophy's on the wall but the friendships one makes that are important.
---
And of course everyone has to list their favorite websites:

Astronomy Picture Of The Day
California State Firefighters Association
Central Intelligence Agency
CNN
DD Poker - an excellent Texas Hold Em poker program. Great human-computer play as well as live on-line play without real money involved.
Darwin Awards - dedicated to those who most creatively remove their genes from the pool.
Dave English's Aviation Quotes
Dilbert Zone
Discovery Channel
Firehouse Magazine
U.S. Air Force Flight Test Center - Edwards AFB (my hometown - dad was a test pilot)
Kaz Winery and Vineyards (a neighbor and fellow So Cal expatriate - he stole my theme music too.)
Libertarian Philosophy (I'm still a Republican but adhere philosophically more towards the Libertarians.)
Mountain Volunteer Fire Department (I serve as the Fire Chief)
NASA
Sig Arms (my firearm of choice)
Sonoma County Fire and Emergency Services Department
Strategic Foreign Intelligence
Terrorism Research Center
Vintage Elsinores (great site for vintage Honda Elsinores)
WhaleNet

Downloads
DuckJob (err... ahh... better not play this around the kidlets)
9 Coronas (for the insensitive lout in all of us.)