Dragonfly Society of the Americas 2003 Post Trip
Owens Valley, SE California
Leaders: Andy Rehn & Dennis Paulson
---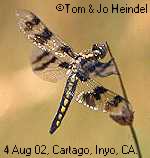 female, Desert Whitetail Libellula subornata, denizen of the Owens Valley
---
The group left Williams on Sunday morning, June 22 to begin the post- trip. It took at least 6 hours to get down there, heading down Hwy. 395 (the main route through the valley). Andy gave folks a map of where we were going and places to collect along the way (Sierra marshes, Mono Basin, etc). That way people could do whatever they wanted on the way there, and we all meet in Bishop that evening. Kathy Biggs provided a CA Checklist by county so folks supossedly could look for new county records if they were interested. But alas, the document was flawed - it had the damselflies on both sides and no dragons - SORRY!
On June 23 and 24 we were in the Owens Valley, and on June 25 we all headed our separate ways.
Click here to read about what was seen and where on the post trip (from that site, then, do a 'find' or 'search' for the date "June 22-25, 2003")
---
These are the folks that were still in the Owens Valley the last nite (June 25th). Many folks were already on the road heading East at this point.