* Esperanza Spalding -- "If That's True" [excerpt] -- Esperanza (Heads Up International, 2008)
* Esperanza Spalding -- "She Got To You" [excerpt] -- Esperanza (Heads Up International, 2008)
Good stuff, but not my cup of tea; I played it because she's doing a CD release concert at Yoshi's Oakland next week.

Spalding is a very talented bassist and vocalist with a mature sound for being just 23 years old. Her debut album, while being very mainstream, caught my ear for its Latin licks and some tricky, playful bass playing on a couple of tracks. Those influences aren't absent here, but they're downplayed in favor of contemporary vocal tracks heavy on piano, for a candlelight cocktail-jazz feel. Songs and lyrics take center stage. I liked the wordless vocal pieces the best, and "If That's True," an instrumental with sax and trumpet solos, is a particular highlight.

This is no Norah Jones "crossover" experiment. The songs are all clearly jazz, just a staid and comforting type of jazz. That said, there's variety on here. The opening "Ponta de Areia" features some funk ideas and retro-girly "ahhhh" vocals. "Precious" introduced some R&B mellowness, and "Sambe Em Prelude" is a duet with Spanish guitar. The CD is likely to get some play on smooth jazz stations although there's nothing "smooth" or electronic about it -- and for that last part, I'm deeply grateful.

By the way -- I played two tracks because after talking up that non-Norah Jones argument on the air, I launched what happens to be an instrumental.
* Fredrik Ljungkvist and Yun Kan 5 -- "Altro?" -- Badaling (Caprice, 2008)
---
* Nik Bartsch and Ronin -- "Modul 39_8" -- Holon (ECM, 2008)
Colin Stetson -- "And It Fought To Escape" -- New History Warfare: Volume 1 (Aagoo, 2008)
---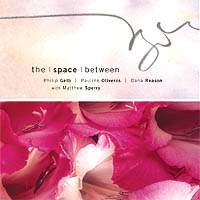 The Space Between -- "Stacia" -- Stacia (482 Music, 2004)
The Space Between is a sublime improvising group consisting of Philip Gelb (shakuhachi, the Japanese wooden flute), Pauline Oliveros (accordion), and Dana Reason (piano), often with an added guest. In this case, it was the late Matthew Sperry, the bassist whose memory was being celebrated this week with a Memorial Festival.

I'd forgotten about this CD, which consists of two long pieces named after Sperry's wife and daughter. It was released posthumously as a farewell letter -- hence the soft floral cover. It's a touching tribute.
? Carla Kihlstedt and Satoko Fujii -- "Remainder of One, Reminder of Two" [excerpt] -- Minamo (