<!: comments would go here --> Friday, June 27th, 2008 ... 3:00 p.m. - 6:00 p.m. ... KZSU, 90.1 FM
Early in my explorations of avant-jazz, I got pointed toward Bobby Previte. A kindred soul told me how much he loved the Weather Clear, Track Fast album on Enja; I picked up a copy and was hooked. Previte's sound leans mainstream, but the album showed off a creative composing style, rich jazz delivings, and an awareness of free jazz.
Later, I'd discover Previte's more avant-garde/improv leanings, too, including the two CDs on his own Depth of Field label, both of which feature John Zorn. (Previte's discontinued the label. I recall seeing him quoted that it was just too much work, and I sympathize.)
Previte's since run through multiple bands touching on slightly twisted versions of surf music ("Latin for Travelers"), power-pumped anthem rock ("Coalition of the Willing"), and even funky stuff that veers a little too close to smooth jazz ("Bump").
The New Bump goes for a silky, dark sound, with driven jazz tracks cloaked in a film-noir kind of knowing cool. Bill Ware on vibraphone is responsible for much of the overall sound.
The title track opens things up at a slow pace, but a more aggressive yet breezy sound shows up on tracks like "I'm On To Her" or "Drive South, Along the Canyon," with gentle horn lines conjured up from Blue Note, c.1968. It's a rich, atmospheric session.
The lineup, by the way, is amazing: Ellery Eskelin (sax), Steven Bernstein (trumpet), Brad Jones (bass), Jim Pugliese (percussion), and Previte on drums.
As for today's radio show, things got disjoint in a hurry, as I kept finding pop/rock/other track I wanted to stuff into there. Every week, I walk away wishing I could have played a few more tracks.

Format:
ARTIST -- "TRACK TITLE" -- ALBUM TITLE (LABEL, YEAR)
Horizontal lines denote microphone breaks.
---
* Bennie Maupin Quartet -- "Ours Again" -- Early Reflections (Cryptogramophone, 2008)
A mellow kind of post-bop, with sparkly piano reminiscent of a nighttime Vince Guaraldi. Maupin conributes airy lines on sax and bass clarinet. Tracks like "The Jewel in the Lotus" get into some club-jazz ferocity with a velvet sheen; there's a nice intensity to Maupin's soprano sax solo there. Fairly straightforward session overall with a nice sound.
---
* Fredereik Ljungkvist & Yun Kan 5 -- "Oslo" -- Badaling (Caprice, 2008)

* Origami Arktika -- "Fanteguten" -- Trolleboth (Silber, 2007)

* Bobby Previte and the New Bump -- "Drive South, Along the Canyon" -- Set the Alarm for Monday (Palmetto, 2008)
---
* Fieldwork -- "Balanced" -- Door (Pi Recordings, 2008) ! Les Baxter -- "Quiet Village" -- The Lost Episode (Dionysus, 1995; recorded 195?)
Baxter was a composer of what we'd consider retro exotica kinds of music -- loungy Vegas strings in poppy, upbeat, early '60s kinds of settings. Except he was doing it back then, when this was simply contemporary pop. His work has a bit of an experimental bent -- bird sounds all over this otherwise lovely strings melody, for instance -- and that's caught the ears of some modern-day musicians like Skip Heller.

Heller knows Baxter personally, and it came up in conversation one day that Baxter had done a TV special. This CD is basically the soundtrack of that special. For airplay, I've actually chosen Baxter's biggest hit here, apparently.
* Palo Alto > Klimperei -- "Quelquers Rares Inversions" -- Mondocane (Acidsoxx Musicks, 2008) * Nicole Mitchell's Black Earth Ensemble -- "Wonder" -- Xenogenesis Suite (Firehouse 12, 2008)
---
* Mostly Other People Do the Killing -- "Handsome Eddy" -- Shamokin!!! (Hot Cup, 2008)
?! Sparks -- "Strange Animal" --Exotic Creatures of the Deep (Li'l Beethoven, 2008)
I've mentioned these guys here, and played a ton of their stuff here. They just got done playing all 21 of their albums live, on 21 nonconsecutive nights, in London. What do you mean you've never heard of them?

This is their 21st album, and it's got a bit more of a pop approach than its two predecessors, Li'l Beethoven (heavy on symphonic sounds) and Hello Young Lovers (likewise, but with more instances of guitars tossed in).

The first single from the album is "Good Morning," a bouncy falsetto romp sung by a fellow who's just had a one-night stand he can't remember. It's pretty funny; one of the great things about Sparks is the way they create characters and stories that get woven into the lyrics in ways that aren't always apparent at first listen.

This song starts off with a showtuney kind of lightness, adding sharp guitar/drums for a surprise jolt later (one that I should have expected; it's happened on each of their last two albums). Elsewhere on the album is a supremely catchy pop monologue called "Lighten Up, Morrissey." How could you not love that? Songwriter Ron Mael appears to be on a creative roll. Keep it going, man!
-- 4:00 p.m. --
* Trevor Watts and Jamie Haris -- "Tandem Voices" -- Ancestry (Entropy Stereo, 2008)
Sax and drum duets. This one's a feisty conclusion to the CD.
---
* Garrison Fewell and Eric Hofbauer -- "Comfort for an Affliction" -- The Lady of Khartoum (Creative Nation, 2008)
! Bhi Bhiman -- "You Gotta Move" -- The Cookbook (Hinju, 2007)
A guitarist/vocalist with a classic-rock sound. I played him because he's opening for Charlie Hunter on July 4 and we're giving away tickets to the show. Bhi has Asian roots, obviously, but his music would be at home opening for someone like Robbie Robertson or Carlos Santana.
* Derek Bailey -- "Stella by Starlight" -- Ballads (Tzadik, 2002)
Not a new album, but new to us. Tzadik doesn't service radio stations, as the industry parlance goes -- meaning, they don't send out freebie copies for airplay. It's an understandable move by John Zorn, but it makes us sad. Tzadik recently agreed to let us procure copies at wholesale, and in taking advantage of that offer, we apparently couldn't resist filling this severe gap in our library.

For the uninitiated, Derek Bailey crafted his own improvised language of clicky notes and odd intervals, a sound that's nonmusical but has its own logic and swing to it. You can't fully replicate it just by banging and plucking the strings randomly.

But for this album, Bailey played a bunch of jazz standards. He was a "regular" jazz guitarist once upon a time, but recorded evidence of that was lacking until this album. There are still plenty of Baileyisms in the mix, but the songs are kept intact, proving that Derek Bailey really can play "that" way. It was recorded just a couple of years before Bailey was hobbled by carpal tunnel syndrome, and he died just last year, so this rare document of his jazz roots is something to be cherished. It's followed up by the posthumous Standards, which All About Jazz reviewed here.
---
* Szilard Mezei Quintet -- "Ko" (Stone) -- Cerkno (Leo Records, 2008)

Charlie Hunter Trio -- "Wizard Sleeve" -- Mistico (Fantasy, 2007) Matthew Shipp -- "P X" -- By the Law of Music (Hatology, 1997)
Matthew's "String Trio" with Mat Maneri on violin and Willam Parker on bass. Some nicely pensive tracks populate this disk, but I went for a more active one.
Colin Stetson -- [untitled extra track] -- New History Warfare: Volume 1 (Aagoo, 2008)
---
* Boxdeserter -- "One Abroad" [excerpt] -- Two Revolutions (Edgetone, 2008)
-- 5:00 p.m. --
* Bran(...)Pos -- "Archival Rodeo At The Gambling Hall Of Double Rights And Truths" -- Coin-Op Khepri (C.I.P., 2007)
---
* Teiji Ito -- "Maeva" (Part 2: Return to Tahiti) -- Music for Maya (Tzadik, 2008; orig. released 1961)

The Bobs -- "Like a Parrot" -- I Brow Club (Rounder, 1997)
Comedic a capella group, a Bay Area treasure for a couple of decades by now. Granted, their rock covers can get a bit corny (although "Helter Skelter" is pretty damn cool, as is "Strawberry Fields Forever including the fade-out/fade-in at the end) and their Manhattan Transfer-style vocalizing doesn't mesh with modern-day post-post-punk college radio, but they're still a hoot. This one's a 30-second blip about being like a parrot that's learned to fly straight after repeated blows to the head (and I've recited about 75% of the song right there). OK, maybe it sounds poignant the way I've worded it, but the song sets up that "repeated blows to the head" line in a way that makes it funny.

The Bobs still exist. They've had the inevitable personnel changes, and they don't tour extensively, but their Web site shows concerts booked out as far as April 2009 and a packed holiday schedule, which is good to see.
---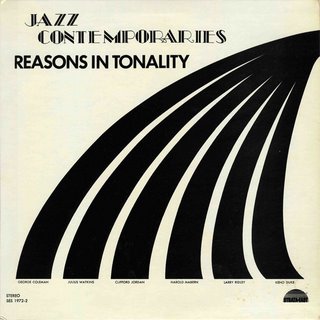 Jazz Contemporaries -- "3-M.B." [excerpt] -- Reasons in Tonality (Strata-East, 1972)
Yet another gem from the vinyl collection. This appears to be an all-star sextet, including George Coleman on tenor and Harold Mabern on piano. The album consists of one song per side, each one a lengthy jam. It's straightahead stuff, but as you'd imagine, they get into some cooking group interaction as they take advantage of 20 minutes of elbow room. The soloing even slips into what you might call free jazz for a few bars at a time. I'd gladly give it another spin someday.

You can have a look and a listen via this blog entry, and do check out the unofficial Strata-East Fan Club (NSFW, in case you stumble onto the wrong album cover).
The Lost Trio -- "Strange" -- Remembrance of Songs Past Patrick Cress' Telepathy -- "Zum Bolli Boli" -- Meditation, Realization (Odd Shaped Case, 2006)
---
Tim Berne -- "Twisted/Straight Jacket" -- The Shell Game (Thirsty Ear, 2001)
Because Cikee, the next DJ, got held up in traffic, listeners got treated to all 21 minutes of this one. Berne on sax, with Craig Taborn on keyboards and Tom Rainey on drums. It's less manic than many Tim Berne pieces but still gets into some composed lines with a hard-digging irregular groove to them -- and some long, spacey electric-piano musings, too.
---
* = Item in KZSU rotation
! = Pop anomaly
? = Item not in KZSU library
-- Go back to Memory Select playlists.
-- Bay Area free/improv music calendar: http://www.bayimproviser.com.