<!: comments would go here --> Friday, July 4th, 2008 ... 3:00 p.m. - 6:00 p.m. ... KZSU, 90.1 FM
Edmund Welles -- Tooth & Claw (Zeroth Law, 2007)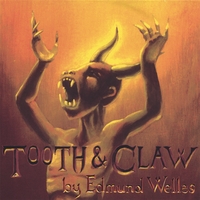 Metal is a primary influence for Cornelius Boots, leader of the world's only original-composition bass clarinet quartet, but he'll hopefully forgive us for putting his work in the jazz section. Despite the pieces being nearly if not entirely through-composed, there's quite an avant-jazz ring to most of them, probably thanks to the existance of outfits like ROVA.
Boots does list jazz and modern classical musics as influences, too, and Edmund Welles sits at their intersection with metal. Oblique references to mystic and occult figures add to the aura -- it's so fitting that the first CD, Agrippa's 3 Books, had liner notes quoting Foucault's Pendulum by Umberto Eco.
It's not just the influences, though; it's the sound. Four bass clarinets! I love the die-precision raspy rustle of the four instruments playing fast lines in unison (the title track to "Tooth and Claw" has plenty of that), the swooping drama of the low low notes, the jazzy aspirations in the high, screeching solos.
The idea is solid. Touring with it is another matter, as always. EW has included a rotating cast of characters including Aaron Novik, who's been part of several great local jazz bands. For this CD, Boots played all the parts himself.
The album opens with the Persian-inflected "Vector," a catchy and sinewy melody, followed by the title track, which is also engaging and adds some quick-fingered unison work that's probably a real challenge and a real treat to perform live. "Va Larga" adds elements of a Mediterranean serenade, while "The Butcher of Andalusia" brings the fast riffing that made so many tracks shine on Agrippa's 3 Books.
What Boots is doing is certainly original. While there's at least one other bass clarinet quartet in the world, the repertoire for such groups isn't exactly brimming over. And yet, the sound that comes out of them has so much potential -- those deep, rounded low notes that make the bass clarinet so attractive, alongside the high squeals that made the instrument useful in jazz, once players like Eric Dolphy showed what could be done.
Edmund Welles will be opening for Sleepytime Gorilla Museum for a few shows in the coming week, including July 8 at the supposedly haunted Brookdale Lodge and July 10 at the Great American Music Hall.

Format:
ARTIST -- "TRACK TITLE" -- ALBUM TITLE (LABEL, YEAR)
Horizontal lines denote microphone breaks.
---
* Nicole Mitchell's Black Earth Ensemble -- "Transition C" -- Xenogenesis Suite (Firehouse 12, 2008)
---
* Industrial Jazz Group -- "The Job Song" -- Leef (Evander, 2007)
I've noted these guys before, here, and even had them by to visit in 2004. Andrew Durkin has kept the band crazy, brash, and fun, and even added a vocalist this time around. She really belts it out, big-jazz style, and it's all the better that she's singing such oddball lyrics. This one's a witty song where the narrator keeps getting told to go get a real job, a scenario musicians can more than relate to, I'm sure. Another one, called "Big Ass Truck," is about being chased on the highway by... well, you know.

Songs don't shift gears as severely as they did on IJG a Go Go, but the multiphased writing is still there. It's like each song is a twisty maze of tunnels, not all alike.
* Szilard Mezei Quintet -- "Ko" (Stone) -- Cerkno (Leo Records, 2008) * Garrison Fewell and Eric Hofbauer -- "Devil at the Salang Pass" -- The Lady of Khartoum (Creative Nation, 2008)
---
* Jim Ryan -- Track 7, Untitled (recorded at the Iron Post; Urbana, Ill.) -- The Ghost Dog Tour Compilation (Edgetone, 2008)
Previously noted here. Lower-key than most tracks on the compilation, this one is a stream of burbly computer noises, like cold water, that Ryan eventually starts jamming to.
* Steve Reich -- "Variations for Vibes, Pianos, and Strings: Slow" [2nd mvmt] -- Daniel Variations (Nonesuch, 2008)
Modern classical, of course. "Daniel" refers in part to Daniel Pearl, the journalist (and Stanford grad) murdered by Islamic fundamentalists in 2002. Now that I realize that, I'm going to have to go back and listen to this one thoroughly. This particular track I picked just for its sound; it's not part of the Daniel Variations title piece.
* Fieldwork -- "Of" -- Door (Pi Recordings, 2008)
---
Parker/Guy/Lytton -- "Variance" -- Imaginary Values (Maya, 1994)
As in, Evan Parker, Barry Guy, Paul Lytton, a trio that's been doing Euro-style improvising together for 30 or 40 years. This is an album of shorter tracks, this one being an active 4-minute jog. Of course, they're also known for 20- and 30-minute pieces, and beyond. A model group for this kind of music.
---
* John Zorn/Bar Kokhba -- "Sother" -- Lucifer (Book of Angels, Vol. 10) (Tzadik, 2007)

Jemeel Moondoc Trio -- "Triplet" -- Tri-P-Let (Eremite, 1996)

-- 4:00 p.m. --

* Bobby Previte and the New Bump -- "I'd Advise You Not To Miss Your Train" -- Set the Alarm for Monday (Palmetto, 2008)
---
Julius Hemphill -- "C.M.E." -- Blue Boye (Screwgun, 1998; orig. released 1978)
During his apprenticeship to Hemphill, Tim Berne happened to be around for the recording of this set, which encompasses two CDs. It's all Hemphill on saxophones, often solo, sometimes overdubbed in tight harmonies. Songs run in the 8 to 14 minute range, mostly. I'd call it a musical sketchbook, but the songs are more fully realized than that. It's a set of works.

It was also a painfully DIY recording, to hear Berne tell it. Watching Hemphill create this album, Berne was inspired -- and, in a sense, educated -- to release music on his own label, when the time came a few years later. That label was called Empire; Berne would later create his current Screwgun label circa 2000, at first using it to get his Bloodcount recordings out.
* Chris McGregor's Brotherhood of Breath -- "The Bride" -- Eclipse at Dawn (Cuneiform, 2008; recorded 1971)
---
* Jose Maceda -- "Music for Two Pianos and Four Percusion Groups" [excerpt] -- Drone and Melody (Tzadik, 2008)
A strong modern-classical album. This track seems to have less of the traditional Philippine instrumentation than some of his other work -- or maybe they're in the percussion and I can't recognize it. The percussion groups sound more like standard orchestral fare -- woodblocks, especially. At any rate, it's an engaging piece.
? Edmund Welles (The Bass Clarinet Quartet) -- "Synge" -- Tooth & Claw (Zeroth Law, 2007) Sleepytime Gorilla Museum -- "Angle of Repose" -- In Glorious Times (The End, 2007)
Heavy, crazy, and theatrical, drawing heavily from metal but also from serious classical music; lead singer Nils Frykdahl even studied composition at U.C. Berkeley. The band originated with Idiot Flesh, an even more theatrical out-rock group whose members got co-opted for a sextet version of Charming Hostess that remains one of my favorite live acts ever. (Note: I never saw Idiot Flesh, but from what I've read, they'd have ranked up there too. Metro Santa Cruz ran a nice article gluing the historical pieces together.)

This album has an underlying sadness to it, as its songs are woven around the suicide of Frykdahl's brother, Per. Cheery, purposefully enigmatic answering-machine messages from him serve as interludes between the songs, and his drawings comprise the album art.
-- 5:00 p.m. --
* Yoshida Brothers -- "Kodo (Hishou version)" -- Hishou (Domo, 2008)
* Jeff Coffin and Charlie Peacock -- "Charthel Hill" -- Arc of the Circle (Runway Network, 2008)

* Boxdeserter -- "One at Home" [excerpt] -- Two Revolutions (Edgetone, 2008)
---
Mute Socialite -- "Me'T" -- More Popular Than Presidents and Generals (Dephine Knormal, 2008)
With Moe! Staiano and Ava Mendoza, a kind of precision brutality. Slashing rock instrumentals, loud but not metal; it's closer to the sarcasm of punk, but with composed parts that are tightly played. Good head-bobbing fun. I'll write more later.
The Nels Cline Singers -- "Fly Fly" -- The Giant Pin (Cryptogramophone, 2004)
---
* Cristian Amigo -- "Soldados/Soldiers" -- Kingdom of Jones (Innova, 2008)
This one's all over the map. It opens with a downright funky number, soulful. Later there's a serious guitar track, showing off some modern classical stylings. "Soldados" uses electric guitar distortion to create a corridor of noise. I'll definitely be exploring the rest of this one.
* Bill Dixon with Exploding Star Orchestra -- "Entrances/One" -- Bill Dixon with Exploding Star Orchestra (Thrill Jockey, 2008)
---
* = Item in KZSU rotation
! = Pop anomaly
? = Item not in KZSU library
-- Go back to Memory Select playlists.
-- Bay Area free/improv music calendar: http://www.bayimproviser.com.