<!: comments would go here --> Friday, October 17th, 2008 ... 3:00 p.m. - 6:00 p.m. ... KZSU, 90.1 FM
Tom Djll was my guest today, talking about "Mockracy," his tour-de-force musical concert, game, play, and interactive multimedia whatchamacallit.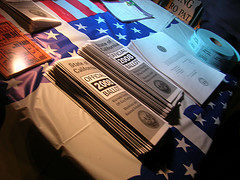 First performed in 2003, Mockracy is back in renewed, 2008-relevant form, for two performances: Oct. 18 and 19 at Oakland Metro, at 630 3rd St. near Jack London Square. (The Web site may list a different address; ignore that.)
About 2 dozen musicians and some singers are organized into factions (House RepuBloods, Senate DemoCrips) with written themes that are first presented to us, then mixed and blasted and improvised. Characters drawn from the political and media worlds show up in various other movements (there's a narrator, too, to keep us, the audience, informed). And finally, cue cards tell the audience when to respond and how -- kind of like the TV does. What you get are groups of musicians, single characters (Djll represents the office of the vice president, for instance), and the audience, all forced to work together under a Djll-handed bureaucracy. Oh, and there's live video being manipulated and shown back to the audience.
You can listen to the interview here, (MP3 file) or at least click that link to download it, depending on how your browser digests MP3 files.
AFTERMATH: I did manage to attend the Saturday show, and it was great. The five groups representing different legislative- or executive-branch coalitions is a really interesting idea, particularly in the "Campaign" phase when they start overriding each other. The "Whisper Campaign" later, representing a leaked rumor that spreads through all the groups, was clever, too. Not everyone in the audience was fully cued into the music, but they did enjoy the cue-card prompts to cheer or boo, and the narration, full of Joycean punnery ("Hell, Burton!") got plenty of laughs.
Inadequate photos posted here.
Also of note this week: