Blood Bowl is a favorite hobby of mine, a strategic boardgame that's basically D&D meets Monday Night Football. I run a league with anywhere from 5 to 10 players (the number fluctuates from season to season), that has been going on almost continuously for over 2 years now. Our league uses a number of hybrid and unique rules, borrowing quite a bit from 2nd edition, other net sources, and playtesting. Each player (coach) has anywhere from 1 to 3 teams active at a time, some coaches have more teams than that, which rotate in and out of activiy from season to season. Our league just finished the Blood Bowl III season, and is in the thick of the DungeonBowl III season.
4/17/99 It's time to start the Spike! III tournament. The Guardians and Ringling Bros. Rejects took the #1 and 2 seeds, but it looks like a tough field all over. We also have, for the upcoming Chaos Cup IV season, some new skills, new teams/big guys, and a new commish (plans for frequently updated stats and such in the making, I get to humble myself to a lowly team). This site will stay the centerpiece, with Bilorine supplying new links for updated stuff, including current events and stats).

Our house rules(lots of stuff!)
by popular demand: easy acces to the Special Play Cards

The franchises of the league

Past and present champions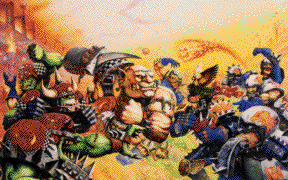 Best of the buried
---
You're the
th fan!
---

Go to my No-Holds-Barred page
Back to my Homepage