The "Ultimate Effect":
As it turns out, Teagues' locker door switch (a normally-closed magnetic reed switch, to be precise) does have its effect on the virtual world currently occupied by one of the FAIT "volunteers", a Mr. Ralph Kudgel.
Kudgel, a somewhat timid vacuum cleaner salesman from Hoboken, N.J. who was attending a trade show in Las Vegas only two days prior, was "volunteered" by FAIT staffers as he was nursing a scotch in a darkened corner of the lounge of his northern Las Vegas hotel. Since he's been a visitor of FAIT, he's been testing Flaxon's new "Sandstorm World", which utilizes FAIT's CyberNose olfactory interface with a special Hyperdehumidifier attachment, the combination of which simulates the nasal equivalent of choking dust.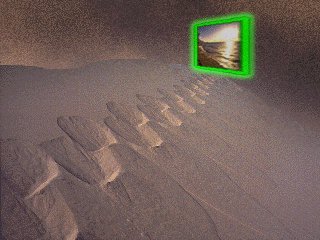 At the moment Teagues opens his locker door, a portal opens up in front of Kudgel's virtual world about two hundred feet away, just at the crest of the next dune. With the portal open, Kudgel can suddenly smell wet sea air, and through it, can just make out a scene from a beach on Maui: palm trees and bikini-clad girls spraying each other with water guns, set against a backdrop of gently rolling waves. The desperate Mr. Kudgel begins crawling across the dunes with renewed vigor, making his way straight for the portal and an escape from the hellish storm in which he's been lost for the past two days.
While Teagues changes into his FAIT athletic shorts and matching tank top, Kudgel clambers closer and closer to the portal, paradise nearly within reach. Grabbing his raquet and glove, Teagues closes the locker door, just as Kudgel is reaching for the portal. The portal snaps closed, and the wind kicks another blast of sand up into his nose. As Ralph Kudgel collapses in utter despair, Teagues stops at the cooler near the door of the locker room for a small cup of cool water before what he hopes will be a vigorous game.
{ Back To Story }