FAIT Motion Control Platform:
Designed in response to the ever-growing market for immersive "VR" rides.
Although we at FAIT focus primarily on traditional VR applications (computer-generated 3D immersive environments), we have watched as the LBE market has grown by leaps and bounds, and have decided to offer our own entry into the market: The Space Shuttle Adventure.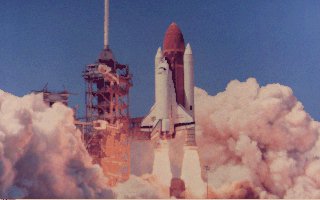 In The Space Shuttle Adventure, guests enter a realistic Space Shuttle cockpit and are briefed on their exciting mission. They then take part in the launch using realistic controls (mounted within reach of the cockpit seats), and feel the thrusting thrill of liftoff, as the Solid Rocket Booster carries the shuttle aloft.

Guests of the Space Shuttle Adventure guide the shuttle collectively toward an equatorial orbit over the planet, communicate with realistic spacewalkers, guide the robot arm to deploy a communications satellite, and guide the Big Bird back to Edwards Air Force Base for a realistic Shuttle landing.
---
The FAIT Motion Control Platform performs admirably in extreme-conditions tests. However, during a recent demonstration of the Space Shuttle Adventure ride, the FAIT team encountered a minor glitch in the system's hydraulic system during the initial stages of a launch, giving some FAIT visitors a bit of a bumpy ride. The problems have since been fixed, and the systems currently in production function flawlessly.