The Stinky Puffs
A little tiny Smelly bit of......
A split CD - songs done by the Stinky Puffs (the premier under-age band of the planet, starring the very young Simon Fair Timony and an even younger Cody Linn Ranaldo, plus the less very young Don Fleming, Eric Eble and Sheenah Fair) and done-up again live by the Super Stinky Puffs (featuring Krist Novoselic, and Dave Grohl in their first appearance post-Nirvana, plus Ira Kaplan of Yo La Tango and former Stinky Jad Fair, recorded at the Yo-Yo festival). This music yells and spits, dares you to cross the line, makes you cry and wants to be your best friend. Cool!
CD EP 95902
The Stinky Puffs
Songs and Advice For Kids Who Have Been Left Behind

This kid portioned project is unique for several reasons. Let alone Stinky singer - songwriter of the band has been rockin' for ten years and has been musically shepherded by artists ranging from The Residents to Kurdt Cobain. This is top notch screaming and psychedelia fun rock music. In 7 tunes Simon and Co. travel the odyssey from pain and anger; through bad dreams and finally, to hope and healing on songs written for kids who have experienced loss, from death or divorce. Liner notes by Simon tell of his own experience and offer advice from his own warm and unique standpoint.
CD 95182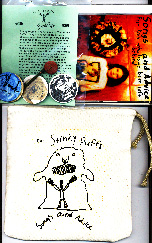 S P 11 - DELUXE COLLECTORS EDITION
Hand Made Limited Edition C D Package
Includes booklet with words and drawings by Simon, Stinky (some autographed) pogs , lucky charm, and more. Comes in cloth drawstring pouch
SP 11 Deluxe Issue

Stinky Puffs 7"

Simon , Jad Fair, Don Fleming and Naofumi Ishimaru blast out this Mega Rare 1991 7" out of print single. This is the one that started it all. 4 Killer songs - 1. How to make a car 2. Baby a Monster 3. The Stinky Puffs and 4. Hamburger, make up this Great Package. Hand Silk Screened Cover art by Simon and Jad Fair, Screening by Tim + Mike Biskup (Big Butter). Hear what sparked Nirvana's Songwriter to hook up with then 6 year old songwriter of The Stinky Puffs. Yes high priced but only 10 piece remain.

SP1 - 7"

Stinky Clothing
Please e-mail I want Stinky Clothes please send Male or female goods and size and well let you know what is available. Please see photo for style od design of logo you want. More stinky listings soon.



Toot Sweet


HEADS UP!!!!!

The Stinky Puffs have been at it again.

10 Years and still rockin' mightily

and using only the most pure ingredients: Fostex 8-Track production from start to finish in their own Sticks n' Stones Studio, freshly Simon penned originals as well as tour and time tested favorites and a new lead guitarist of whom les Puffs are proud and honored to welcome into their fold.

All who have heard this ideal new project agree that the replanted Stinky Puffs (originated in San Francisco; spent 8 years and released an EP and 2 CDs on the East Coast and back again) have realized a match made in heaven with the signing on of Bucky Pope

formerly of The Tar Babies and of Coldcock Trio.

Recorded, engineered and produced by Eric Drew Feldman ( Capt. Beefheart, Snakefinger, Pere Ubu; now producing and touring with P.J. Harvey ) who also lends keys and vocal stylings here and there the fruits of this fine presentation are strange and beautiful.

MEANWHILE...



VARIOUS ARTIST - IN THEIR EYES
Rhino/Cheap Date Records present this collection of 90's teen bands doing your favorite songs from 80's teen movies. Featuring tracks by Simon of the Stinky Puffs (playing all the instruments),Ben Lee,The Donnas,and more. Available through www.cheapdaterecords.com or at finer record stores everywhere.