AEROFORCE
24TH SCALE AMT CUSTOM BLACK FORCE
BUILT BY IRA DAHM (2/07)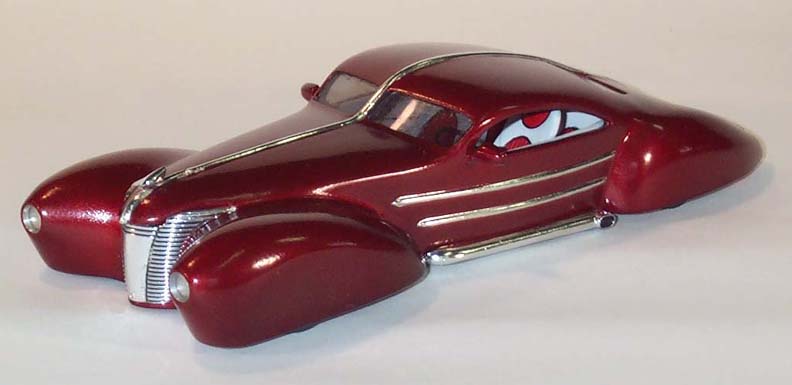 FEATURED IN THE MAY 2007 GOODGUYS GOODTIMES GAZETTE.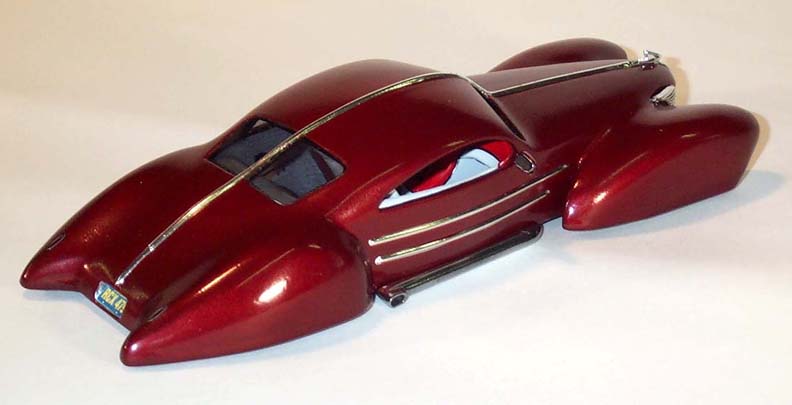 MORE COLOR PHOTOS BELOW!
The "AEROFORCE" is the subject of an article that I wrote for the GOODGUYS GAZETTE Magazine. This is the publication for all the members of the GOODGUYS "Rod & Custom Association". You can check them out at http://www.good-guys.com. In the May 2007 Issue I showed the Goodguys readers how to make Templates for the AEROFORCE and most other models.
The "AEROFORCE" Body is based on the AMT BLACK FORCE kit. The main modifications on the "AEROFORCE" are: Chopping the Top, , Sectioning the bottom of the Body and Fenders, Sectioning the Hood, Sectioning the Trunk area, Removing the Running Boards, Reshaping and Extending the Front and Rear Fenders, Frenching the Headlights and the License Plate Housing, Reshaping the Window Openings, Adding Front Wheel Skirts, and adding Chrome Trim with a Custom Hood Ornament.
The backs of the Front Fenders were cut-away from the body and filled in. The Front Fenders were extended with parts from the 1941 Willys Front Fenders. The Rear Fenders were extended with pieces from a "Formula 1" Nosepieces. The Frenched Headlights are from "Custom Styling Studios".
The original Black Force kit had no interior, so I modified the Interior from the Lindberg Chrysler Atlantic kit to fit the "AEROFORCE". The interior was painted with Testors Flat Red, Flat White and Flat Black. The Windows were cut from sheet Lexan and Tinted with Dahm's "Smoke Grey" Instant Tint.
The "AEROFORCE" body was painted with Testors Ruby Red Metalflake and Duplicolor Gloss Clear. The body was then wet sanded with 3000 Grit Sandpaper and Polished with the Novus System. The inside of the body is painted Testors Flat Black. The Side pipes are from a Corvette kit with Bare Metal Foil Added.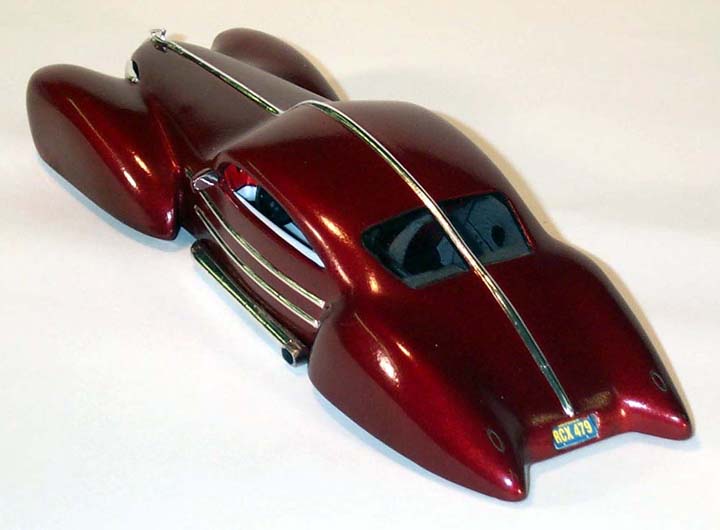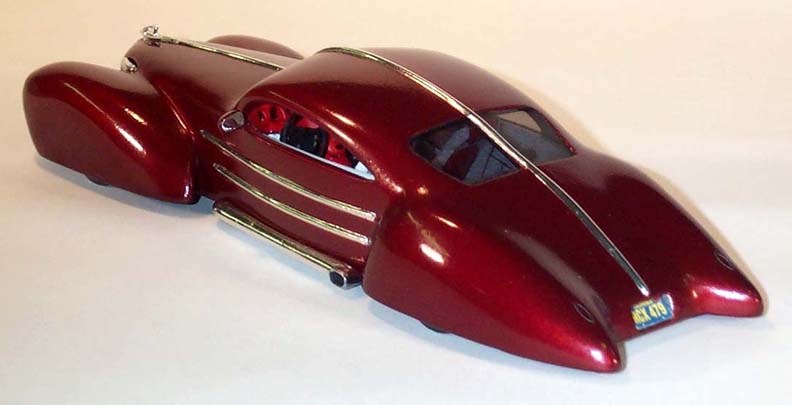 DAHM'S COPYRIGHT 2007