BOOGIE WOODIE
AMT 1929 FORD WOODY CUSTOM
BUILT BY IRA DAHM (1/03)

MORE COLOR PHOTOS BELOW!
Boogie Woodie is an electric powered beach truck model based on AMT's 1929 Ford Woody Kit.
Here's how the Boogie Woodie was built: The 29 Ford frame/fenders were shortened 1". The back of the body was shortened 1/2". The cowl was shortened 3/8". The hood was cut into 3 pieces. The pieces were fit inside each other, overlapping to create a smooth transition from cowl to radiator shell. This shortened the hood about 5/8". The hood and cowl were attached and the area was then filled with putty and sanded smooth. Both front and rear fenders were bobbed. The underside of the frame/fenders was boxed off to make areas for the electric motor and batteries. Access panels were made with Contact chrome sheet.
The interior was upgraded with 4 seats from 2 AMT '86 El Caminos and the interior panels were covered with Evergreen "Metal Siding" plastic sheet to represent tuck and roll upolstrey. The interior was painted in Testors' Light Earth and Desert Sand paint. The seats were flocked in a light tan. The front bumper, headlights and license plate frame are from the Revell Tweedy Pie 2. The rear taillight lanterns and the hood ornament are from Monogram's Pie Wagon.
The Boogie Woodie body is painted with Testor's Candy Apple Red over Silver and the wood sections are painted with Testor's Light Earth and Desert Sand.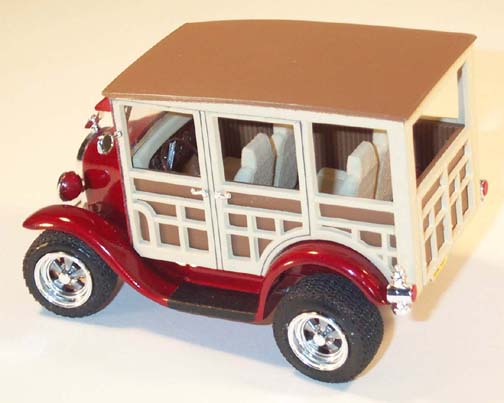 | | | |
| --- | --- | --- |
| DAHM'S COPYRIGHT 2002 | | |
| | | |
| | | |