CHILI PEPPER
Highly Modified Monogram VW Rolls Royce Body on a 16th Scale Revell FUNNY CAR Chassis.
BUILT BY IRA DAHM (1/10)
MORE COLOR PHOTOS BELOW!
Inspiration for the Chili Pepper came from a 1970's AMT 25th scale VW Funny Car Showrod called the Bugaboo. The Chili Pepper is a more realistic version of a Modified VW Altered Coupe.
The Chili Pepper Body started as a Monogram VW Bug with a Rolls Royce Front End. The Chassis is from a Revell Mickey Thompson's Grand Am Funny Car. The Enderle Injectors and Scot Injector Hat are from Competition Resins, so are the front wheels. The rear wheels are from a Revell Tony Nancy "The Loner" Dragster kit.
Here is how the body was created: First I cut the Rolls Royce front end off the VW Body. Then the body was shortened about an inch. Next I chopped the top. A section from the middle of the body was then removed to reduce it's width. Next the rear fender area was shortened and leveled off. The Running Boards were removed and strip plastic was used to fill the gap they left. Fronts of the Rear Fenders were extended to fill the old Running Board area. The Rear Wheel Wells were radiused to fit the Drag Slicks. The Windshield area was trimmed out and made a little wider. The Side Window Openings were reshaped and New Window Posts were added.
Here is how the Chili Pepper Nose was Done: First I fit the Modified Chili Peper Body as low on the chassis as I could. Then I made 3 cardboard templates for the top and sides of the Nose. Next the templates were cut from sheet plastic. After much fitting, bending and cutting, I got the Top Section to fit, so I glued it in place. The Side Sections were then cut to fit to the Top section and also glued in place. Finally I made a "W" shaped piece of thin sheet plastic to finish the molding on the Top Section.
The Body with its New Nose was then rough sanded to get the shapes right and then putty was added. After a lot of sanding, the body got a few coats of Dupli-Color Sandable Primer.
The Chili Pepper was painted with Testors Inca Gold Lacquer folowed by a few coats of Testors Lime Ice Lacquer. The Chili Pepper and Flame Decals are from Scale Auto Modeling. A few coats of Testors "Wet Look Clear" were then applied. The inside of the body is Flat Black. The windows were cut from clear .030 Lexan and shaped to fit flush in the body.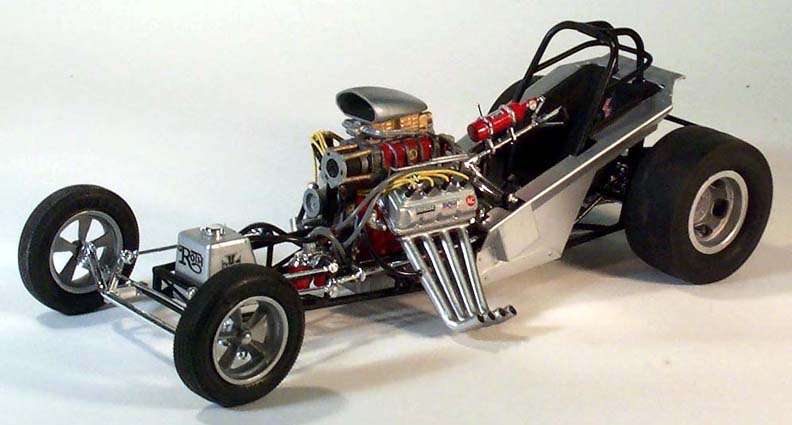 DAHM'S COPYRIGHT 2010