CURVETTE TRIKE
8TH SCALE REVELL EVIL IRON, CHOPPED HOG & '57 CORVETTE KITBASH
BUILT BY IRA DAHM (4/07)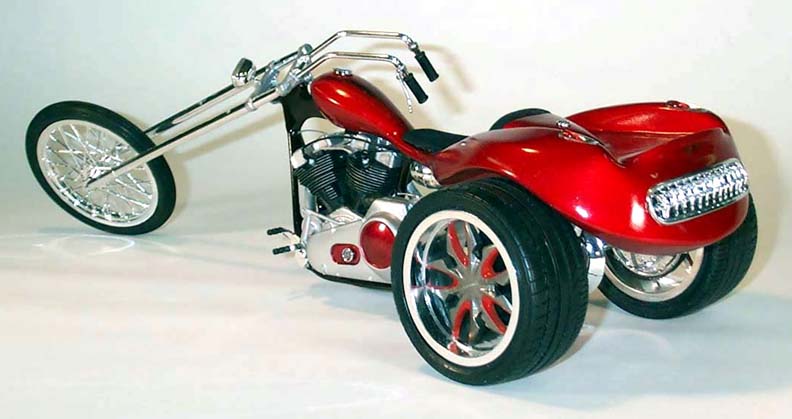 FIRST PLACE WINNER IN THE MOTORCYCLE CLASS AT THE HOBBYTOWN PETALUMA CONTEST (4/07
MORE COLOR PHOTOS BELOW!
The "CURVETTE TRIKE" was built from the Revell 8th scale "Evil Iron" Trike, the Revell 8th scale "Chopped Hog" and the MPC 16th Scale 1957 Corvette. I started the CURVETTE for a Motorcycle Contest. I didn't finish it in time for that contest, but I did finish it on the day of another contest at Hobbytown, two years later!
The Body and Frame on the CURVETTE started with the Chopped Hog Frame. I cut the back of the Hog frame off right behind the engine. Then I cut and fit the rear of the Evil Iron Frame to the Hog frame. The forks from the Evil Iron were used on the CURVETTE so I replaced the neck of the Chopped Hog frame with the Evil Iron neck. The front down tubes, neck, seat area and the bottom of the frame were filled with Shaped sheet plastic.
The body of the CURVETTE is based on the Evil Iron body. The gastank is also from the Evil Iron, it was modified to fit very low on the frame. I modified and then "narrowed" the Evil Iron Body and filled in with a lot of sheet plastic. The tops and inner fenders are from the rear fenders of the '57 Corvette. The rear was cut out to fit the bottom of the '57 Corvette Grill and the nose of the Corvette was modified to fit the top side of the Grill. The rear spoiler from a 1/25th scale AMT Viper was modified and positioned above the Grill. The seat back was made from the back section of a fastback from a 1/25th scale, 1964 Corvette.
The Engine is from the Chopped Hog "glue bomb - build up" that I got on Ebay. II think it cleaned up pretty good! I made the Supercharger Set-Up from Modified 1/25th and 1/16th scale parts and Scratch Built parts. Replicas and Miniatures of Maryland cast all the parts in resin and you should be able to order them soon! The exhaust pipes were made by combining the original Chopped Hog Headers with 12th scale exhaust pipes from Revell's New Chopper Kits.
The oil tank is from the 1/24th scale Monogram Beer Wagon. The oil lines are made from 1/16" solder. The seat is made from Balsa Wood covered in Flat Black paint and Black Flocking. The Rear Wheels are from a close-out section in a toy store. The headlight is from the 1/12th scale Shaker Trike with a flat "clear blue" lens added.
The bottom side of the CURVETTE TRIKE was painted with Testors Flat Black and then the entire body and frame were sprayed with Testors Candy Apple Red. The Pinstripe decals are from KDOG Decal Works.

DAHM'S COPYRIGHT 2007