ELECTRO VETTE
8th SCALE REVELL, 1965 CORVETTE BONNEVILLE LSR ELECTRIC RACE CAR
BUILT BY IRA DAHM (3/09)
FEATURED IN SEVERAL ISSUES OF GOODGUYS GOODTIMES GAZETTE INCLUDING JAN 2009, MARCH 2009, MAY 2009, JULY 2009 AND MORE!
SECOND PLACE WINNER IN THE AUTOMOTIVE COMPETITION CLASS AT THE HOBBYTOWN NATIONAL CONTEST! Petaluma, CA. 10/09
MORE COLOR PHOTOS BELOW!
The ELECTRO VETTE represents an Electric Powered Bonneville LSR Racing Car with Dual Electric Engines. The real full size version of this car would put out over 400 horsepower! The ELECTRO VETTE was built from the REVELL 8th Scale, 1965 Corvette with the Drivers Compartment made from the AMT 25th Scale Silhouette Trailer. The Moon Discs are from the Big T and the small front wheels and tires are resin from Bob Hayes at LargeScalemodeler.com.
The highly modified Corvette body was narrowed 2", Progressively Sectioned, Full Wheel Skirts added, Single Driver Compartment added, Stability Fin added, Rear License Plate Housing and Hood Bullet Shape Repositioned on a Narrowed Body, and much more! Complete construction details and photos are featured in a 6 part series in Goodguys Goodtime Gazette Magazine!
Electronic Speed Controls and a Lithium Ion Battery Pack were scratch built and added under the hood in the original engine compartment. ELECTRO VETTE features a full Aerodynamic Underbody with Ground Effects. The finished ELECTRO VETTE model is almost 2 feet long! The parachute was carved from wood and finished with tape, flat black paint and a paper "REMOVE" tag. Just for fun, I made "Faux" Exhaust pipes from Aluminum Tubing. These outlets could vent gasses from the electric motors or vent the brakes.
The Drivers Tub was made with sheet plastic. The dashboard was made from half of the Corvette Dashboard, the seat was made from seat parts from the Corvette. The Butterfly Steering Wheel was scratch built. The seat belt was made from 1/4" black ribbon and photo etched hardware.
The ELECTRO VETTE was primed and then painted with Testors New Silver Lacquer, then Testors Radiant Red was applied to the top of the body. Then Testors Metallic Blue was sprayed on the bottom edges of the sides. A few coats of Testors "Wet Look Clear" was then applied. The clear was then wet sanded with fine sandpaper and polished with Novus Products. The Interior is Flat Black with Metallic Red and Silver accents. The Underbody was painted flat black.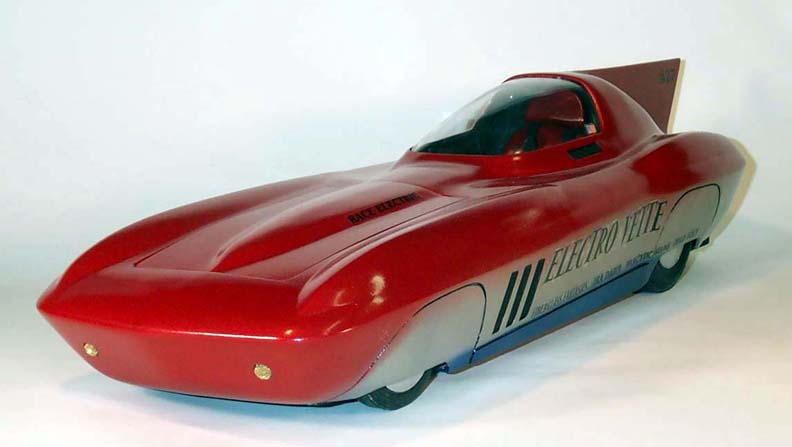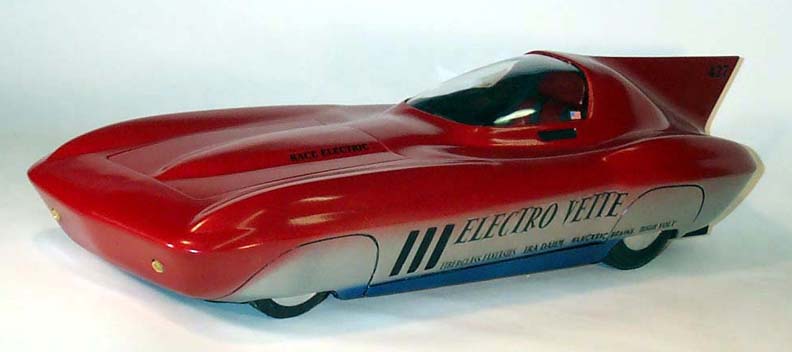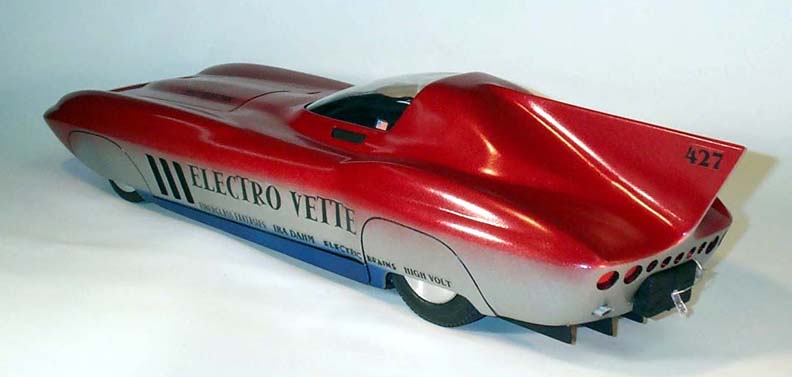 DAHM'S COPYRIGHT 2009