SHREDDER
24TH SCALE CUSTOM VW RECYCLER
BUILT BY IRA DAHM (1/06)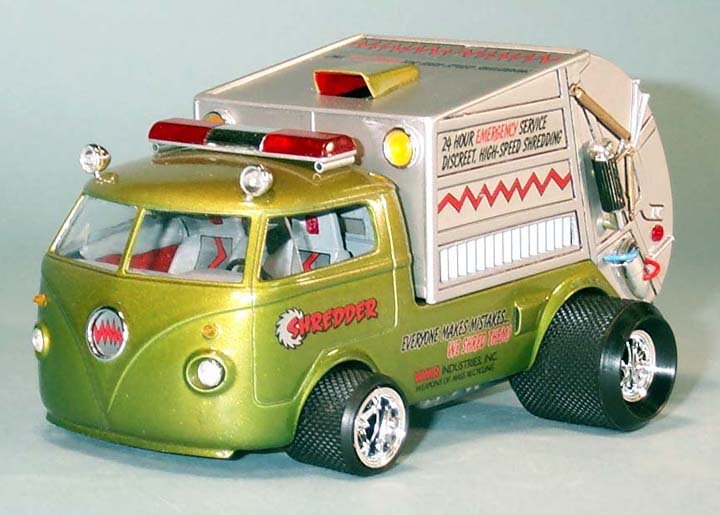 1ST PLACE WINNER IN THE TRUCK CLASS AT THE HOBBYTOWN PETALUMA CONTEST (3/06)
2ND PLACE WINNER IN THE 2006 SHOWRODS.COM "T's, C's and VW's" CONTEST!!!
MORE COLOR PHOTOS BELOW!
With all the Corporate and Political Stories in the news these days, I was inspired to design this Comic " 1970's Tom Daniel" Fantasy Style Show Rod - the SHREDDER. The SHREDDER is a High Speed, 1200 Horsepower Shredding Machine, capable of shredding reams of troublesome records in just seconds! Not only does the SHREDDER get the job done fast, it is on 24 Hour call for those Special Shredding Emergencies that can't wait!
The SHREDDER is based on two Tom Daniel designs: Monogram's Baja Beast, and the Garbage Truck. See the construction photos at the bottom of the page. The Baja Beast van body was modified and shortened into a pick-up style cab with new side windows, and the body was shortened 1/2 inch. The rear of the body was then cut and shaped to fit the Garbage Truck back. The rear roll pan was reversed and attached in place. New door lines were scribed in. The Garbage Truck back was reduced in height to 1/2 inch, and side vents were made with HO scale plastic stairways.
The interior was made with parts from the Monogram Ferrari Testarossa, strip plastic and sheet plastic. The Ferarri dashboard and overhead console were modified to fit and the Ferarri door panels were trimmed to fit the new VW cab. The seat platform was cut out and replaced with a new lower platform. The seat decals are from Slippery Arts, I showed Decal Dan what I wanted, and he made all the great decals you see on the Shredder! Many extra emergency lights were added thanks to Brandon Flannery's generous parts contribution.
The Big Supercharged Engine, roof scoop, and headers came from Monogram's Groovy Grader. New long injector tubes were made from plastic tubing, and the new exhaust pipes were modified kit pieces with plastic and aluminum tubing added. The tires are Richard Carroll style, with Baja Beast rear wheels.
The body was painted with Testor's Metal Flake Lime Gold, and then Boyd's Lime Pearl was sprayed along the bottom edge of the body. The Garbage Truck back was painted with Testor's Metallic Silver.
It was great fun to build a "fantasy" type of vehicle like this one. I enjoyed including a little sense of humor into the model building process. I hope you enjoy THE SHREDDER, too.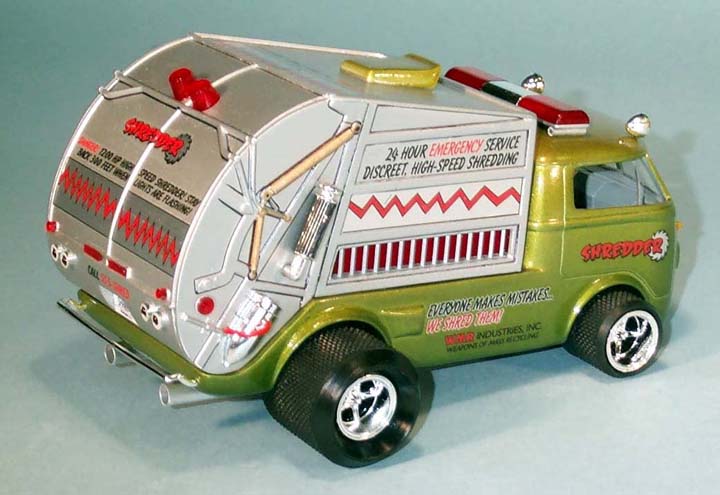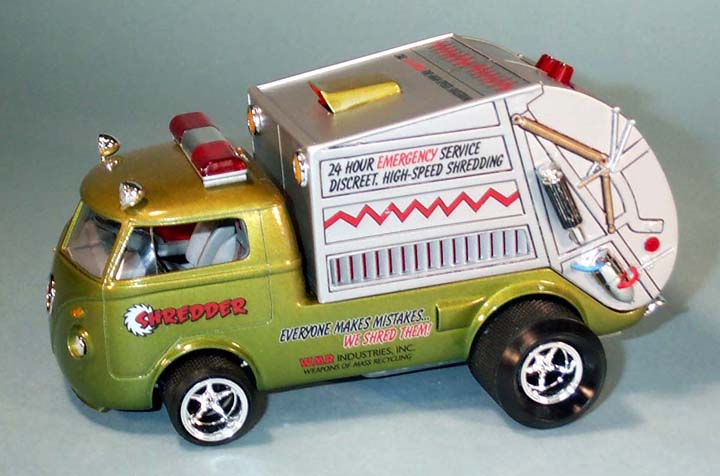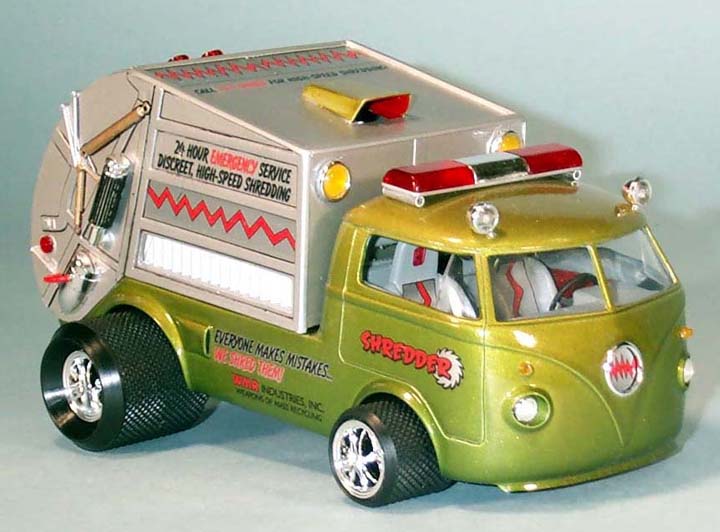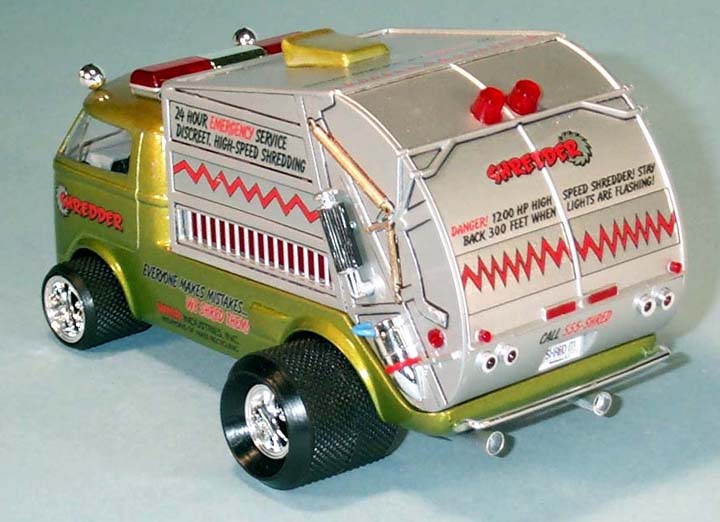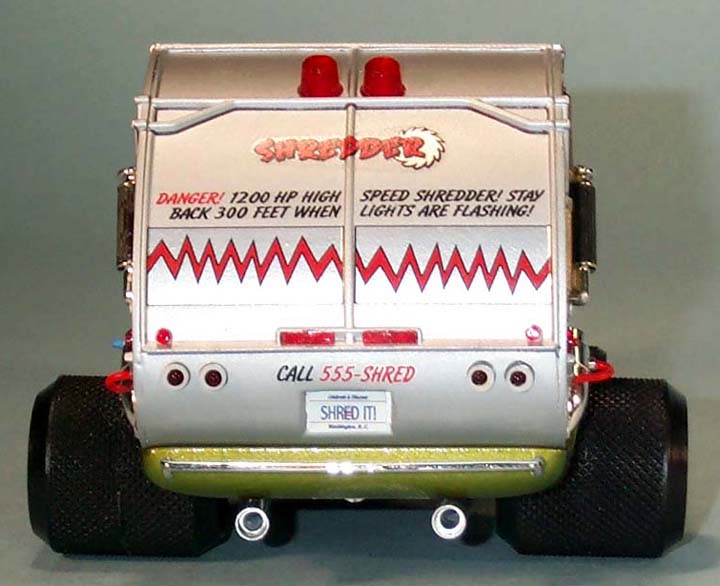 CONSTRUCTION SHOTS!
| | | |
| --- | --- | --- |
| DAHM'S COPYRIGHT 2006 | | |
| | | |
| | | |