TIME BANDIT
24th SCALE MONOGRAM CHERRY BOMB, REVELL CORVETTE PRO / STREET, REVELL MYSTERION, and BEATNIC BANDIT 2 KITBASH
BUILT BY IRA DAHM (10/08)
FIRST PLACE WINNER IN THE AUTOMOTIVE CLASS AT THE HOBBYTOWN NATIONAL CONTEST! Petaluma, CA. 10/08
FIFTH PLACE WINNER IN THE ELDON TITUS COBWEB CLASSIC CONTEST! 11/08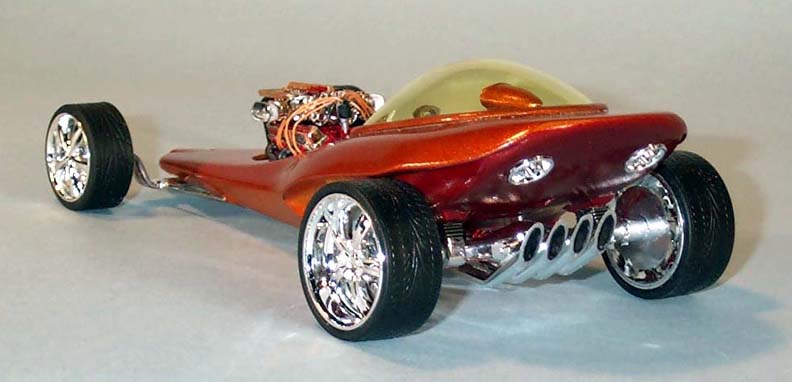 MORE COLOR PHOTOS BELOW!
The "TIME BANDIT" was built from the 24th SCALE MONOGRAM CHERRY BOMB, 25th Scale REVELL CORVETTE PRO / STREET, MYSTERION, AND BEATNIC BANDIT 2. The main body parts, headlight and axles are from the Cherry Bomb. The Engine is from the Corvette Pro / Street. The Complete Interior, Side Vents with Fenders and Tail Lights are from Ed Roth's Mysterion. The Bubble Top and Headers are from Roth's Beatnic Bandit 2 Kit.
The TIME BANDIT was completed in 3 days, finished just in time for the Hobbytown Contest and the "Eldon Titus Cobweb Classic Contest". The TIME BANDIT was made in in a style that I think Eldon Titus would have enjoyed.
The Cherry Bomb Body was modified in several areas to turn it into the TIME BANDIT. The Mysterion Interior was shortened and carved down to fit inside the Body halves. The Cherry Bomb Top was removed and replaced by some sheet plastic and part of the Beatnic Bandit 2 body, that holds the Bubble Top in place. The Beatnic Bandit 2 Bubble Top was mounted sideways to get the long narrow shape for the TIME BANDIT. The back of the Cherry Bomb Body was reduced in height. The Vents from the Mysterion were modified to fit cut outs made in the Cherry Bomb Body sides. The front of the Cherry Bomb Body was Notched to fit one of the Cherry Bomb Headlights.
The Small Block CHEVY Racing Engine features Dual Superchargers, Dual Webber Carbs and a Nitrous Set Up. The Quad Exhausts are from a Monogram Groovy Grader.
The Front Wheels and Tires are Hoppin' Hydros Slim 20's Vortex, with Pegasus Disc Brakes. The Rears are Die Cast replacement Wheels and Tires.
The TIME BANDIT was primed and then painted with Testors "Inca Gold". Then Testors "Mythical Maroon" was sprayed on the back underside around the tail lights. Next the top side of the body was sprayed with "Fury Orange". A few coats of Testors "Wet Look Clear" was then applied. The Interior is Flat White with "Fury Orange" and Flat Black accents.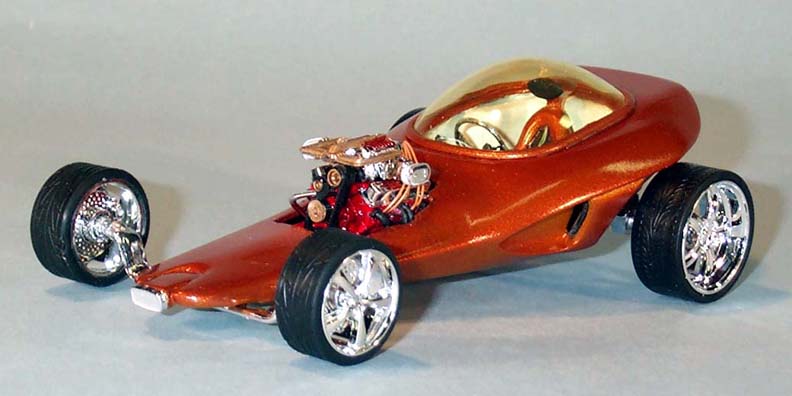 DAHM'S COPYRIGHT 2008