"T" STAR
8TH SCALE CUSTOM "T" STREET ROD
BUILT BY IRA DAHM (10/05)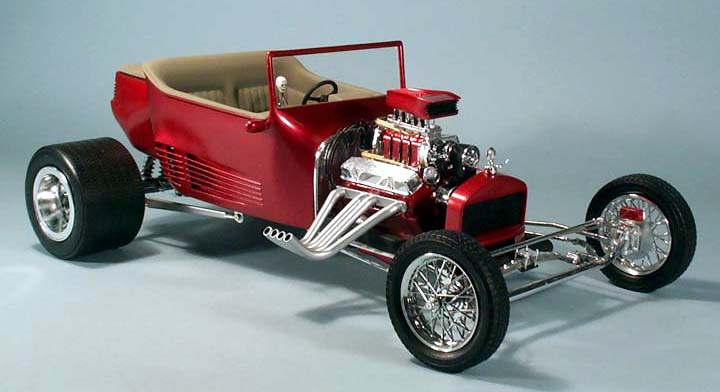 BEST OF SHOW WINNER AT THE OCTOBER 2005 PETALUMA HOBBYTOWN USA MODEL CONTEST!
THIRD PLACE WINNER IN THE CUSTOM CLASS, AT THE IPMS SANTA ROSA MODEL EXPO 2005 CONTEST!
FEATURED IN THE NNL CONTEST PHOTOS IN ISSUE #122 OF MODEL CARS 2007 MAGAZINE!
MORE COLOR PHOTOS BELOW!
"T" STAR was made of many parts, some old and some new, from a wide variety of car kits. Monogram's 8th Scale, Street T and Big T supplied most of the body, chassis, interior and engine parts. Monogram's 12th scale Ferrari Testarossa provided the rear end, interior and side vents. The Rear Tires and Wheels are from Revell's Evil Iron Trike. The Supercharger parts are from the Parma Hemi. Two front ends, one from a Monogram 24th Scale Testarossa and a second from the Monogram L'il Coffin were also used.
First the sides of the "T" Body were cut out to fit the Ferrari Testarossa Side Vents and the trim was removed from the "T" Body. Next the 2" of the rear of the Testarossa was cut off and reduced in width by 1 1/4" to form a new "pick-up" bed for the "T". The "T" Bed Cover was modified to fit the new Testarossa Pick-up Bed. The windshield posts were cut down to 1 1/2" in height and a new "T" STAR Windshield frame was made from "1/4 round" strip plastic and molded in with Testarossa Mirrors. The front end from a 24th scale Testarossa was modified to fit the bottom edge of the Big"T" Radiator Shell, providing high power headlights for the "T" STAR.
The Supercharger Scoop was made by adding the nose piece from the L'il Coffin onto the Parma Hemi Scoop. The Supercharger parts were a very good fit on the Big "T" Engine, only minor modifications were needed. The Headers were heavily modified and re-shaped to fit the Big T Engine. I also filled-in and finished the backs of the headers
The frame was old and warped, so I took it apart, cleaned it up, rebuilt it and added a forth panel to each frame part to make it more rigid and box it in. The Evil Iron "Low Profile" Tires and Mags were easily adapted to the "T" Axle.
The interior is one of my favorite parts of the "T" STAR, the Testarossa parts are perfect for it! The Testarossa dashboard and console were cut down and modified to fit in the "T" STAR interior. The Skull shift knob is from the skeleton in the L'il Coffin kit.
The "T" STAR Body is painted with Tamiya Metallic Red over a Gold Base. The interior and bed cover are painted with Krylon Ultra-Flat Khaki, which looks like a soft suede. The frame is Krylon Ultra-Flat Black.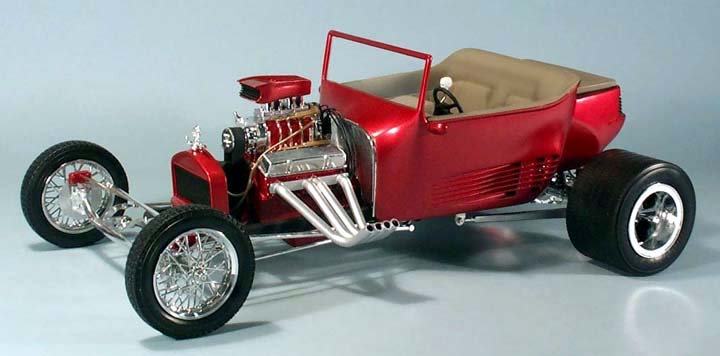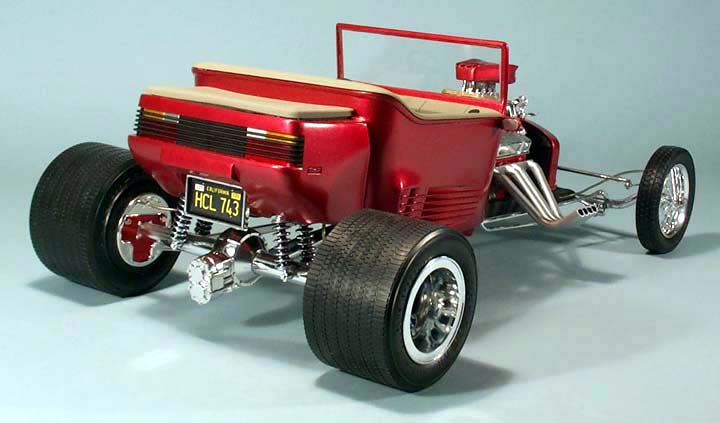 | | | |
| --- | --- | --- |
| DAHM'S COPYRIGHT 2005 | | |
| | | |
| | | |