ALA-VIC
25TH SCALE AMT-ERTL ALA-KART / 1932 VICKY KITBASH
BUILT BY IRA DAHM (7/08)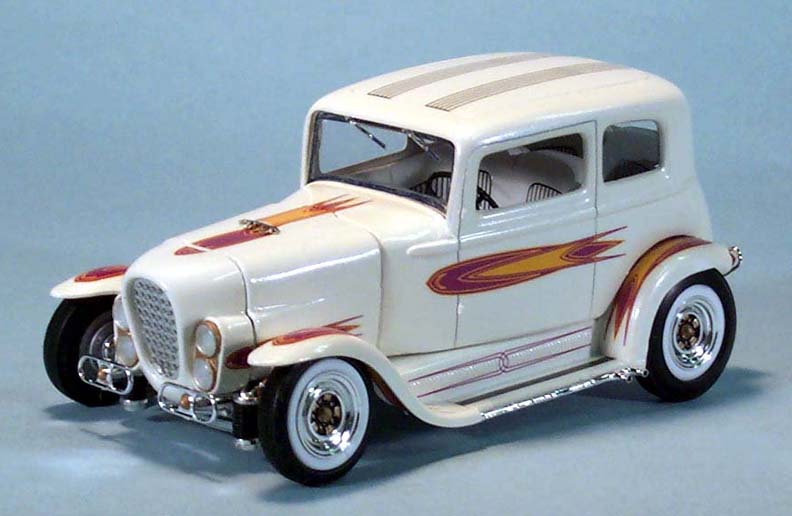 FEATURED IN THE SEPTEMBER 2008 AND NOVEMBER 2008 ISSUES OF GOODGUYS GOODTIMES GAZETTE!
FIRST PLACE WINNER IN THE AUTOMOTIVE CLASS AT THE HOBBYTOWN NATIONAL CONTEST! Petaluma, CA. 10/09
MORE COLOR PHOTOS BELOW!
The "ALA-VIC" was built from the AMT ALA-KART and 1932 Ford VICKY Sedan kits. I wanted the body parts to flow together, so that it would be difficult to tell where the ALA-KART stops and the VICKY begins. I thought, "What Would the Famous ALA-KART Showcar look like if an 1932 VICKY Sedan body was used instead of the Roadster Body, and here is what I came up with, the ALA-VIC!
Complete details on the ALA-VIC can be found in the "GOODGUYS GOODTIMES GAZETTE".
The VICKY Body was modified in 4 areas to make it fit on the ALA-KART Fenders/Frame. The Cowl Shape was changed by replacing part of it with the front of the ALA-KART Cowl. The bottom of the Body was Leveled-Off slightly. The rear Wheel Wells were reduced in size, and the ALA-KART Rear Pan was modified to fit the VICKY Body.
The ALA-VIC Interior was made from 2 ALA-Kart Interiors. The Interior was painted Flat White with ALA-KART Decals.
The ALA-VIC was painted with several coats of Tamiya Pearl White over a White Primer base. The decals from the ALA-KART were applied and after they dried, sprayed with several coats of Dupli-Color Clear.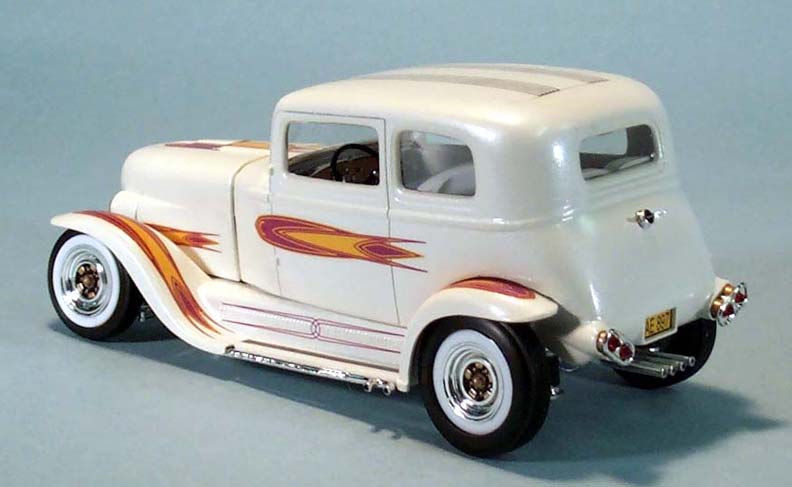 DAHM'S COPYRIGHT 2008