WILD RIDE
25TH SCALE AMT CHALLENGER EXP. DRAG CAR
BUILT BY IRA DAHM (1/07)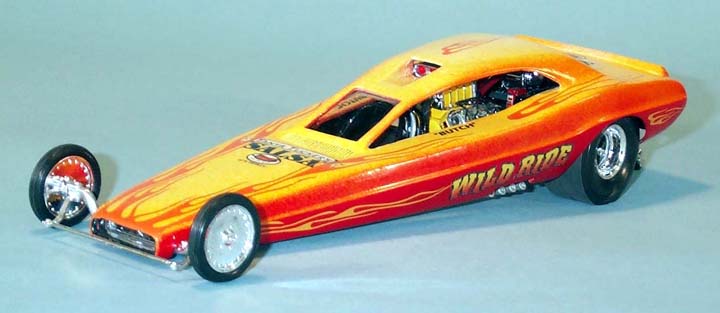 FIRST PLACE WINNER COMPETITION CLASS IMPS "SCALE MODEL EXPO 2007" IN PETALUMA, CA.
FEATURED IN FOUR GOODGUYS GOODTIMES GAZETTE, ISSUES: August 2006, September 2006, November 2006 and March 2007.
"BEST OF CLASS" WINNER IN THE COMPETITION CLASS AT THE HOBBYTOWN PETALUMA CONTEST (4/07)
FEATURED IN THE NNL CONTEST PHOTOS IN THE JUNE 2007 ISSUE OF SCALE AUTO MAGAZINE!
MORE COLOR PHOTOS BELOW!
The "WILD RIDE" is the subject of four articles that I wrote for the GOODGUYS GAZETTE Magazine. This is the publication for all the members of the GOODGUYS "Rod & Custom Association". You can check them out at http://www.good-guys.com. In the August and September Issues I showed the Goodguys readers how to do most of the Custom Body Work. In the November Issue I showed how to Apply a Four Color Paintjob without Masking. Then in the March 2007 Issue I showed how to finish the "WILD RIDE". For the Complete information on the construction of this car, be sure to see the Goodguys Goodtimes Gazette Magazines!
This project was inspired by the winner of Car Model Magazines 1968 National Funny Car Contest, Jim Keeler's "Dodge Fever". The "Dodge Fever" model is displayed at the International Model Museum and can be seen on the Museums website. Jim Keeler's futuristic 1968 design still looks great 40 years later, and its still one of my favorite models. I finally got around to building my own version in 2003, the "Dahm's Stinger". Then in 2006 I decided to build another similiar Drag Car, the "WILD RIDE", with the rear wheels enclosed in the body.
The "WILD RIDE" Body is based on two AMT "YANKEE CHALLENGER" kits. The main modifications on the "WILD RIDE" are: Chopping the Top, Joining two Challenger Bodies into a Longer Body, Sectioning the Body, Adding Width to the rear of the body, and forming the top side of the body with sheet plastic.
The Monogram "Stinger" chassis is mostly stock with a few modifications. A Revell dragster kit supplied, the fuel tank, fire extinguisher, gas pedal, brake pedal, oil pump with lines, oil filter, steering wheel, and the drivers roll cage. The Moon tank is from the parts box. The rear axle was narrowed 1/4". The front engine mount was attached below the frame tube to lower the engine. Sheet plastic was used to add protective panels on the sides and back of the driver cockpit. The frame rails were painted gloss black, the engine and rear end gloss yellow and the flat panels Testors Metallic Silver.
The "WILD RIDE" body was painted with Krylon Gloss White, Gloss Yellow, Gloss Orange, Gloss Red and Duplicolor Gloss Clear. I have to Thank my good friend Paul Burke who, helped me with the Polishing and Finishing of the Clear finish! The inside of the body is painted Testors Flat Black. The Decals are from a varity of companies including, Radical Decals, Fred Cash, Up Scale Graphics and Revell.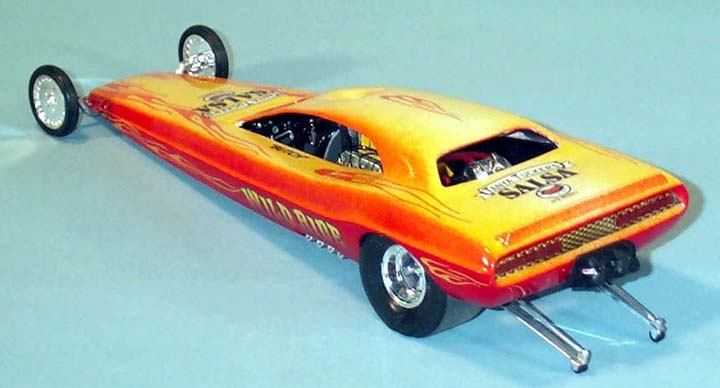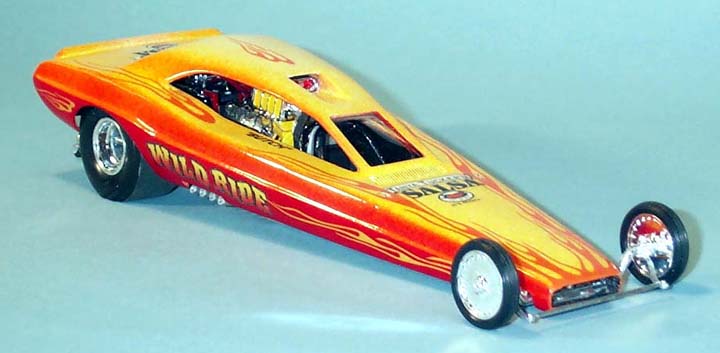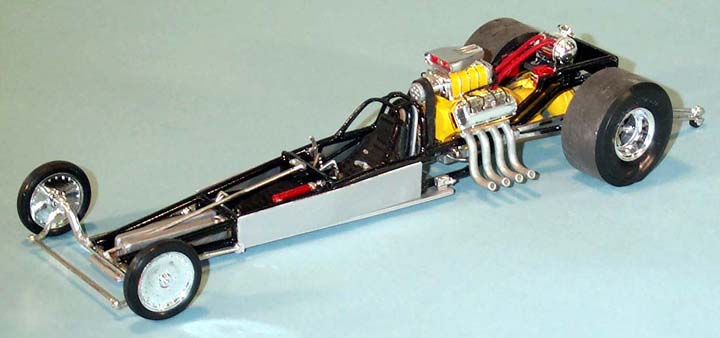 DAHM'S COPYRIGHT 2007