WILD WILLY
25TH SCALE REVELL GOODGUYS CUSTOM 1941 WILLYS
BUILT BY IRA DAHM (10/07)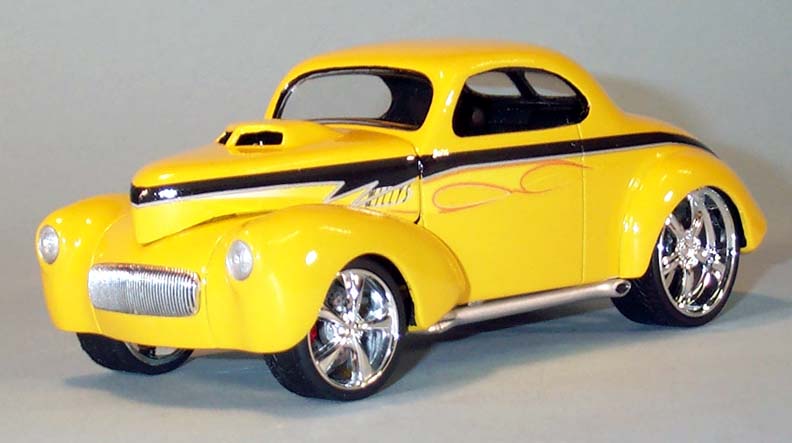 FEATURED IN THE JULY 2007, SEPTEMBER 2007, NOVEMBER 2007 AND JANUARY 2008 ISSUES OF GOODGUYS GOODTIMES GAZETTE!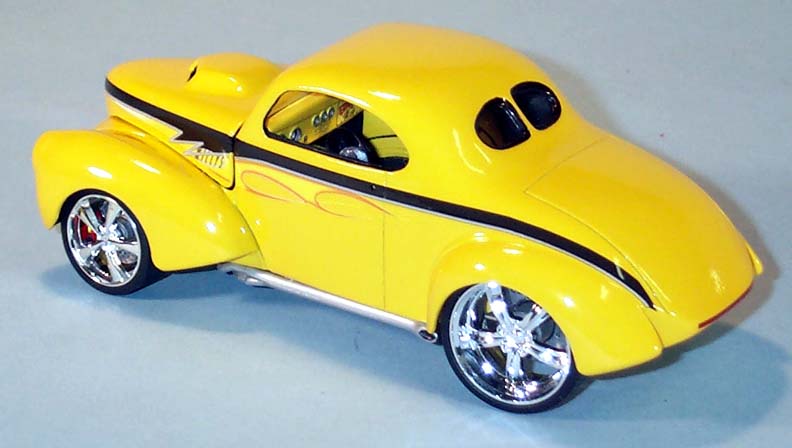 "BEST OF SHOW WINNER" AT THE HOBBYTOWN NATIONAL CONTEST, PETALUMA. (10/07)
2ND PLACE WINNER IN THE CUSTOM CLASS AT THE IPMS "HOBBY EXPO", PETALUMA. (2/08)
MORE COLOR PHOTOS BELOW!
The "WILD WILLY" was built from the Revell Goodguys '41 Willys Street Rod. The Body Modifications included: Top Chopped, Body and Hood Sectioned, Front and Rear Fenders Bobbed, Rear End Kicked-Up. There is also a Recessed License Plate Housing, Molded-In "Challenger" Hood Scoop and Molded-In 1940 Ford Headlights! Complete details on the WILD WILLY can be found in the "GOODGUYS GOODTIMES GAZETTE".
The Frame has been shortened and "Firebird" Side Pipes were added. The Engine is from the '41 Willys kit, I left off the kit scoop and added an Aluminum Distributor and Red Spark Plug Lines.
Hoppin Hydros "Vortex" Wheels with Pegasus Disc Brakes were fit in the front and Die Cast Replacement Wheels are on the rear.
The Wild Willy was painted with several coats of Krylon Yellow. The Stripes and Flames are decals from the kit, Clearcoated with several coats of Dupli-Color Clear. Testors Flat Black was also used on the body, interior and frame. The "GOODGUYS" decals are from the Revell Goodguys 1940 Ford Kit.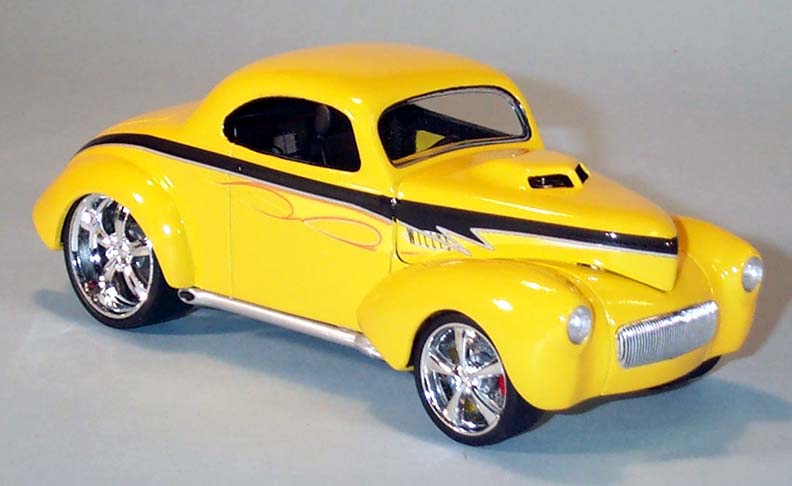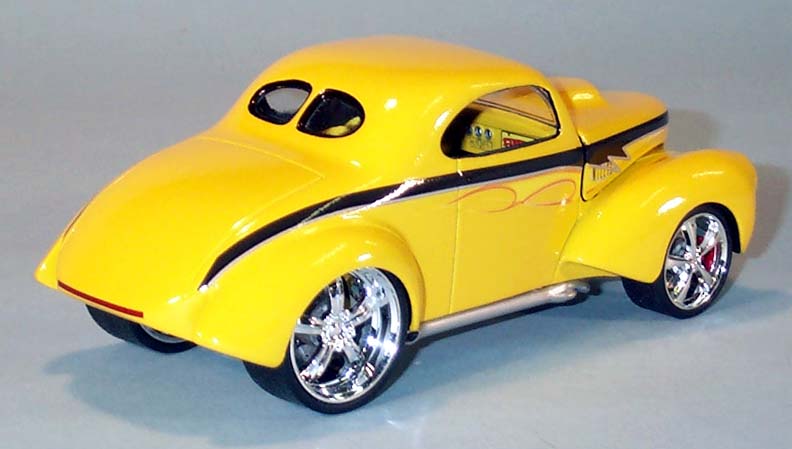 DAHM'S COPYRIGHT 2007