Some jet planes used by Bohemians and their guests.
Some of the men traveling to the Bohemian Grove encampment from outside the San Francisco Bay area fly into the Sonoma County Airport. The aggregation of business jets present during peak weekends of the encampment sometimes draws people to the airport just to see the array of fast and high-priced "iron."
Photos and text copyright © 1998 Kerry Richardson
---

An Airforce jet was present after the visit of West German Chancellor Helmut Schmidt to the Bohemian Grove in 1982. His host, United States Secretary of State George Shultz, later wrote that they spent a long weekend at the Bohemian Grove and had discussions that were far-reaching and candid.

---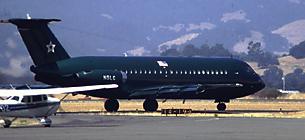 Area residents were curious about the big green jet seen at the county airport during the Bohemian Grove encampment in the early and mid 1980s. The plane was registered to the cement manufacturer Lone Star Industries and it transported that company's Chief Executive Officer (CEO) James E. Stewart who is affiliated with the "Wohwohno" camp.

---
This is the Unocal (Union Oil Company) four-engine hot rod that was used in the 1980s by Unocal CEO Fred Hartley who was a member of the Bohemian Club.

---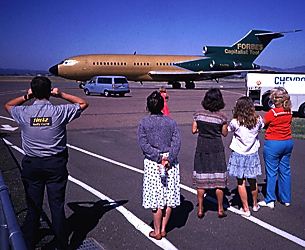 In 1989, Malcolm Forbes and Caspar Weinberger traveled to the Grove on Forbes' jet, which had Forbes' motto, "Capitalist Tool" printed on its tail. Forbes was owner of Forbes magazine, a business publication. Weinberger, the former U.S. Secretary of Defense and member of the Grove's "Isle of Aves" camp, was working as Publisher of Forbes magazine.

---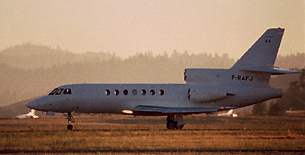 Michel Rocard, then the Prime Minister of France, departed on this Dassault Falconjet on July 22, 1989. Rocard spoke at the Bohemian Grove, remarking on topics such as French agricultural policy and removing barriers to trade in Europe.

---
IBM Corporation's Gulfstream G-4 jet parks next to Exxon Corporation's G-4 during the 1997 Bohemian Grove encampment. G-4's were priced around $28 million in 1995.

---
---