Knives by Karl Schroen
A noted Knifemaker who lives in Sebastopol, California, Karl Schroen makes a variety of knives using the traditional methods of the blacksmith combined with materials developed by the modern tool steel industry. Each knife is handmade. Schroen can be reached at 4042 Bones Rd., Sebastopol, CA 95472. Phone 707-823-4057. Fax 707-823-2914.
The steel is hand-forged, then heat-treated and tempered.
Schroen's recent design, a round nosed cleaver with a sharpened tip, is used by a number of professional chefs.
Schroen feels his knives are meant to be used by their owners, although their beauty appeals to the collector also. The handles are sometimes scrimshawed by Steve Magill.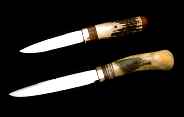 ---
---
Some links: