Yuha Well
California State Historic Landmark 1008
---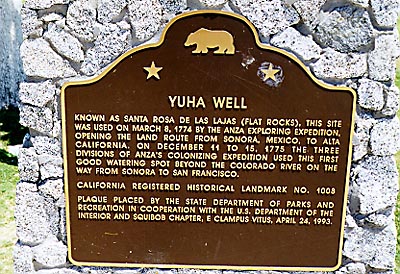 05/21/98
#1008 Yuha Well
Known as Santa Rosa de Las Lajas (flat rocks), this site was used on March 8, 1774 by the Anza exploring expedition, opening the land route from Sonora, Mexico to Alta California. On December 11 to 15, 1775 the three divisions of Anza's colonizing expedition used this first good watering spot beyond the Colorado River on the way from Sonora to San Francisco.
---


Nothing remains of this site.

---
E-bound Sunbeam Rest Area, between Drew and Forrester Rds (PM R31.3) on I-8 near Seeley.



Return to other landmarks in Imperial county.
---


Send comments to:
Donald Laird