Day Four
Keystone to Boulder
Austin sports his frozen bandana
The night tested the warmth of our sleeping bags. It was well below freezing. Ice crystals adorned the ground and frost covered the tents. The new down bags performed well. We both stayed toasty warm and comfortable. It would be, by far the coldest night of our trip. The morning sky was clear and the rising sun was brilliant. The mountains appeared crisp and clean. We slowly awoke and began to prepare for the day. This day would be one of the most epic of the entire ride. This day would see us log an intense amount of mileage, go over the Continental Divide and feast at the last brewpub we would see until Michigan.
The long days of the season allowed us an early start. We didn't want to linger in our poached camp site. We folded things up and were on the road by eight o'clock. Keystone at 8000 feet is at the beginning of the climb towards Loveland Pass. It was nearly ten miles of steep, unrelenting road that lead past Arapahoe Basin Ski Area. It was Sunday and many cars passed on their way to the ski slope, one of the few open this time of the year. Although the snow was slim, there was enough for the enthusiasts to ride.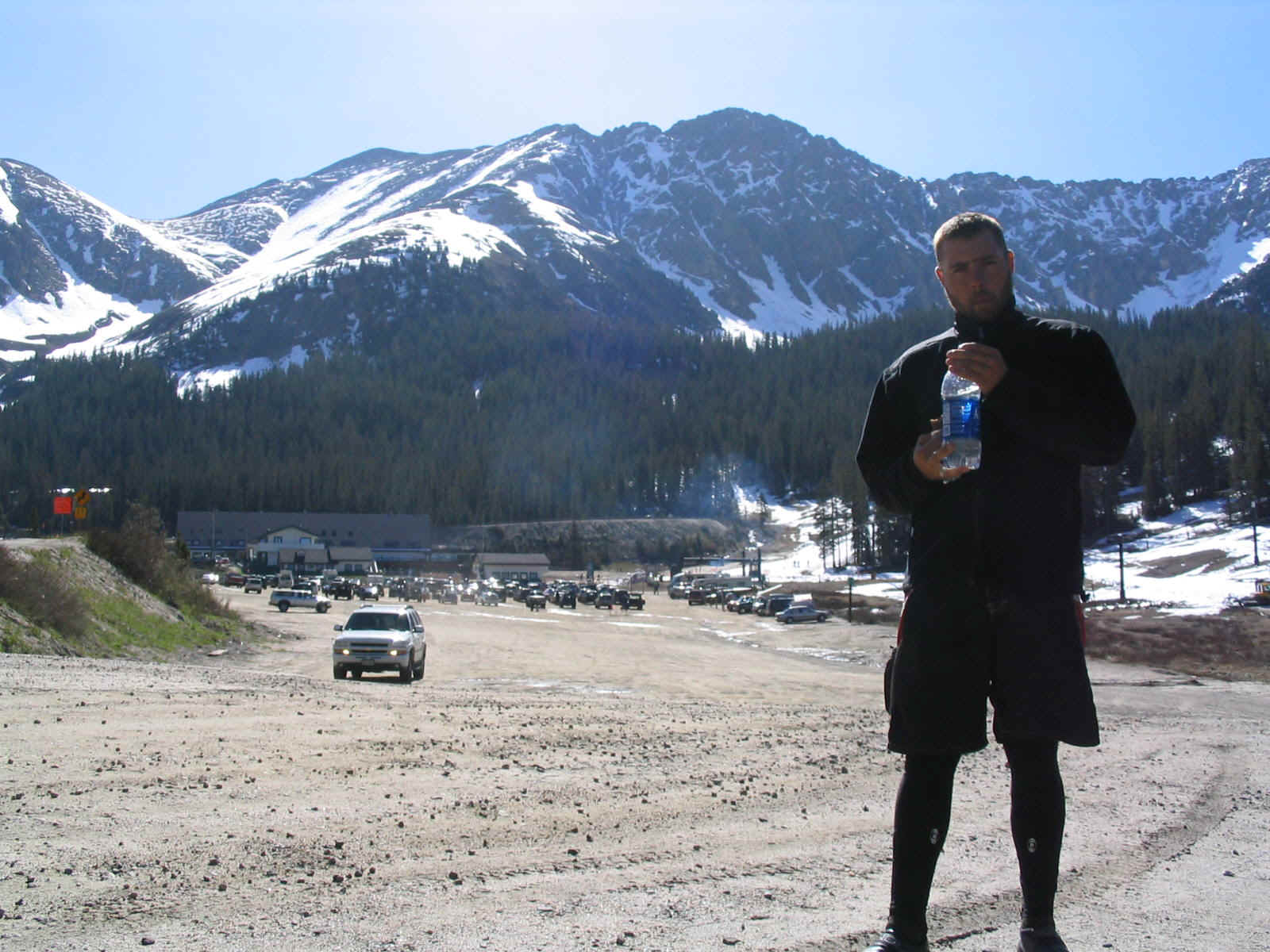 Arapaho Ski Basin, 10,000
This day, June 8th was clear yet still cold at our altitude. We stopped at Arapahoe Basin and made some adjustments in our clothing, ate a snack bar and watched the skiers for a brief period of time. However we were fired up. This part of the ride was the most notable. Standing at the ski slopes we were at 10,000 feet. The thin air robs one of oxygen forcing slower riding. The adrenaline countered the high altitude and we pressed on. The last four miles to the top seemed to take a long time, yet when we gloriously topped the Continental Divide it was only 10:30 in the morning.
It would have been worth the trip had we only gone this far. As we stood on top of the pass at 12,000 feet we were overtaken with a sense of awe. The surrounding alpine scenery was beyond comprehension. Our minds were boggled. We took in the great sense of accomplishment of riding to the top of this monstrous pass. We did it with full camping gear, no easy feat. We took the time to luxuriate in the benediction that showered upon our minds. This day was significant for several reasons. We had ridden over 100 miles. The bikes were fine, the gear was appropriate and we now looked down into the eastern watershed of the U.S. We had the sense that we were now well immersed in this venture. We were buoyed with confidence and eager to pedal more miles.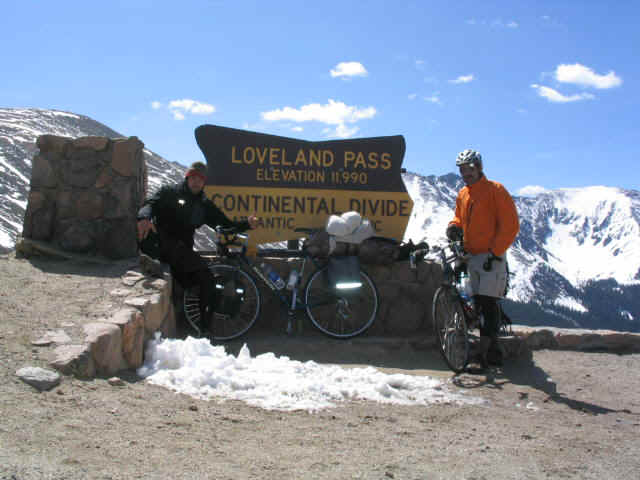 On the Top of our Trip
Perhaps the scariest part of the 2200 miles was the descent from Loveland Pass. The road surface was OK and it allowed us to rocket at speeds that were, at best sketchy with our heavy loads. The first five miles twisted and switched back and forth. At the base of the descent we passed the Loveland Ski Area. This is where I-70 goes through Eisenhower Tunnel, bypassing the huge climb over the terrain. We were allowed to ride on the freeway for periods of time as the miles now roared by. Sections of frontage road gave us virtual privacy. Within an hour we had shredded to Georgetown. Along the way we saw an old narrow gauge railroad, once a mining tool now a tourist attraction. The old steamers hauled fat, bored people along its old twisting route.
Once past Georgetown we began to descend to lower and lower altitudes with speed being the major ingredient during this part of the day. The miles added up quickly as we took advantage of the down slope. We pedaled into Idaho Springs where we would leave the environs of I-70 for the rest of the trip. We would take highway 6 a scenic downhill road that leads to Golden CO. This road follows Clear Creek through a narrow canyon. There are six tunnels on the way to Golden. This road is ideal for bicycle touring with one major exception. At the very start of the road was a large "No Bicycles" sign. It was one of those red circles with a slash through the bike. Bad news. The alternative was to have to endure a fairly major climb While we considered our situation we couldn't help notice Kermitt's Bar across road. The sign on top of the roof boasted "Food and Spirits". The parking lot was jam packed with Harleys. It was clear that this was a favorite ride for the biker set. For good reason. The drive up highway 6 is delightful. The sweeping turns and scenic territory create a theme park for motorcycles.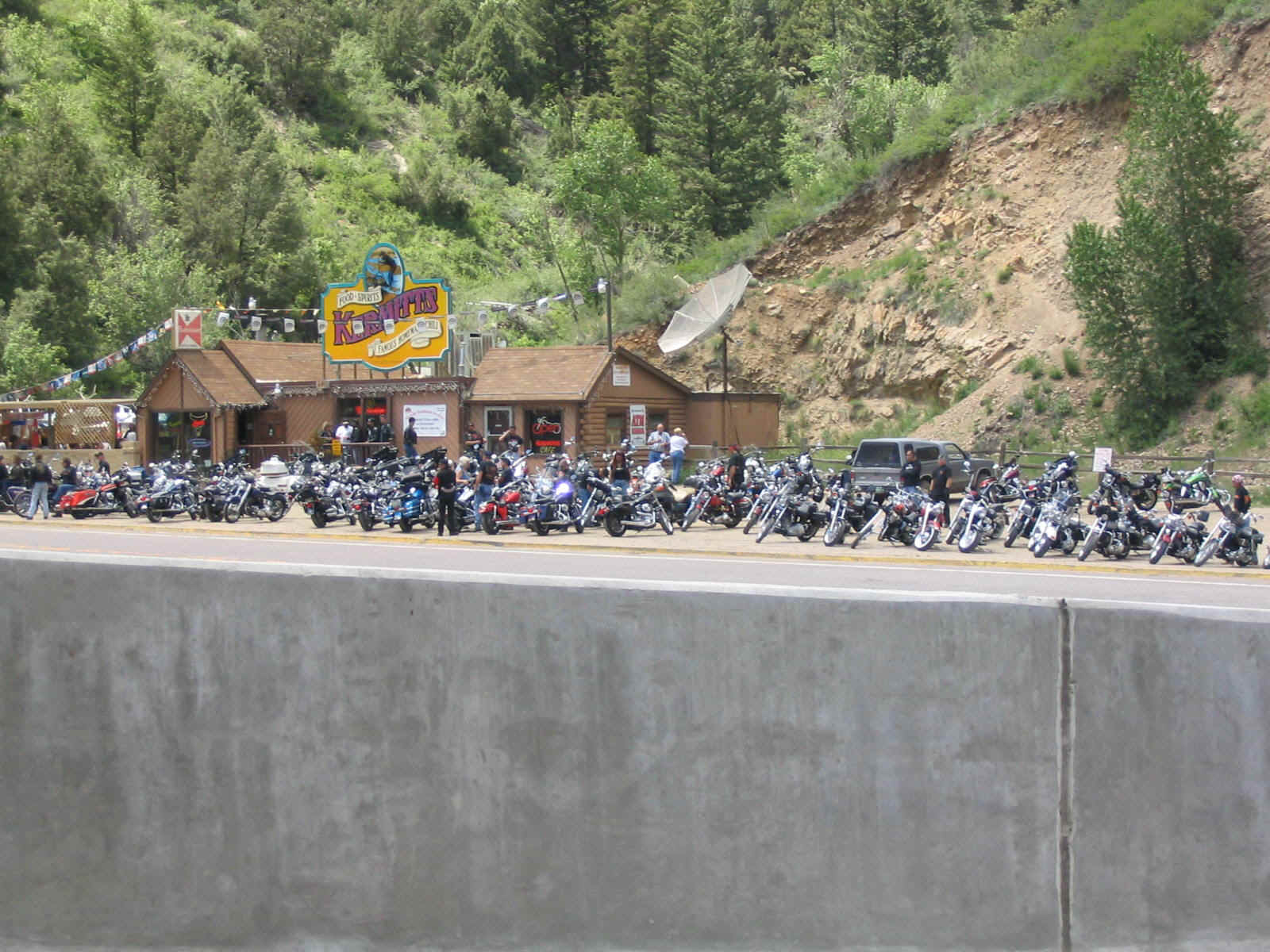 Kermitt's: Hawg Heaven
We were faced with a decision. We had pedaled over fifty exciting miles already. We were hoping to get to Boulder. We had a short discussion and decided that it was probably not likely they could actually do that. Besides there was also the probability that we wouldn't see any cops if it was illegal. On top of that, who could bust this father/son team riding to Dad's 40th high school reunion 2000 miles away in Pennsylvania? It was around twenty miles to Golden on highway 6. It would have been thirty miles plus climbing on the alternate, too much to get to Boulder with no reasonable place to camp enroute.
We were on a roll. We felt like Titans and had a lot of adrenaline to pedal the downhill mileage to Golden. We would be able to maintain an average speed over 17 mph. It would take us less than an hour to shred highway 6. We saw no cops and we didn't take time for photos. We concentrated each pedal on getting as quickly as possible to Golden. As we flew down the road dozens of Harleys roared past. Some were friendly, many were hostile seeing us as intruders in their park. One in particular passed with a foot sticking out as if to knock over Dad and son. It didn't work. It only propelled us with greater resolve to process this section of our trip. It wasn't dull. I watched Austin with amazement for his incredibly smooth riding. He had never ridden a loaded touring bike in his life. His natural athletic ability paid giant dividends.
We rolled into Golden and turned on Colorado Highway 93 for the last leg of the day's effort. We were both tired. The seventeen miles to Boulder loomed big. The foothills of the Rockies rolled up and down on the way. The easy riding was over. The next two hours were not fun and not easy. We stopped at the Rocky Flats west entrance for a break. Austin had a major side ache from the tough day. Little surprise considering this was his forth day on a bike since before the ski season. He did the G.I. Joe thing and toughed it out. He endured while continuing to ride strong and smooth, with one minor exception when he left the pavement at speed on a downhill section of the road. Miraculously and with credit to his mountain biking experience, he managed to not stack and not bend the bike.
Sorely needed break after 70 Rocky Mountain miles
Finally we rode into Boulder. Luck was with us as we quickly discovered the Southern Sun Brewery. We attempted to call cousin Charly, but he was not back from the Grand Canyon where he is a river guide. We would have to figure something out for the night. We asked about nearby campgrounds. We considered getting a hotel room. The food at the brewpub was superb. We ate huge amounts of fries with our burgers and drank beer. We were hungry and dead-wasted tired. It had been a huge day. We were now out of the mountains in only two and a half days. Although the mountains were fun, thrilling and spectacular, we were on a mission and knew from simple math that we would have to ride pretty hard to make our goal of PA by July 12.
As we exited the brewpub we noticed a lady checking out our rigs.
"It looks like you guys are touring." She said.
"Yes," We replied, "As a matter of fact we are looking for a campground within riding distance."
"Please," she implored, "Come and stay at our house."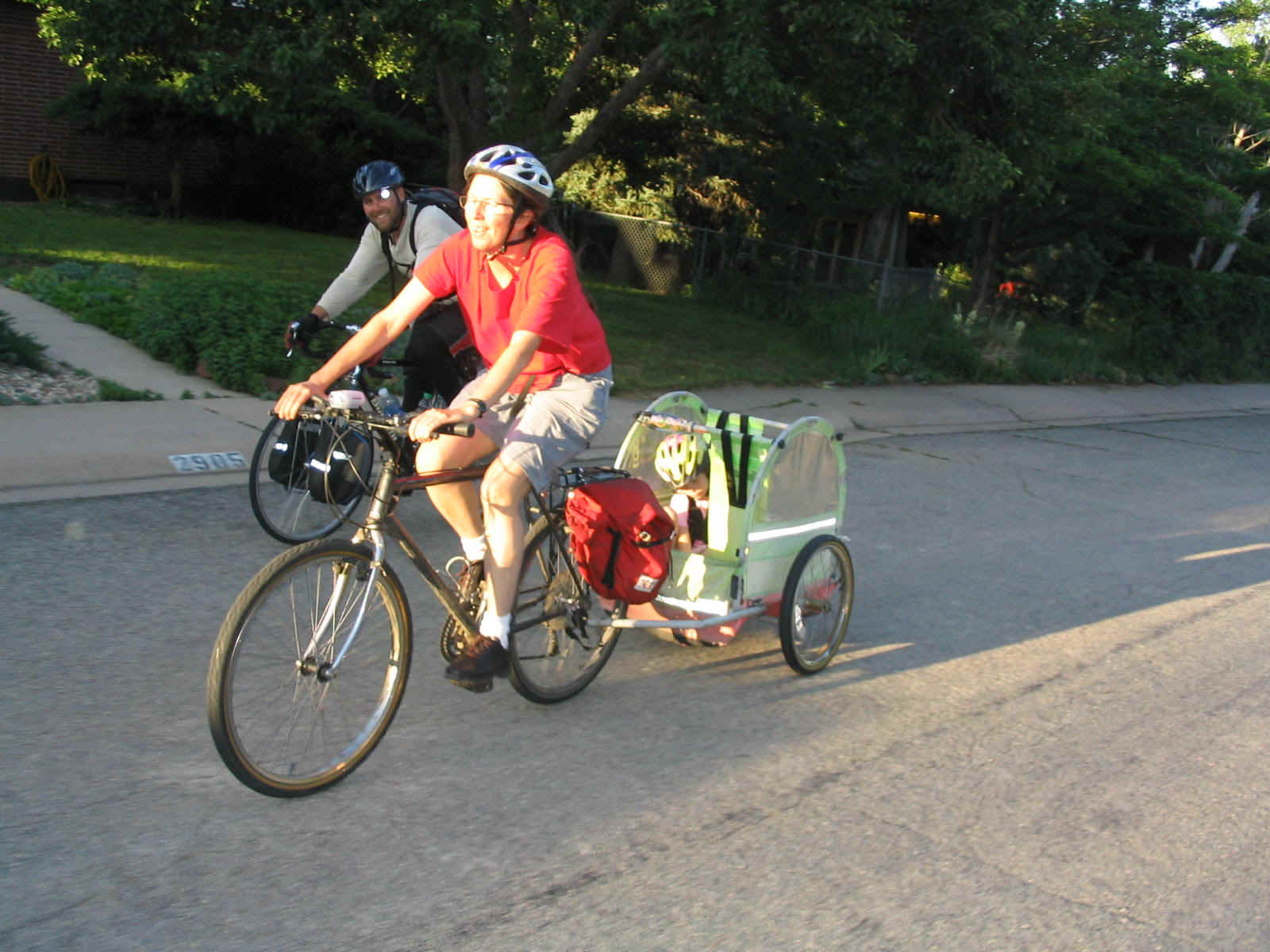 Janet and Richelle take us to their home
We were delightfully floored. This was more serendipity raining down on us. We were weary and not looking forward to finding a spot for the night. This was music in our ears. Not only that, but Alan and Janet Streater were enthusiastic cyclists. They transcended normal enthusiasm by not even owing a car. As we got to know them we grew to sincerely appreciate their courage in transportation options. Alan is a physicist and with Janet are raising their daughter Richelle. Their hospitality was warm and sincere. This kind act gave us a sorely needed respite from the hectic undertaking. We would luxuriate in showers, laundry, food and supportive company.