Tone and Eric's spontaneous ride
Eric and Tone spent most of Wednesday evening drinking massive amounts of electrolyte therapy beverage. (beer) The original plan was to take a maintenance ride late in the afternoon, sometime before dark. As the beer gained leverage in their thinking, the ride got more and more delayed until it was nearing sunset. A ride seemed unlikely when Tone went next door to beg for some more beer. Bill, having seen the light about excessvie beer consumption, gladly handed off his stash to Tone and Eric.
Sometime after dark, Eric jokingly said; "Are you sure you don't want to go for a ride?"
"Sure!" Tony responded without hesitation.
The die was cast. The only problem was where to go and what to do with the dog. By now the moon was well into the night sky. The two discussed the options and decided the best bet was to ride up Diamond Mt. to Sharpe Rd. then back down Kortum Canyon. They would drive to the Diamond Mt. to avoid making Miss Swift run along the highway.
Diamond Mt. at night...
Instantly upon beginning to ride, the two were blessed with a perfect night. The moon was brilliant in the clear sky and the temperature was in the mid-sixties and would remain perfect for the entire ride. Diamond Mt. is a paved road, yet very remote. There were no cars on the road at all. The two had the entire mountain to themselves, aside from the few residents who likely knew not of the event occurring in the darkness of the deep redwooded mountainside.
The woods were quiet and mystical. Shafts of silvery moonlight sliced through the tall trees as the two plus Miss Swift slowly climbed the two thousand vertical feet towards the summit. At the top the two took a short break before heading down what they though would be a tough, boonie thrash across the torn up old road. The roadbed had been severely damaged in the previous winter's storms. However, they found new bulldozer tracks all the way down to Kortum Canyon. The road was not only passable, but quite reasonable.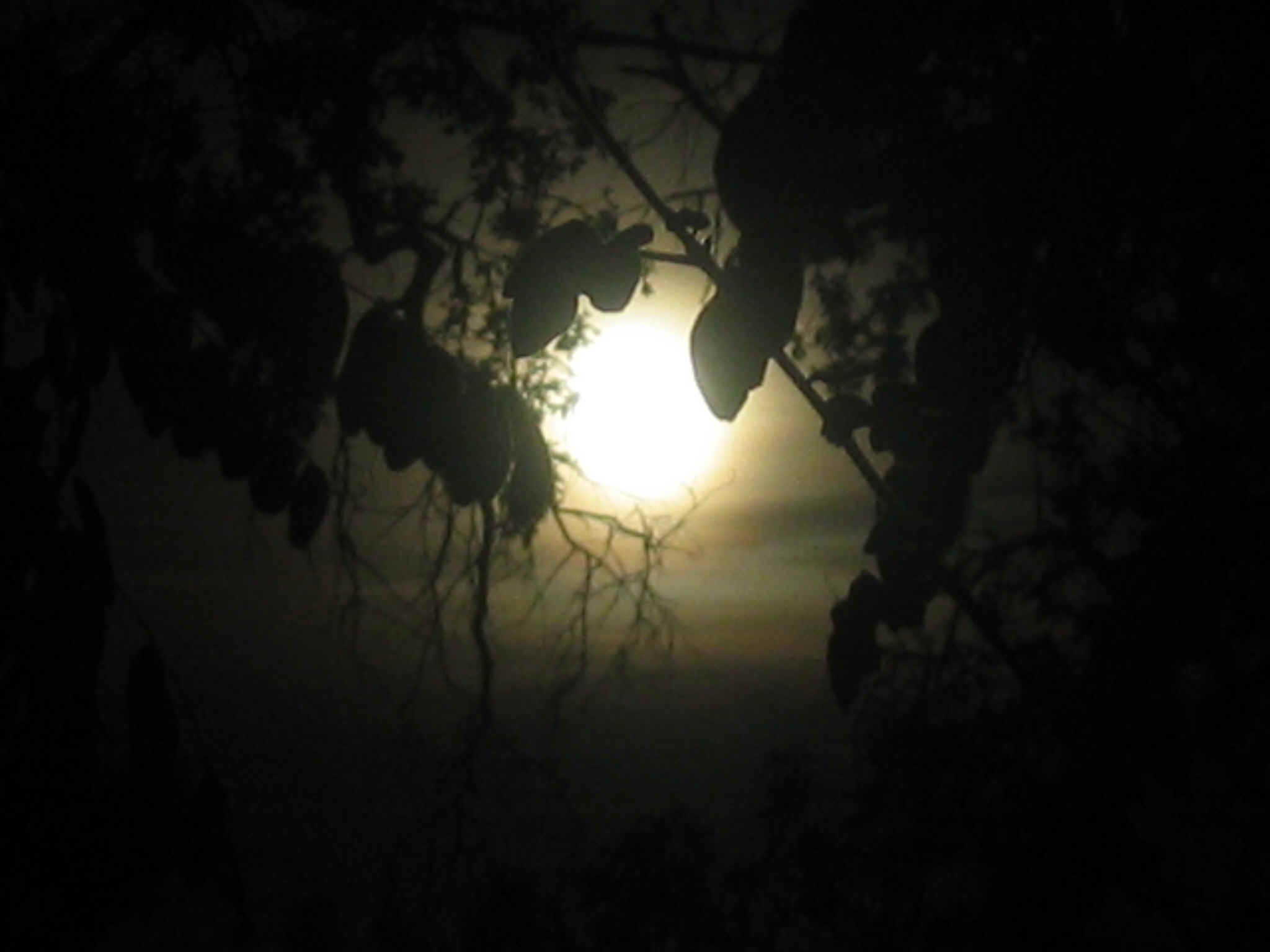 The moon peeks through the trees
Miss Swift did an amazing job of staying with the two bikers on the downhill portion of the ride. On the whole loop, only one car appeared. It didn't run over the dog, though it sped by at an irresponsible rate. At the bottom, Tone and Miss Swift waited at the corner while Eric retrieved the car. For a ride that had no plan at all, it was a cool unexpected venture into the glorious realm of La Luna.