On August 5, 1775, Lt. Juan Manuel de Ayala captained his ship the San Carlos north from Monterey and through the Golden Gate. They anchored in a protected cove on an island and spent the next six weeks surveying, taking soundings and mapping the Bay, and drawing up the charts used by later ships. He named the island "Isla de Nuestra Señora de los Angeles" ("Island of Our Lady of the Angels"). The cove faces the green, grassy area toward the left side in the photo above.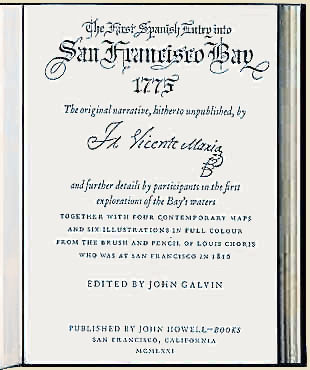 The actual Captain's log, and the engaging journals of Father Vicente María and the other San Carlos crew members as they got to know the Bay and its residents (some openly hospitable, some less so), have been reproduced as photocopies, with same text in English on facing pages.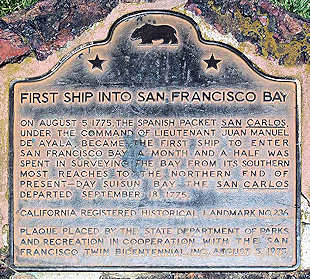 The place on Angel Island State Park where the San Carlos first anchored was later renamed Ayala Cove - in future years the site of the annual Ayala Day Festival. On one visit in 1966, we found my brother David Ayala and his San Francisco band "The Gentle Dance" playing there for the festival; could anything have been more fitting? David now plays with the "VFO - Village Folk Orkestra" in Nevada City, California.