This group of 16 Pace slot machines was believed to be the last of the old mechanical slots available for public play in the State of Nevada.
---
Bill's Casino in South Lake Tahoe didn't put much maintenance into these relics, and at any given time several were out of order. In fact, on Feb. 17, 2002, the total number of slots had been reduced to eight, and only two of them were working.
In July 2003 Bill's finally threw in the towel on the old Pace mechanicals, and it wasn't much longer before Bill's shut down its entire operation, leaving a giant empty box between Harrah's and Mont Bleu.
---
Here's an even more unusual machine that was on the floor at Bill's, the last double quarter Pace. The only problem is this one was so out of tune several of the reels ran backwards!
---
And yes, it did happen once in awhile. Here's a $75 winner.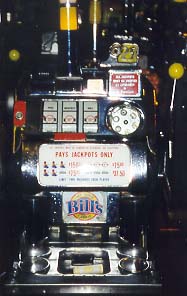 Before Bill's closed I called to inquire about the machines and was told I could find one of Bill's old slots in a casino in Virginia City. So in July 2003 we set out for Virginia City to see if there really were any old mechanical slots available for public play. We went through every casino in town, and the closest we came to finding any was at the Gambling Museum (well worth a visit). Also, pictured here are the 'Bonanza Girls' at the Bonanza Club in Virginia City. Unfortunately, the postcard, which is widely sold throughout town, shows slot machines which no longer exist.
Update, July 2012 A new and very small casino has opened in the old Bill's building. Back to the Nevada Club