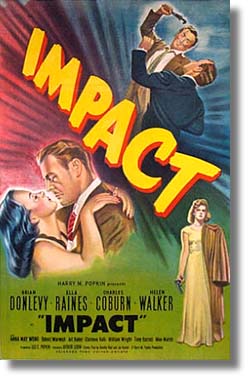 IMPACT, a 1949 crime-melodrama with film-noirish overtones, featured an extended sequence filmed in Larkspur during 1948, with additional location photography in San Francisco and Sausalito. For the purposes of the story, our Larkspur was relocated to Idaho, but otherwise its character as a typical small town of the period remained unchanged. A few brief scenes supposedly set in Larkspur, such as the train station and a lakeside locale, were actually filmed on Hollywood studio backlots or other locations.

Here's the brief plot summary I wrote for the Internet Movie Database:

No-nonsense San Francisco industrial whiz Walter Williams's two-timing wife and her lover plot to do her husband in, but Williams survives the "accident" and the lover is burned beyond recognition while driving Williams's car. Half-dazed, Williams stumbles into a moving van that takes him to idyllic Larkspur, Idaho, where newspaper stories of his "death" jog his memory. While recuperating and plotting his eventual return and revenge, Williams falls in love with Marsha, an auto mechanic. But when Williams finally gets back to San Francisco, he's charged with the lover's murder.

Click here for the full Internet Movie Database listing for IMPACT. This will open in a new window; close it to return to this page.

Below are links to my IMPACT pages:

IMPACT Cast Images of all the featured cast and many of the supporting and bit-part players.

IMPACT Scenes Frame grabs off the DVD from the Larkspur sequence of the film, showing familiar scenes and landmarks, as well as many Larkspur residents featured as extras.