Home
The Boys

The Girls

Puppies & News

W Extended Family

Other Critters

Contact Information

Links
Clara Brown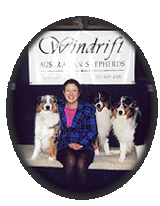 I have had dogs all my life and been involved in pure-bred dogs since 1972. I started out in Belgian Tervuren and Golden Retrievers. I did very well in both breeds but found myself looking for a temperament that was a combination of the two breeds. In 1993 I was given my first Australian Shepherd by Sheila Polk (Tri-Ivory). And I was hooked! I now only have Aussies and always will. The Australian Shepherd is the breed for me.
I have been very successful in the show ring, not only in conformation but also obedience. I have gotten group placements and produced group placing dogs over the years. I was also ranked nation wide in obedience. I train, groom and handle my own dogs which is part of the reward in winning.
© Copyright 2002 Clara F. Brown.
All Rights Reserved.
I generally breed one or two litters a year and only do so when I am planning on keeping one of the puppies for show. My puppies are not kennel raised and raising puppies is one of my favorite things to do! I especially feel a lot of satisfaction when new owners pick up their new addition. Not everyone is cut out for puppy raising, but it gives me special joy.
Since I take puppy raising very seriously, all the puppies in my litters are well socialized and exposed to many different situations. They are familiar with cars, people and other animals. I take great care to give my puppies a great start in life!
If you are interested in one my puppies, please contact me via email or fill out my Puppy Questionnaire.
Please keep in mind that I usually have a waiting list for my puppies, and that I try to match the puppy with the family.
Clara F. Brown
Sebastopol, California

707-829-6300
windrift@sonic.net