Normal Duty Stretcher Bars
John Annesley Company offers normal duty wood-keyed stretcher bar solutions in four varieties of depths and configurations. All our stretcher bars are made from solid basswood which is a very light weight and straight grain hardwood with an almost neutral PH. What this means is that the stretchers are light, strong, guaranteed to be warp free, and are much less likely, than stretchers made from others woods, to react with paints in any negative fashion. But if you are still skeptical about the wood resins reacting with the back of the art fabric, we can shellac seal the stretcher bars too. Plus we provide a variety of edge treatments for our stretchers, allowing for a variety of framing options and painting techniques.

Much like a human face, the fabric on stretcher bars is effected by gravity and sags over time. Both linen and cotton duck show their sensitivity to heat and cold by expanding and contracting. This happens twice a day or more in most environments. Over time, the fabric fatigues and begins to loose its resiliency. Traditionally, the wooden keys hammered into the corners of the stretcher bars have been used to further expand the bars and take up the fabric slack. Wooden keys allow conservators the choice of direction in expanding the bars, but can take a painting out of square, or worse yet, damage the painting because of rough handling.
Our most popular normal duty stretcher bars, the Thin Wraparounds (N3) are strong, museum quality stretchers with a 1-3/4" depth profile. The design of the bars is an interlocking t-section created by insetting, glueing and nailing the inner and outer pieces of wood together. This design makes an extremely rigid stretcher with three times the tensile strength and warp resistance of a single length of wood. The front face of the "T" design has a beveled edge which raises your art fabric 5/8" off the face of the stretcher bars. A 3/8" recess in back of the stretcher makes it easy to tack art fabric edges, allows for tighter corners, and the space to inset of a backing board, while still maintaining room for a hanging system. There are double slip mortise and tenon miter joints in each corner, plus mortise and tenon bracing. Braces are 3/4" X 1-3/4". Like all our products, the Thin Wraparound is made from kiln-dried basswood, beautifully crafted to exacting tolerances. These stretcher bars are totally free of knots and other physical defects. All joints are expandable through the use of traditional wooden-keyed system.
We custom build all our stretcher bars to standard, fractional and metric sizes; Heavy Duty Stretcher Bars and mMuseum Bars can go up to 40 feet!
We offer four models of normal duty stretcher bars:
N1 1-1/8" deep, N2 1" deep, N3 1-3/4" deep, and Reg 3/4" deep. Details on these products is ooutlined below.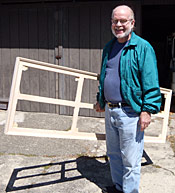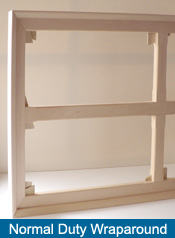 ---
Testimonials
John, you are a master craftman. The canvases arrived safely. Thank you for the beautiful work you did on them. We be in touch when the John's part of the 'work' is done. John wants me to send you one of his books ( The Work of John Powell - His Life 'Visions of Paradise') to say thank you.
Wendy Powell, Santa Ynez, CA

I received the stretchers on Friday and am delighted with the excellent quality of your work. I'm looking forward to painting on them. With thanks and best regards,
Sze Tsung Leong, New York City, NY

Received the stretchers a couple of days ago. They look great. And assembled to boot. Thanks so much,
Tom Pappas, Provincetown, Massachuetts

They arrived last week and they are absolutely beautiful! I have them mounted and have already started in paint. Thank you, thank you. Best regards,
Helen Shanks
Stanford, California