No, it's not the Power Rangers. In fact, the 'five man' style of show that Power Rangers steals footage from is such a common genre in kid's programming in Japan that it's not even worth the effort to guess which group the people above are imitating... besides, whatever it is, it'll be Power Rangers eventually.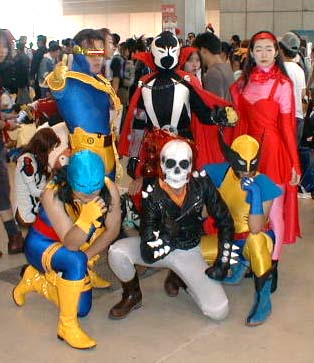 Yes, some American icons have made it to Japan, mainly
by way of animation. Here we see some distinctly asian
versions of Marvel Comics' X-Men and Ghost Rider,
and Image Comics Spawn.
<< Previous costumes - More cool costumes >>


Back to Manga! Manga! - Back to Oniko Goes to Japan Main Page! - Back to Top!
---
All illustrations in these pages are copyright (c)2002 Garth Haslam, and shouldn't be used without his permission. To contact him Click Here!