Database
FAR provides an effective control over density because floor space is the biggest congestion creating element of a development. When FAR regulations are properly implemented, they allow flexibility in site design and help promote comprehensive urban design criteria. FAR regulations are especially needed where there exists a combination of residential and non-residential uses on the same parcel of land.
It is of great interest when studying the effects of congestion at one site to be able to compare FAR with a similar site. Unfortunately, FAR information is rarely collected in any systemmatic way.
The "FAR Database Model" is meant to be a first stab at collecting FAR on a more regular basis and linking that information to visual representation. Drag your mouse over the icon below. If the word "Start" appears, click to load the searchable FAR database...
---
home | density | database | zoning map | comment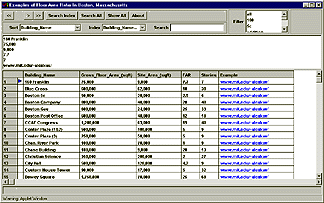 Data available on reserve at Rotch Library. "Downtown Design and Development Study," Summer 1969, Boston Redevelopment Authority.