<!: comments would go here --> Friday, May 25th, 2007 ... 3:00 p.m. - 6:00 p.m. ... KZSU, 90.1 FM
Tonight would mark the 10th anniversary of Moe! Staiano's Moe!kestra, celebrated with a performance at The Lab. They went through two pieces, including "Piece No. 1: Death of a Piano," which culminates in a sledgehammer frenzy as Moe! dismantles a real live piano (usually a junker one that wasn't long for this earth anyway -- but the piano does have to be operating, because the piece starts with Moe! flailing away at the high keys).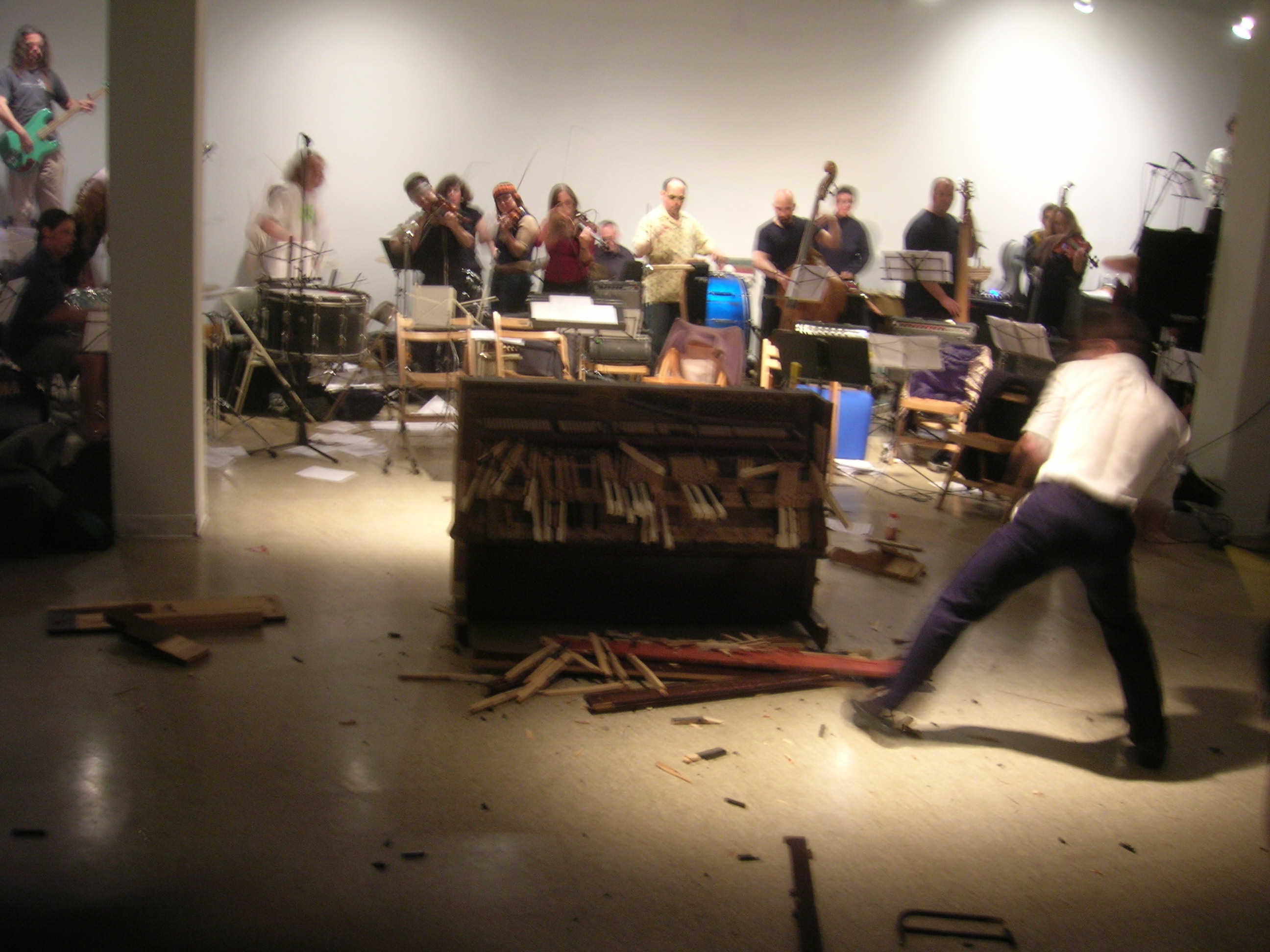 All told, about 40 people performed in each of the pieces, with maybe 80% overlap between the two orchestras. Click the links above for a better description of the concept, but basically it's Moe! conducting a large, partly improvising group through a set of instructions rather than a formal score. Massive swells of single notes permate his older works (Piece No. 1 includes long F-note furies from the whole orchestra, for example), while his more recent works get more ambitious with splitting the orchestra into interdependent groups. More on that below.
Many thanks to Moe! for taking 20 minutes to talk on-air. I figured that by late afternoon, he'd already be caught up in set-up issues, given the scope of what he's doing, but he still acceded to my last-minute idea to do an interview. In hindsight, I realize most of the work on the day of the show is done by the individual musicians (showing up, setting up). Moe! just has to provide the floor space and secure the piano deliery .... and in this case, The Lab even provided risers for the horn sections to stand on (not visible in these pictures).
The event itself? Awesome. Even ran into fellow KZSU'ers Mike, Mufaor, and Smurph.
Format:
ARTIST -- "TRACK TITLE" -- ALBUM TITLE (LABEL, YEAR)
Horizontal lines denote microphone breaks.
---
Moe! Staiano -- "Do You Deserve This Much Pleasure?" -- The Non-Study of First Impressions (Dephine Knormal, 1998)
A rackety solo percussion piece to start the proceedings. From Moe!'s first CD.
---
* Declared Enemy -- "Alberto's Workshop" -- Night of 100001 Stars: A Tribute to Jean Genet (, 2007)
An all-star quartet of Matthew Shipp (piano), Sabeer Mateen (sax/clarinet), William Parker (bass), and Gerald Cleaver (drums). Along with some spoken word by Denis Lavant, reading Jean Genet's works in French. I'll fess up that I'm not a keen student of Genet. The liner notes give the impression he was a revolutionary writer in the late '60s, a homosexual man who championed gay rights and challenged many other norms of society. He also, apparently, traveled to the U.S. and hung out with the Black Panthers; I'm under the impression they actually asked him to give a lecture.

This is a mostly instrumental tribute album, with two long tracks featuring Lavant. It's sparkly, measured stuff, not a total blowout, with a sophisticated feel.
* Einsturzende Neubauten -- "12 Rhythmen Fuer Bassfeder" ("Cascara" and "ChaCha") -- Solo Bassfeder (M&S, 2006)
An entire album played on the bass spring, which sounds a lot like you'd expect. Briefly noted last week. It's cool stuff with that "experimental" feel. This track is a lengthy one stepping through 12 different types of rhythms jammed out on the spring. I picked just two of them, to make a little transitional break in the set.
* Tom Baker Quartet -- "Grace" -- Look What I Found (Present Sounds, 2006)
---
Moe! Staiano's Moe!kestra -- "Piece No. 7" (Part 1) -- An Inescapable Siren Within Earshot Distance Therein And Other Whereabouts (Amanita/Rastascan, 2006)
Previously noted here. Moe!kestra specializes in big joyous clatter, as you might expect, but this piece is a bit of a departure. This opening movement has a steady ominous drone accompanied by falling-bomb stsings; it's followed up by movement that emphasizes a nonet of wine glasses, their edges being rubbed to produce a quiet cosmic ringing.
Moe! Staiano interview
Moe! Staiano's Moe!kestra -- "Piece No. 5" (Part 3) -- An Inescapable Siren Within Earshot Distance Therein And Other Whereabouts (Amanita/Rastascan, 2006)
A more "overt" and ear-catching track, including a steady rock beat that turns into a big, lumbering march. Lots of noise and an impressive, abrupt ending.
-- 4:00 p.m. --
* Tom Nunn -- "Voices" -- Identity (Edgetone, 2006)
Previously noted here. On this one, Nunn, playing his homemade instruments, creates voice-like sounds by rubbing and scraping metal pins (or so I'm guessing).
* Juilliard String Quartet and Benita Valente, soprano -- "To a Woodpecker" (John Harbison, composer) -- Wernick/Ginastera/Harbison: String Quartets With Soprano (Bridge, 2006)
Contemporary songs (in the classical music sense) with, you know, string quartet. Harbison's contribution is a four-part ppiece called "The Rewaking," from 1991. This track is kind of cute and fit the needs of the set; the third segment, which I didn't play, gets louder and more emphatic.
* C.K. Barlow -- "Domino Re-Mix" -- High Mayhem Festival 2005 (High Mayhem, 2006)
A remix project, previously noted here.
---
* David Sanford and the Pittsburgh Collective -- "Scherzo Grosso 4" -- Live at the Knitting Factory (Oxingale, 2006)
Great big-band stuff, with lots of Mingus twists but also free-jazz moments and electric guitar, for that good "downtown" sound of the old Knitting Factory. Matt Haimovitz is featured on cello on many tracks, including this one, which adds a nice energy and a playfully modern-classical touch.
* Kenny Werner -- "west_coast_variant" -- Lawn Chair Society (Blue Note, 2007)
Previously noted here. This is one of the two computer-blippy experimental tracks, short things but enough to show Werner still has some forward thinking in him.
* Fay Victor Ensemble -- "Spin" -- Cartwheels Through the Cosmos (ArtistShare, 2006)
A jazzy, soulful vocalist with that soaring-with-the-universe sound of the '60s and '70s. Nice stuff that gets way out there, with some noisy freakouts from her backing band, and grand, ambitious lyrics. Her voice even has a little bit of rawness to it, which seems an appropriate touch.
---
* Cooke Quintet -- "Harmonic Rebellion" -- An Indefinite Suspension of the Possible (Black Hat, 2006)

* Hecker -- "C 04 05 I_μDd" -- Recordings for Rephlex (Rephlex, 2006)
From Viennese laptop artist Florian Hecker, a session of noise electronics. This one comes out like a wall of static, but other tracks get more dynamic. Shrill harsness overall, as opposed to calm floatiness.
* Doctor Bob -- "They're Coming" -- Dark Times (Edgetone, 2006)
Eerie, prickly duets from Bob Marsh on cello and highly processed vocals, and David Michalak on the lap steel guitar. Comes across as creepy monologues and instrumentals, stuff you wouldn't play with the lights off. Aptly, the cover features Marsh (at least I think it's him) in a doctor's outfit with blood-soaked rubber gloves.
-- 5:00 p.m. --
Henry Mancini -- "Sidewalks of Cuba" -- Combo! (RCA, 1961)
For that glorious juxtaposition that makes college radio so much fun. I picked this track because it's more lightly orchestrated that most of the others (i.e. sounds less beehive housewife pop) and had a calm enough rhythm to make a good shift from the Doctor Bob weirdness. As for what it sounds like... come on, it's 1961 Henry Mancini: Happy poppy jazzy instrumental stuff with violins.
Frank Lowe Quartet -- "Lowe-Down and Blue" -- V/A: CIMPosium Volume 12 (CIMP, 2005)
From one of the sampler albums that CIMP sends out to radio, featuring some nice free-jazz tracks as always (and recorded in that lower-volume CIMP way; they're sticklers for not using compression and not tampering with the sound produced in the studio, leading to an overall quieter sound). Taken from the Lowe album of the same name.
* Matthias Schubert -- "Trappola" -- Trappola (Red Toucan, 2006)
---
Moe! Staiano's Moe!kestra -- "Conducted Improvisation Piece No. 5" [parts 2,3,4] -- Two Forms of Multitudes: Conducted Improvisations (Dephine Knormal/Pax/Edgetone, 2003)
A nice raucous selection from a little earlier in Moe!'s career.
* Daniel Studer/Peter K. Frey -- "Hit and Run" -- Zweierlei (Unit, 2006)
---
* Lake | Tchicai | Osgood | Westergaard -- "Turku Boogie" -- Lake | Tchicai | Osgood | Westergaard (Passin' Thru, 2006)

-- 6:00 p.m. --

Reel Change -- "Firefly" -- Open in Total Darkness (Evander, 2006)

* Taylor Ho Bynum -- "Bluebird of Delhi" -- The Middle Picture (Firehouse 12, 2007)
---
? Big Satan [Tim Berne, Marc Ducret, Tom Rainey] -- "Un Peu d'Histoire" -- Live in Cognito (Screwgun, 2006)
Great live set from this long-standing trio. Berne is a favorite saxophonist of mine, as noted many times before, and Marc Ducret's measured craziness on guitar always makes a nice foil for him. Rainey has been Berne's drummer of choice for several years now. Alternating between Berne's and Ducret's compositions, often featuring catchy, complex writing, the band serves up some tasty mid-length pieces (around 12 minutes) that include spot-on improvising explorations.
3io 4tet -- "L'epaule" -- Levitation #1 (Altri Suoni, 2003)
A soft, gentle piano-led quartet, mostly heeding to a quiet atmospheric sound. Some tracks walk a more outside edge, like this one.
*! Cliff Eberhart -- "Goodbye Again" -- The High Above and the Down Below (Red House, 2007)
One of the stars of modern folk. This is the closing track on the album and has a predictably sentimental sheen to it, but it's pretty, and I thought it made a nice complement to the quiet piano sounds of the 3io.
---
* Xomeecophaz!Tralphaz -- "Escaping The 984,849,503 Claws Of Space Chum" [excerpt] -- Battle of Primordial energy Manifesting in Matter (Resipiscent, 2007)
Noise; just a big long blast of roaring screaming noise, varying slowly over time. This looks a lot like it's done by one of the guys from Caroliner; it's got that same intensely/insanely detailed ball-point-pen scribbling as the album cover art.
* Michael Dessen -- "Levity in Detail" -- Lineal (Circumvention, 2006)
Anthony Brown -- "Bread and Bowie" -- Rhapsodies (Water Baby, 2006)
A tribute to Lester Bowie, this track features a bit of stomping old-time jazz, a bit of funk, and of course some out-there moments. From an album whose centerpiece is Gershwin; see here.
---
Moe! Staiano's Moe!kestra -- "Conducted Improvisation Piece No. 4" [part 4] -- Two Forms of Multitudes: Conducted Improvisations (Dephine Knormal/Pax/Edgetone, 2003)
A fitting conclusion, nice and noisy. And with that, I was off to the Moe!kestra show.
---
* = Item in KZSU rotation
! = Pop anomaly
? = Item not in KZSU library
-- Go back to Memory Select playlists.
-- Bay Area free/improv music calendar: http://www.bayimproviser.com.