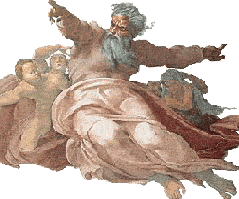 God

The people of Sodom vex me! They read not the Manual and do resort to Cheesy Play. I shall turn them all into Tactica players!

Prophet

Dear God, hear my plea! If I find but 50 honest DBM players, wilt thou not spare the city?

God

Oh all right!

Prophet

I am but a mote of dust, but 50 players would make it a megapolis of DBM activity. What if I find but 40?

God

I suppose.

Prophet

Strike not your humble servant down, but do I hear thirty?

God

Thirty.

Prophet

Dare I ask for twenty?

God

You just did.

Prophet

I am but a newbie and paint my figures with a roller, but if I find ten honest players, would you spare the city?

God

By me! You are annoying! All right, ten!

Prophet

Hear me out, if I but...

God

Five is my last offer. If you ask for four, then you can only run lists containing Ps(I) at a cost of 10 APs each!

Prophet

...I looked, I can't find five. What if...

God

They're toast. Unless you like deploying from a menu, you'd better get out of town fast.
---