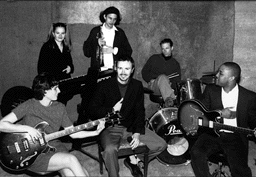 featuring: Mars Villa

Origin -San Francisco
Birthdate -Summer of 1993.
Lineup -Four boyz and two girlz.
First Show -The infamous Berkeley Square.
Recordings -A five song demo. California Skaquake 2.
Definition -A Spanish style home located on the fourth planet from the sun.
Career Highlight -Featured artist on California Skaquake 2!

MARS VILLA SONGS FEATURED
She, She, She | Baby It's You1.2-meg/wav | 'Till The Moon
BANDS FEATURED ON
This is raj... and this is ska!
Slow Gherkin | Punch the Clown | Filibuster | Mars Villa | Blind Spot
raj's SKA TEMPLE NAVIGATION
temple | revival | disciples | guestbook
INFORMATION
For more information about raj records
or any other raj band email:
raj@sonic.net
copyright 1994-1997 raj records
all rights reserved