... which is better, Spring or Autumn? ...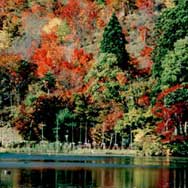 Welcome to the portion of this website devoted to POETRY for the Society for Asian Arts Lecture Fall 2005 Lecture Series
+ + +
The wallpaper for this page is the original cover artwork for Yosano Akiko's poetry collection Tangled Hair (Midaregami, 1901)
+ + +
+ + +
Handouts for Segment One - Poetry (total of six given in two sessions; all are pdf files that need Adobe Reader)
Session One: Basic Fact Sheet on Man'yoshu, Kokinshu and Shin-Kokinshu
Session One: Chart comparing Man'yoshu, Kokinshu and Shin-Kokinshu
Session One: Manyogana (script used before the Japanese invented their own syllabary)
Session One: Hiragana (onnade, woman's hand)
Session Two: Poems from the Shin-Kokinshu
Session Two: Worksheet for comparing haiku poets Basho, Buson and Issa
+ + +
The reader for the first two weeks of class is available for purchase at the lecture location, during class. The books for the remainder of the class are available now as well. I believe these are in the Museum Store, but please discuss this directly with Barbara Liddell or another SAA member.
+ + +
The reading schedule is:
SEGMENT ONE -- JAPANESE POETRY
Session One (Oct 2): Poetry Reader 1-19
Session Two (Oct 9): Poetry Reader 20–end
SEGMENT TWO -- MEMOIRS BY ARISTOCRATIC WOMEN OF HEIAN JAPAN
Session Three (Oct 16): Sei Shonagon's Pillow Book (entire)
The Pillow Book of Sei Shonagon. Translated by Ivan Morris. Columbia University Press. ISBN 0231073372. (***Note: The older editions of this book published by Penguin Press have exactly the same text but the page numbers differ.)
Session Four (Oct 23): Nijo's Confessions of Lady Nijo (entire)
Confessions of Lady Nijo. Translated by Karen Brazell. Stanford University Press. ISBN 0804709300
SEGMENT THREE -- NOH DRAMA
Session Five (Oct 30): the plays 'Takasago,' 'Atsumori,' 'Kinuta' and 'Matsukaze'
Japanese No Dramas. Translated by Royall Tyler. Penguin Classics. ISBN 0140445390
Session Six (Nov 13--note there is no class Nov 6): the plays 'Sekidera Komachi,' 'Funa Benkei' and 'Yamamba'
same source as above
+ + +
For a UC-Berkeley class, I developed some materials on the Kokin waka shû. You are welcome and encouraged to check out the main page of that project. Go here.
For the same class, I annotated some spring Kokin waka shû poems with comments and multimedia files. For that "companion page" please go here
... A chart comparing three major pre-modern poem anthologies (Man'yô shû, Kokin shû, Shin-Kokin shû): go here
+ + +