Oniko's Travel Diary:
The Three Mountains
(August 5-31, 1998)
---
Saturday, August 8th, 1998


It's nice to have a place to call home, even if for just a couple days. It was time to practice my Japanese and to see what was in the area. As yesterday, I found myself up at 7:00am, way earlier than the 10:00-11:00am opening time for most of the stores in Tokyo, so I wandered a while to see what Ikebukuro had to offer. Being so early, I was surprised to see a long line of people standing around the corner from the hotel. Curious, I started to follow it... the line stretched around the entire block! As it turned out, the line ended at the "Cinema Sunshine" theater, which is just two blocks from my hotel on the same street. The line was the crowd waiting for the new, American-made Godzilla film, which was premeiring today under the name of "Godzilla in New York". I've seen it already [thumbs down]... besides, I don't care to stand in this line!


But following the line did let me get an idea of what stores and restaurants were in the immediate area. Not only is there a large selection of electronic and video entertainment stores, there's also several odd specialty shops -- an all-socks outlet, for one example -- and a few used book, record, and game stores as well, all of which I guarentee I'll be visiting later. I was also happy to note that there was a "Tokyu Hands" in the area. Tokyu Hands is a chain store in Tokyo, carrying several floors worth of art, craft, and carpentry supplies... including a section of supplies related to making comic books, something you'd be lucky to find anywhere in the United States, and something I'll be checking out before I leave Japan.


Having done my walk-around for the morning, I stopped by the local Mosburger -- a well-known fast food franchise in Japan -- and had a curry pita bread for breakfast. My plans at this point are vague at best; I know that later in the month I want to go visit some shrines and temples in northern Japan. But in the meantime, I just want to get my language skills back up to snuff and generally get used to how things work in Japan again, so I know I will probably be in Tokyo for a couple of weeks, but with no particular agenda.


And so I went window shopping.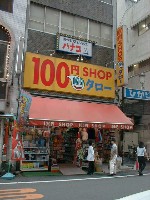 Here's a new spin on an old idea... it's the Japanese equivalent of "Everything's $1.00", the 100 Yen Store! The really funny thing about this store is that it has almost exactly the same crap that the "Everything's $1.00" stores in the US have. Go figure.


Something I've noticed; no matter where you go in Tokyo, there's always a bowling alley and pachinko parlor in walking distance of the train stations. Pachinko I can understand -- there's a thriving (and somewhat illegal) gambling interest in the game. But this doesn't appear to be the attraction behind bowling, so I'm not sure why it's so popular... but it is. So now you know, for what it's worth.


Right next door to Hotel Theater is a Sega game parlor, called "GiGa"; a seven story building featuring a variety of Sega produced amusement machines on each floor. This sort of parlor is popular, and most of the big name game companies in Japan -- Capcom, Tecmo, Namco, etc. -- run their own parlors [I ran into the Namco one last night, remember?]; coin operated games are alive and well in Tokyo. Unfortunately, this Sega parlor was still closed, so I would have to visit it later to see what it offered.


I returned to my hotel room and typed this all up... I'm going to watch some morning TV for awhile, and go back out again after the stores in the area start to open up.
* * *

After ten, I headed back out to explore the stores that had opened up. The first place I headed was across the street to a Sakura Electronics store [which is next door to a great empty lot full of construction thingees at work]. This shop has ten stories with everything from cameras to kitchen appliances and, more useful for me, computer hardware and software as well as Japanese game systems. I just wanted to see what there was and what it was priced at... I'm toying with the idea of buying a Japanese copy of the Windows 98 operating system so I can have a computer for writing Japanese web pages on. I also intend to buy a Japanese Playstation with games before I head home at the end of the trip.