Welcome to TORPEDO JUNCTION - Since 1994, the Industry Leader Specializing in Submarine and U-Boat Books and Memorabilia. The World's Largest Inventory and the Finest Selection of New, Used and Rare Submarine and U Boat Books.
Beach, Captain Edward
SUBMARINE

Heinemann 1953

The World War Two combat patrols of USS Trigger, Seawolf, Tang, Harder, Archerfish, Wahoo and other famous U.S. Submarines. 274 pages. 1st UK edition. VG condition without dust jacket. $18
Order Form
Beach, Captain Edward L.
THE UNITED STATES NAVY - 200 YEARS

Holt 1986

"This book is as much a brilliant explication of the impact of new technologies on shipbuilding, weaponry and naval tactics as a powerful narrative account of war and battles." Photos, APP., 564 pages. Presentation copy SIGNED by the AUTHOR and Navy Cross winner CAPT. EDWARD L. BEACH VG+/VG $40
Order Form

Beynon, Robert
THE PEARL HARBOR AVENGER: U.S.S. Bowfin

JB1 2002

Written by crewmember Dr. Robert Beynon this book covers the war patrols of one of the most successful U.S. Submarines of World War Two, U.S.S. Bowfin SS 287. This comprehensive well researched book also includes chapters on many other aspects of the "U.S. Silent Service" during WWII: 1) The American Submarine; 2) Commissioning; 3) Captains, Skippers, "The Old Man"; 4) Who was the Submarine Sailor?; 5) The Torpedo Disgrace; 6) Nine War Patrols; 7) Sea of Japan; 8) Special Missions; 9) Medal of Honors; 10) Naval Squabbles; 11) Post War; 12) Bowfin Sailors Respond; 13) Sailor... "Rest Your Oar"; 14) The Silent Service... Little Known Facts. Photos, patrol maps, diagrams, glossary, index, 298 p! ages.

Now available ONLY from TORPEDO JUNCTION by exclusive arrangement - Presentation copy SIGNED by the AUTHOR and Bowfin crewmember, Dr. Robert Beynon. 1st edition Extra Large 6" x 9.25" Trade Paperback. NEW condition. $25
Order Form
Bouslog, Dave
MARU KILLER: The War Patrols of the USS Seahorse

Seahorse Books 1996

History of one of America's most effective WWII undersea raiders as told by the men who lived the events. USS Seahorse SS 304 wreaked havoc on her enemy's navy and merchant marine, sending 24 ships to the bottom. Her legendary skipper, Slade Cutter, ranked 2nd among all U.S. submarine commanders in numbers of enemy ships sunk. 31 photos, 5 charts, 224 pages. NOTE: This is not that low quality imitation paperback reprint! This is the Scarce - Limited 1st Edition Privately Published by the Crewmembers of USS Seahorse! ONLY 1000 hardback copies printed. Out-of-print since 1996.

In 1996 the Captain of USS Seahorse, Slade Cutter, graciously agreed to sign copies of MARU KILLER for TORPEDO JUNCTION by special arrangement with the author. We have a limited supply of these autographed books left in stock in NEW condition. Now available ONLY from TORPEDO JUNCTION for a very limited time Signed by the Author and the Captain of USS Seahorse, Slade Cutter. $150.
Order Form
Bunch, Jim
GERMANY'S U-85 - A SHADOW IN THE SEA: A Diver's Reflections

2003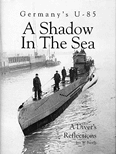 For anyone who enjoys U-boat history and wreck diving here's a fascinating look at the story of U-85, her captain and crew, and the diving and adventure that have followed. U-85 was sunk April 14, 1942 by the U.S.S. Roper 15 miles northeast of Oregon Inlet North Carolina. The author has made over 500 dives on the U-85 over the last 20 years and has done extensive research in its history from the time its keel was laid, until it became the first German U-boat engaged on the surface by U.S. Navy warships during World War Two. Large format hard cover, 99 photos, both color and archival b+w of the U-boat and crew, many drawings and diagrams, 96 pages. 1st edition hardback. By special arrangement now available ONLY from TORPEDO JUNCTION - Presentation copy Autographed by the Author, Jim Bunch. NEW condition hardback. $25
Order Form
Fluckey, RAdm. Eugene B.
THUNDER BELOW! - The U.S.S. Barb Revolutionizes Submarine Warfare in World War II

Univ. of Illinois 1992

Fluckey's story of his five patrols in command of the Barb, for one of which he was awarded the Congressional Medal of Honor. USS Barb SS 220 sank the greatest tonnage of any American submarine in World War II and forever changed the way submarines stalk and kill their prey. Large 8vo, blue cloth w/gold stamped spine, 54 photos and illustrations, 6 track charts, endpaper maps, app., index, 444 pages. Presentation copy SIGNED by the AUTHOR, winner of four Navy Crosses and the CONGRESSIONAL MEDAL of HONOR, RAdm. GENE FLUCKEY NF/VG+ $65
Order Form
Galantin, Adm I. J.
TAKE HER DEEP

Algonquin 1987

Galantin's memoirs of commanding USS Halibut SS 232 for 14 months (1943-44) during WWII against the Japanese Navy and Merchant Marine. On the 5th patrol Halibut was depth charged so severely that the pressure hull was heavily dented and bulged inward but had not quite opened to the sea and was retired from service. 41 photos, 1 plan, endpaper patrol maps, app., 262 pages. Presentation copy SIGNED by the AUTHOR and Captain of U.S.S. Halibut, Adm. I. J. "PETE" GALANTIN - 1st NF/ VG+ $65
Order Form
Gannon, Michael
OPERATION DRUMBEAT: The Dramatic True Story of Germany's First U-Boat Attacks Along The American Coast in WWII

Harper and Row 1990

Comprehensive study of the career and service history of U-123, Capt. Hardegan and crew. Photos, maps, diagram, 490 pages. SIGNED by the AUTHOR and REINHARD HARDEGEN Commander of U123. NF/VG+ $85
Order Form
Henry and Keith
GALLANT LADY: A Biography of the U.S.S. Archerfish

Forge 2004
She looked just about like all the other diesel powered, Balao-class U.S. submarines crafted in the 1940s. But there the similarity ends. Because the Archerfish won a unique, heroic place in military history and the memories of her crew members. Here is her story: from her assembly in New England, her service in World War II, where she broke the back of the Japanese Navy and sank the Japanese super aircraft carrier Shinano, the largest ship ever sunk by a submarine ..... to the details of her critical role in the Cold War, crisscrossing the oceans for six years to foil Soviet naval intelligence. Written by crewmember Ken Henry, an extraordinary real-life odyssey, Archerfish is a vivid, unforgettable portrait of submariners' life. 16 pages of photos, 352 pages. 1st edition hardback.! By special arrangement now available ONLY from TORPEDO JUNCTION - Presentation copy Autographed by the Author and USS Archerfish crewmember, Ken Henry. NEW condition hardback. $30.00
Order Form
Kurowski, Franz
KNIGHT'S CROSS HOLDERS OF THE U-BOAT SERVICE

Schiffer 1995

"Each recipient is presented in a capsule biography including awarding of the various Knight's Cross grades and other particulars to rank and career of the recipient and is shown in a World War 2 photograph." 150+ photos, 280 pages. SIGNED by Knights Cross winner HANS-GEORG HESS, CAPTAIN of U-995. 1st NF/VG+ $65
Order Form

McCants, William
WAR PATROLS OF THE USS FLASHER: The True Story of One of America's Greatest Submarines

Professional Press 1994

USS Flasher SS 249 with it's two daring skippers holds the record as officially credited with sinking the most Japanese enemy shipping in World War II. This book has been endorsed by Capt. Edward Beach, Adm. Galantin and Cmdr. Alden. 80 photographs, charts and line drawings, bound in embossed simulated leather with full-color dust jacket, fully indexed with bibliography, 465 pages.

This is the Scarce - Limited Privately Published 1st Edition Out-of-print since 1994! Now available ONLY from TORPEDO JUNCTION for a very limited time. Presentation copy Autographed by the Author in NEW condition with dust jacket. $85
Order Form
Hogel, Georg
U-BOAT EMBLEMS OF WORLD WAR II 1939-1945

Schiffer 1999

Conning tower emblems and cap badges of the U-Boot Waffe. This updated edition contains 100's of newly researched conning tower emblems seen for the first time ever. The author, a U-boat veteran, experienced the origin of these emblems and, through years of painstaking, detailed work, he has documented the legendary emblems, coats of arms and markings and chronicles many first person accounts in memory of the many U-boatmen who were lost in the war. This edition is taller, wider and thicker than the 1st German text edition and contains more information as well as 100's of new emblems. Large 8 1/2" x 11" 4to-pictorial format, 100's of illustrations, line drawings, charts, endpaper maps, 224 pages. Color pictorial cover-issued without dust jacket. The author, Georg Hogel, was the radioman aboard U-30 which sank Athenia! and U-110 which was almost recovered by the British before sinking. With bookplate SIGNED by GEORG HOGEL 1st NEW - issued with pictorial cover. $55
Order Form
Mansfield, Jr. John
CRUISERS FOR BREAKFAST: War Patrols of the USS Darter SS-227 and USS Dace SS-247

Media Center Pub 1997

War diaries of several Japanese men-of-war have been translated to provide on-the-spot reactions and what took place when they were attacked and sunk by American submarines at the start of the Battle of Leyte Gulf, October 23, 1944. "The Fourth War Patrol of USS Darter embraces one of the most outstanding contributions by submarines to the ultimate defeat of the Japanese Navy." - Vice Adm. Thomas C. Kinkaid (Cmdr. 7th Fleet, 1944)
The author has spent more than four thousand hours in gathering references, conducting interviews, traveling the country coast to coast and border to border to be able to present as accurately as possible the events that took place on-board these two "Silent-Service" warriors. Filled with riveting accounts of submariners at war, this work includes action, adventure, humor, heartwarming and personal accounts of the brave men who served on Dace's eight and Darter's four war patrols. Photos, charts, line drawings, extensive app., full cloth binding with 4 color dust jacket, 300 pages.
In 1997 the Captain of USS Darter, David McClintock, graciously agreed to sign copies of Cruisers For Breakfast for TORPEDO JUNCTION by special arrangement with the author. We have a limited supply of these books left in stock and each copy comes with a "letter of authenticity" from the author, John Mansfield, Jr." 1st edition in NEW condition. Signed by the author and the Captain of USS Darter, David McClintock. $125
Order Form
Moore, Stephen L.
SPADEFISH: On Patrol With A Top Scoring World War II Submarine

2006

By official postwar analysis, Spadefish ranked as tied for fourth best in number of enemy ships sunk (including a Japanese aircraft carrier) and sixth best in total enemy tonnage sunk. Spadefish was the only U.S. submarine launched in 1944 to become one of the war's Top Ten scoring boats. In terms of efficiency, she was unequaled--sinking a ship for every seven and one third days on war patrol! Steve Moore has written a very detailed but also very readable book about a top submarine that has not, until now, received the credit it was due.

"When Japanese targets in the Pacific were becoming scarce, Spadefish became one of the first submarines to penetrate the Tsushima Strait and enter the Sea of Japan, where she wreaked havoc with Japanese shipping she found there. This book is also notable for the attention it pays to the experiences of Spadefish's crew members. Liberally sprinkled with interesting photographs, it is a fine tribute to one of the leading submarines of WWII." -- James F. Calvert, Vice Admiral, USN (Ret.), author of Silent Running.

Photos, maps, muster rolls, appendices of top scoring submarines, Spadefish crew awards, 480 pages. Presentation copy SIGNED by the AUTHOR, Stephen Moore. 1st edition Extra Large 5.5" x 8.5" Trade Paperback. NEW condition. $25
Order Form



O'Kane, RAdm. R. H.
CLEAR THE BRIDGE: The War Patrols of U.S.S. Tang
The complete report of the WWII combat war patrols of the legendary USS Tang SS 306 as told by her captain. U.S.S. Tang averaged one Japanese ship sent to the bottom every 11 days. Following the loss of Tang O'kane with the other survivors spent the duration of the war as Japanese Prisoners Of War. Richard O'Kane as Commander of the U.S.S. Tang was the recipient of the Legion Of Merit, three Silver Stars, three Navy Crosses, and The Congressional Medal Of Honor, and the Tang received two Presidental Unit Citations, only one ot three ships in the U.S. Navy so honored. Illustrated with a cutaway drawing of a Submarine, a Submarine approach and attack diagram, maps of the Ta! ng's combat patrols, and a glossary of Submarine terminology. Photos, patrol and endpaper maps, crew roster, app., glossary, 480 pages. Presentation copy SIGNED by the AUTHOR, CONGRESSIONAL MEDAL of HONOR WINNER RADM RICHARD H. O'KANE NF/VG $100
Order Form
Ruhe, Capt. William J.
WAR IN THE BOATS: My WW II Submarine Battles

Brassey's 1994

"Ruhe served on eight submarine patrols against the Japanese in USS Crevalle SS 291 and completed his wartime duties in command of the Sturgeon SS 187." Endpaper map and diagram, attack maps, glossary, 303 pages. Presentation copy SIGNED by the AUTHOR "CAPT. BILL RUHE", 9/1/95. 1st NF/NF $50
Order Form
Savas, Theodore P. (editor)
SILENT HUNTERS: German U-boat Commanders of WWII

Savas 1997

As editor, Theodore Savas has enlisted authors who are scholars in the field and recognized authorities on the German U-boat war. The criteria he used for selection of the subject officer was, "to choose a U-boat commander who has not received the scholarly treatment he deserves, one who either accomplished his record incrementally during several patrols or someone whose experiences were somehow unique and worthy of study." Each of the six essays focus on a single commander; Merten, Guggenberger, Eck, Oerhn, Kapitsky, and Endrass. Editor's preface, acknowledgements, introduction, photos, maps, diagrams, notes, index, 215 pages.
The first chapter, by the well known World War Two U-Boat ace Erich Topp, is titled "Castor Mourns Pollox." He reflects, "I wrote these pages in the lonely wastes of the Atlantic when all hope had vanished that Engelbert Endrass might return alive from his last patrol." This article has not been previously published and was written by Erich Topp, commander of U-552 the "Red Devil U-boat", over 50 years ago while on his 15th war patrol about the recent loss of his best friend Endrass.


During the Celebrate History event in San Francisco February 1998 I met with editor Theodore Savas and Erich Topp. By arrangement with Mr. Savas, Erich Topp graciously agreed to sign his photo in the book Silent Hunters for TORPEDO JUNCTION. We have a limited supply of these books left in stock and each copy comes with a "letter of authenticity from the editor, Theodore Savas." Signed by the editor and Erich Topp, the Captain of U-552 the "Red Devil U-boat." 1st edition in NEW condition. $125
Order Form
Schratz, Paul
SUBMARINE COMMANDER

Univ. of Kentucky 1988

"A fascinating personal memoir of underwater combat in WWII, told by the torpedo officer of USS Scorpion SS 278 and later exec on Sterlet SS 392 and Atule SS 403. Schratz continued in the U.S. Submarine Service as a commander through the Korean War." Photos, 322 pages. Presentation copy SIGNED by the author, Captain PAUL SCHRATZ 1st NF/NF $50
Order Form
Vause, Jordan
WOLF: U-Boat Commanders in World War II

USNI 1997

Through documents, interviews and correspondence with the U-boat commanders, the author follows individual officers from their youth and early naval careers through wartime experiences and post-war lives. Photos, 249 pages. 1st edition NF/NF. Dust jacket photo SIGNED by JURGEN OESTEN commander of U-boat U-861. $65
Order Form