Welcome to TORPEDO JUNCTION - Since 1994, the Industry Leader Specializing in Submarine Books and Memorabilia. The World's Largest Inventory and the Finest Selection of New, Used and Rare Submarine Books on the Internet. From the earliest stages of Submarine development to the highly sophisticated Submarines of the world today!
GALLANT LADY: A Biography of the U.S.S. Archerfish
She looked just about like all the other diesel powered, Balao-class U.S. submarines crafted in the 1940s. But there the similarity ends. Because the Archerfish won a unique, heroic place in military history and the memories of her crew members. Here is her story: from her assembly in New England, her service in World War II, where she broke the back of the Japanese Navy and sank the Japanese super aircraft carrier Shinano, the largest ship ever sunk by a submarine ..... to the details of her critical role in the Cold War, crisscrossing the oceans for six years to foil Soviet naval intelligence. Written by crewmember Ken Henry, an extraordinary real-life odyssey, Archerfish is a vivid, unforgettable portrait of submariners' life. 16 pages of photos, 352 pages. 1st edition hardback. By special arrangement now available ONLY from TORPEDO JUNCTION - Presentation copy Autographed by the Author and USS Archerfish crewmember, Ken Henry. NEW condition hardback. $30.00
Order Form
U.S. Navy
THE FLEET TYPE SUBMARINE - NavPers 16160 Manual

Restricted June 1946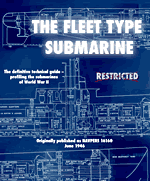 This is the newly published reproduction facsimile copy of the official "Restricted Training Manual" originally produced by the U.S. Navy in 1946. Declassified some years back, original copies can sell for as much as $600, presuming you can find one. Although some of the book has been reformatted, and the color fold out images have been reduced to fit on a normal page and reproduced in black and white, all of the original content is preserved. Large 8.5" x 11" soft cover pictorial format, photos and illustrations, comprehensive technical system schematics, plans, charts, tables, 28 detailed technical hull and superstructure cross sections, cutaways, diagrams and drawings, 224 pages. NEW condition. $25
Order Form
THE PEARL HARBOR AVENGER - U.S.S. Bowfin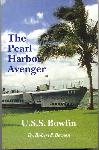 Written by crewmember Dr. Robert Beynon this book covers the war patrols of one of the most successful U.S. Submarines of World War Two, U.S.S. Bowfin SS-287. This comprehensive well researched book also includes chapters on many other aspects of the "U.S. Silent Service" during WWII: 1) The American Submarine; 2) Commissioning; 3) Captains, Skippers, "The Old Man"; 4) Who was the Submarine Sailor?; 5) The Torpedo Disgrace; 6) Nine War Patrols; 7) Sea of Japan; 8) Special Missions; 9) Medal of Honors; 10) Naval Squabbles; 11) Post War; 12) Bowfin Sailors Respond; 13) Sailor... "Rest Your Oar"; 14) The Silent Service... Little Known Facts. Photos, patrol maps, diagrams, glossary, index, 298 pages. By exclusive arrangement now available ONLY from TORPEDO JUNCTION - Presentation copy Autographed by the Author and USS Bowfin crewmember, Dr. Robert Beynon. 1st edition. Extra Large 6" x 9.25" Trade Paperback. NEW condition. $25
Order Form
GERMANY'S U-85 - A SHADOW IN THE SEA: A Diver's Reflections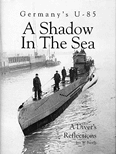 For anyone who enjoys U-boat history and wreck diving here's a fascinating look at the story of U-85, her captain and crew, and the diving and adventure that have followed. U-85 was sunk April 14, 1942 by the U.S.S. Roper 15 miles northeast of Oregon Inlet North Carolina. The author has made over 500 dives on the U-85 over the last 20 years and has done extensive research in its history from the time its keel was laid, until it became the first German U-boat engaged on the surface by U.S. Navy warships during World War Two. Large format hard cover, 99 photos, both color and archival b+w of the U-boat and crew, many drawings and diagrams, 96 pages. 1st edition hardback. By special arrangement now available ONLY from TORPEDO JUNCTION - Presentation copy Autographed by the Author, Jim Bunch. NEW condition hardback. $25
Order Form
U.S.S. SILVERSIDES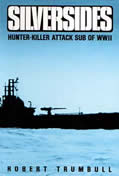 The story of U.S.S. Silversides SS 236, one of the top scoring U.S. combat submarines in the Pacific sinking 31 enemy ships of 100,685 tons. Interviews with the crew and compiled from patrol reports. Patrol photos, sinking and tonnage chart, 217 pages. Reprint of the scarce classic 1945 edition. NEW condition hardback. $25
Order Form
Fluckey, RAdm. Eugene B.
THUNDER BELOW! - The U.S.S. Barb Revolutionizes Submarine Warfare in World War II

Univ. of Illinois 1992

Fluckey's story of his five patrols in command of the Barb, for one of which he was awarded the Congressional Medal of Honor. U.S.S. Barb SS 220 sank the greatest tonnage of any American submarine in World War II and forever changed the way submarines stalk and kill their prey. Large hardback, blue cloth w/gold stamped spine, 54 photos and illustrations, 6 track charts, endpaper maps, app., index, 444 pages. Presentation copy Autographed by the Author, winner of four Navy Crosses and the CONGRESSIONAL MEDAL of HONOR, RAdm. GENE FLUCKEY $65
Order Form
MARU KILLER: The War Patrols of the U.S.S. Seahorse

Seahorse 1996
History of one of America's most effective World War Two undersea raiders as told by the men who lived the events. U.S.S. Seahorse SS-304 wreaked havoc on her enemy's navy and merchant marine, sending 24 ships to the bottom. Her legendary skipper, Slade Cutter, ranked 2nd among all U.S. submarine commanders in numbers of enemy ships sunk. 31 photos, 5 charts, 224 pages. NOTE: This is not that low quality imitation paperback reprint! This is the Scarce - Privately Published by the crewmembers of USS Seahorse! Limited 1st Edition, ONLY 1000 hardback copies printed! Out-of-print since 1996. $75
Order Form
WAR PATROLS OF THE USS FLASHER: The True Story of One of America's Greatest Submarines

Professional Press 1994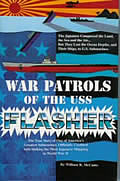 U.S.S. Flasher SS-249 with it's two daring skippers holds the record as officially credited with sinking the most Japanese enemy shipping in World War II. This book has been endorsed by Capt. Edward Beach, Adm. I. J. Galantin and Cmdr. John D. Alden. 80 photographs, charts and line drawings, bound in embossed simulated leather with full-color dust jacket, fully indexed with bibliography, 465 pages. Privately Published. Limited 1st Hardback Edition. Out-of-print since 1994. By special arrangement now available ONLY from TORPEDO JUNCTION - Autographed by the Author. NEW condition. $85
Order Form
UNITED STATES SUBMARINES

Sponsored by Sonalysts and the Naval Submarine League 2002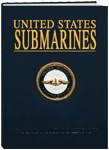 The United States Submarine Force is celebrated for the first time in a definitive, magnificently illustrated, large-format book published with the Naval Submarine League. Thoughtful incorporation of full-color and vintage photography, portraits, recruiting posters, and historically inspired paintings complements the text. Chapters include: Chronology, First Skipper, Holland, Early Days, Trouble Below, Sub Ops in WW2, America's victorious Submarines of WWII, Uncommon Valor, Post WW11, Rickover, Cold War Retrospective, Cold War Submarine Confrontations, Submarines in Deterrence, SSN's, Life on Board, History of SubSchool, Insignia, Museums, Science and Exploration and the Future. Comprehensive reference. Extra large 10.5" X 14" pictorial format, 100's of high quality color and b+w glossy photos and illustrations, blue padded leatherette cloth, gilt titled cover and spine, United States Submarines seal in full embossed reproduction on the front panel, 352 pages. Out of Print since 2002. NEW condition copies in stock. $50
Order Form
Rossler, Eberhard
THE U-BOAT: The Evolution and Technical History of German Submarines

Cassell 2001

A massive and authoritative history of the planning, design, and construction of the German submarine force from the experimental types of the 19th century, through two world wars, to the modern submarines of the German Federal Navy. Describes every class of U-boat that entered service as well as many of the experimental craft that were still in development at the end of WWII. Comprehensive and long considered to be the definitive reference to German U boat design and development. Large 10" x 10" format, photos, line drawings, diagrams, deck plans, 60+ data tabulations, charts, app., 384 pages. Revised and updated edition - Out of Print since 2001. We have a few copies left in stock in NEW condition hardback. $85
Order Form
Stern, Robert
TYPE VII U BOATS

Brockhampton 1998

This study of the Type VII U-Boat, as a weapon of war as well as a carrier of firepower, offers an extensive technical history as well as fascinating narrative accounts by the men who operated these Uboats during World War Two. Covers design, construction, general arrangement, hull structure, armament, fire control, modifications, operational history, and more. Comprehensive. 160 photos, 10 line drawings, 160 pages. NEW condition hardback. $30
Order Form
Blair, Clay Jr.
HITLER'S U-BOAT WAR-Volume Two: The Hunted, 1942-1945

Random 1998

Part two of the two-volume set which covers the period when the German Navy suffered its most devastating defeats. The author waited until the secret WWII code-breaking and U-Boat records were released to write the most thorough and truthful account of the Battle of the Atlantic. Describes in detail all major patrols and sorties, futile operations against the Americans, and the demoralizing losses that in effect destroyed their submarine service. 40+ photos, 13 tables, app., 909 pages. Out of Print since 1998. This is the scarce Volume Two of the set. We have a few copies left in stock in NEW condition hardback. $45
Order Form
Wynn, Kenneth
U-BOAT OPERATIONS OF THE SECOND WORLD WAR - Volume 1: Career Histories, U1 - U510 - Volume 2: Career Histories, U511 -UIT25

Caxton Editions 2003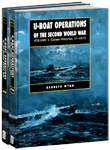 These two volumes cover the career histories of all the U-boats that saw action in World War II. Ten years of research from both primary and secondary sources has ensured both the accuracy and remarkable detail of the material. Some 1,200 vessels are covered. A source for every aspect of a boat's activities, from the laying of the keel to her ultimate fate. All sailings by U boats are separately listed and numbered. Each entry gives locations and dates of units a boat served, with her commanders, the number of patrols undertaken, ships sunk along with names of vessels and locations, incidents of note, refueling by U-tankers and supply ships, attacks onshipping, survivors picked up, and finally, the ultimate fate. Extensive appendixes allow easy cross-referencing and contain the Uboat groups from 1940-1945, the Allied warships sunk, the merchant ships sunk, warships, merchant ships, and Allied air force units mentioned in the text as well as Deutches Feldpost numbers. This comprehensive work will allow the reader to know where any U boat was at any time during the war and in what activities it was engaged. A definitive reference for all those interested in World War II naval operations and an important reference for anyone with a special interest in U-boat operations. Large 8 1/2 x 12 format, maps, app., Vol 1, 362 pages; Vol. 2, 312 pages. Out of Print since 2003. The 2 volume hardback set in NEW condition. $85
Order Form
Your one stop professional source for all types of Submarine Merchandise. Submarine Shop is run for Submariners ... by Submariners. Authorized dealer for official United States Submarine Veterans logo merchandise Submarine Shop is - 100% satisfaction guaranteed! Whether you're on active Silent Service duty, a Submarine Veteran, or a Submarine enthusiast ... Submarine Shop has everything you need!