TORPEDO JUNCTION - Links to Submarine and U-Boat Museums, Veteran Organizations, News, and Historical Resources.
TheSubReport.Com Visit the ONLY website on the internet posting ALL the latest daily Worldwide Submarine News published by Eric Ryle.
USS Archerfish (SS-311) Capt. Joe Enright and crew sent the Japanese Super - Aircraft Carrier Shinano to the bottom in World War Two with one salvo of torpedoes! Here is the entire history of this Balao Class U.S. Submarine from WW II ... until her decommisioning.
USS Batfish (SS-310) Museum Known as the "Champion Submarine Killer Submarine of World War Two" USS Batfish sank three Japanese submarines in three days! Visit the USS Batfish War Memorial Park Museum in Muskogee, Oklahoma.
USS Bluegill (SS-242) USS Bluegill made six war patrols, sank or damaged 17 ships for 63,059 tons, captured an island in the South China Sea, survived 369 depth charges, and earned two Navy Unit Commendations. History of USS Bluegill hosted by Patrick St. Romain.
Visit USS Bluegill (SS-242) In 1971 the U.S.Navy scuttled USS Bluegill at a depth of 135 feet off of Lahaina, Maui for underwater rescue training. Here are underwater photos and the whole story as told by professional diver, Ed Robinson.
USS Bowfin (SS-287) Museum U.S.S. Bowfin was one of our most successful WWII submarines. In her nine war patrols she sank 34 Japanese ships. Go on-board and visit the USS Bowfin Submarine Museum on display at Pearl Harbor, Hawaii.
USS Cavalla (SS-244) Museum On her 1st WW2 patrol this Gato Class Submarine sank the 30,000 ton Japanese Aircraft Carrier Shokaku. The Cavalla is in Galveston, Texas and in dire need of repair and restoration. Visit the USS Cavalla Submarine Museum Website for restoration status, updates, and donation information.
USS Diodon (SS-349) History of USS Diodon hosted by James R. Santos.
USS Gunnel (SS-253) History of USS Gunnel hosted by Jim Lavelle.
FOUND - USS Lagarto (SS-371) Some 60 years after being reported lost in action USS Lagarto was located under 220 feet of saltwater in the Gulf of Thailand by a professional diver. The diver said the wreck "is perfectly upright and seems to be intact." Visit this website for underwater photos, location map and current information on USS Lagarto.
USS Sea Fox (SS-402) "Silent Service" to her Country spanning World War II, Korea, WestPac, Vietnam 1944-1970. Submarine organization for USS Sea Fox crewmembers.
USS Sealion (SS-315) The ONLY U.S. Fleet Submarine to sink a Japanese Battleship (IJN Kongo) during WW 2. Hosted by John Clear EMC (SS) USN Ret.
USS Spinax (SS-489) History of this U.S. Tench Class Submarine from WW II and her post war conversion to a SSR Radar Picket Submarine until her decommissioning with a comprehensive section of ships memorabilia. Hosted by Robert Larsen.
FleetSubmarine.Com Your source on World War II U.S. Fleet Submarines.
Guppy Submarines Tribute to the U.S. Navy Guppy Submarine Force
WW11 US SubVets Memorial to Lost Boats and Crewmen on Eternal Patrol.
On Eternal Patrol Dedicated to all the men lost while serving in the U.S. Submarine Force during the Second World War.

Smithsonian Institution National Museum of American History. "Fast Attacks and Boomers - Submarines in the Cold War" website.

The U.S. Submarine War in the Pacific against Japan 1941 - 1945
Naval Historical Center Official Dept. of the U.S. Navy History website.
Ron Martini's - Submarine World Network The WORLD'S Largest Submarine Directory with over 1000 links and growing all the time. Since 1995, the Internet's major resource for Sub-Vet communication, organizations, reunion information, historical submarine museums.

German U-Boats and Submarine Services of the World.
USS Guadalcanal CVE 60 - The Capture of U-505 In the middle of May 1944, U. S. Navy task group 22.3, known as a U Boat "hunter-killer" group, sailed from Norfolk, Virginia to search for U boats. This group, commanded by Capt. Daniel Gallery on the aircraft carrier USS Guadalcanal, just weeks later boarded and captured the German Type IXC submarine U505 off the coast of Africa. This historic act represented the first foreign warship so captured by the U.S. Navy since 1815. Visit the U 505 Museum and take a virtual tour of the interior compartments of this famous Type IXC U boat.
Explore U-869 Sunken WW 11 U-boat off the coast of New Jersey.
U-995 Museum A Type VIIC/41 U-boat Museum in Kiel, Germany. Take a virtual tour of the interior compartments of this World War Two German U-Boot. Note: This site is in German.
U-2540 Museum A Type XXI U-boat at the Deutsche Schiffahrtsmuseum in Bremerhaven, Germany. Take a virtual tour of this WW II U Boot. Note: This site is in German.
Uboat Aces Provides an in-depth history of the Battle of the Atlantic and other Naval Battles; along with U boat history, photos, technical information, and U-boot tactics.
WWI Trenches On The Web Features information and actual combat photos of one of von Arnauld de la Periere's patrols in U-35 during World War One.
Visit Sharkhunters The World's ONLY Multi-National Submarine History Organization with over 6000 members in 70 countries worldwide.

The Illustrated WWII German U boat Force.
Sunken Submarines of WW2 A comprehensive listing of locations, underwater photos, and information on 162 British, Australian, German, French, Italian Submarine and U boat sunken wreck sites covering the Mediterranean Sea countries of: Spain, France, Corsica, Italy, Tyrrhenian Coasts and Islands, Sardinia, Sicily, Puglia, Adriatic Coasts, Malta, Croatia, Serbia - Montenegro, Greece, Turkey, Lebanon, Israel, Egypt, Libya, Tunisia, Algeria, and Morocco.
CombinedFleet.Com Submarines of the Imperial Japanese Navy
FOUND - Japanese Pearl Harbor Attack Midget Submarine See underwater video of this historic submarine wreck . On Dec. 7, 1941 the destroyer USS Ward reported a midget submarine was shot through the conning tower and then depth charged while trying to enter Pearl Harbor behind a cargo ship. After years of controversy the USS Ward is now vindicated. This midget sub has been described" as the most significant modern marine archeological find ever in the Pacific, second only to the finding of the Titanic in the Atlantic."

Tony Matteliano's The Largest Scale Model Index in the World.
The SubCommittee A publication for state-of-the-art Submarine Models, Design and History. This is a very informative high-quality magazine for anyone interested in a source for professional detailed knowledge on Model Submarines.
Submarine Art Tom Denton's outstanding watercolor prints of Trident Submarines, Fast Attacks, WWII U.S. Diesel Fleet Submarines, and 41 For Freedom SSBNs.

Military Antiques and Museum California's largest Militaria Store and Museum with 6000 sq. feet of Military Antiques and Collectables from all services and eras.
Panzer Museum Governmental Documents of the Third Reich.
WAR ROOM Book Store 3rd Reich, German, Political, and Military books.
TORPEDO JUNCTION Submarine Books Since 1994 the WORLD'S Largest BookStore Specializing in new, used, rare, autographed, and out-of-print Submarine and U-boat Books and Memorabilia. From the earliest stages of Submarine development to the highly sophisticated Submarines of the world today.
U.S. Navy
THE FLEET TYPE SUBMARINE - NavPers 16160 Manual

Restricted June 1946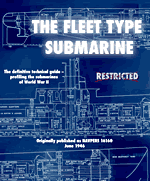 This is the newly published reproduction facsimile copy of the official "Restricted Training Manual" originally produced by the U.S. Navy in 1946 and covers all the operational infromation for the Gato, Balao and Tench Class US Fleet Submarines. Declassified some years back, original copies can sell for as much as $600, presuming you can find one. Although some of the book has been reformatted, and the color fold out images have been reduced to fit on a normal page and reproduced in black and white, all of the original content is preserved. Large 8.5" x 11" soft cover pictorial format, photos and illustrations, comprehensive technical system schematics, plans, charts, tables, 28 detailed technical hull and superstructure cross sections, cutaways, diagrams and drawings, 224 pages. NEW condition. $25
Order Form
Your one stop professional source for all types of Submarine Merchandise. Submarine Shop is run for Submariners ... by Submariners. Authorized dealer for official United States Submarine Veterans logo merchandise Submarine Shop is - 100% satisfaction guaranteed! Whether you're on active Silent Service duty, a Submarine Veteran, or a Submarine enthusiast ... Submarine Shop has everything you need!