Lou's Commute Details
The Bike: Trek 520 Touring Bike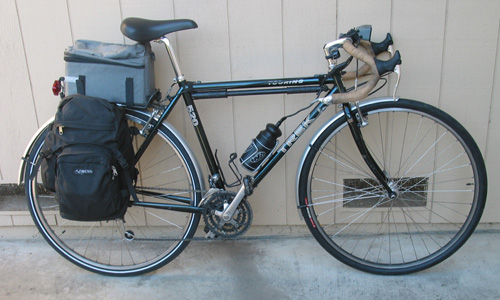 I've settled on a touring bike as the best compromise for a commute bike. The heavy duty touring frame is solid enough to put up with the day in day out wear and tear of riding on bumpy city streets. Although this isn't the newest and fanciest bike I have, it is still a very good bike with solid and very serviceable parts. An everyday commute bike needs to be reliable if you are going to depend on it to get to work and elsewhere.
The bike has a 7 speed freehub, which was what was available when it was new. This leaves me plenty of gears to climb the 13 percent grade on the 400 foot climb on my daily commute. The bar end shifters are more reliable than the STI levers. The tires and rims are wider and somewhat heavier duty than a racing bike, without being as heavy as a mountain bike. The tires are wide enough to deal with some gravel or dirt if needed. The rims are Mavic Mod 3 Argents with 36 spokes. The Shimano Deore hubs have loose ball bearings and can easily be repacked if they get wet, although that generally isn't needed any more than once a year. They can handle rainy weather with no problems.
Fenders go a long way keeping wet and grit off both the bike and the rider. I have a good set of Burley rain gear that includes a rain jacket, rain pants and booties to cover my shoes. This gear is good enough to keep me almost completely dry on my relatively short commute. I carry this in a small waist pack that I take on days when the forecast includes the possiblity of rain.
I use one removable pannier to carry work clothing, lunch and anything else I need to carry to work. The small pack on top stays with the bike and holds things like the bike lock, wind breaker, tire patch kit, allen wrench, spare tubes and a mini dust pan and broom for cleaning up glass on the bike path in my daily commute. The head and tail light both run off the same rechargeable battery, that I generally recharge after each use. This helps assure I have the full battery run time available when I need it. I have a bell on the bike that I use on one bike path on my commute. Pedestrians often don't appreciate or even understand if you just yell at them, so the bell is a more polite way to get their attention without startling them.
I have Shimano SPD mountain bike pedals, which are double sided and easy to get into and out of at stop lights. The shoes are also walkable, which is nice for getting to the locker room once I arrive at work, and they are even good enough to use at work if needed.
The Route
My commute is 4.5 mile route from my NW Santa Rosa house to a business park on the north side of Santa Rosa. I can find my way through neighborhoods for the first several miles, but must follow busier streets to get across the US101 freeway and climb the final hill. It takes me about 25 minutes to get to work and less than 20 to get home with the big downhill at the start.
email: lsalz@sonic.net with any questions.