About Amazon Productions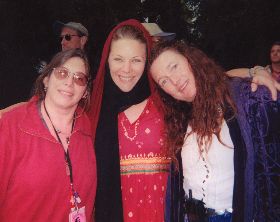 Amazon Productions is a group of Amazons and free men, founded in 1992, dedicated to inspiring community and global evolution through transformational performance and multicultural networking. We are a loosely-knit group, primarily women, who originally joined together to constructively combat social problems that we felt overwhelmed by.
Our first benefit show was held at the San Rafael Community Center and made more than $2000 for the homeless, as well as providing food, blankets and warm clothes for the impending winter months. Our next benefit organized high school students from all over Marin County to participate in a drive to again donate food, blankets and warm clothes to the homeless. This benefit gave these kids a chance to make a difference in their own community, which we hope helped empower them to actively take part in their communities as they grew up and moved into our greater society.
Our other cause is to provide treatment for child sexual abuse in Marin County. Parents United, a county treatment program, is so understaffed and underfunded that children have to wait six months or more before they receive counseling. Many of our volunteers and staff members were victims of sexual abuse and found that working on benefits helped them heal the past while giving something back to the community.
The May Day Festival grew out of this concern, and was run as a benefit for its first two years. Unfortunately it was not a money-maker, and we decided to change the nature of the event by simply producing it as a free community festival. The May Day Festival is our gift to Marin County. It provides an environment for children and adults to join together to create a harmonious family event and a sweet memory for all involved.
Please join us this year for the 2002 May Day Festival, as a volunteer, sponsor, donor, or vendor. Volunteer positions are filled as May Day planning progresses, and range from committee head positions to day-of-event donation fairies! If you would like to help underwrite this event, please see our sponsorships and donations page for a complete listing of our budget needs and sponsorship benefits.
--Kym Trippsmith, Executive Director, Amazon Productions