Pigpen's Adventures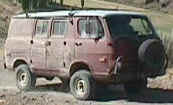 Howdy, my name is Pigpen.
I am a 1968 Chevy, four wheel drive, van.
About 15 years ago my current owner "Marty" purchased me and converted me to 4 wheel drive. Since then we have had many exciting adventures together.
We have traveled in every western state and Canadian Provinces from the eastern slope of the Rocky Mountains to the West Coast and from the tip of Baja California to above the Arctic Circle and back. To read about some of our adventures click on the Pigpen icons below
---
Pigpen at the Tropic of Cancer Pigpen at the Arctic Circl
Januarry, 1989 July 27, 2002
---
Here are stories and pictures from some of our adventures.

2004 Arizona Trip

2003 Alaska trip with pictures

2002 Alaska trip log (No Pictures)

Pictures of Pigpen

Pigpens interior

Pigpens Conversion to Fourwheelism

292 engine conversion



Winter travel in the desert.

Baja California trip

2001 Rocky Mountain trip.

Pictures of Pigpen II

Here is a movie of PP2 and me (with a new paint job and before the brush guard and tire were mounted on the front) climbing out of the Brunau River Canyon at Indian Hot Springs in Idaho.
Our owners were a little apprehensive but PP2 and I new we could do it "no sweat".
---
Back to the Buckskinners lodge