ABOUT ADVENTURE VELO (aka Bill Oetinger)

The first thing to know about Adventure Velo is that it is not a big touring company.
In fact, Adventure Velo is mostly me: Bill Oetinger..a one-man band.

I will be the first to acknowledge that I have had a great deal of help in the creation of these tours..from many other cyclists who have advised me about routes or who have taught me most of what I know about staging tours, and so on. And most especially, I have had help from my wife Kathy, who has been everywhere and done everything to assist me in the preparation of these tours.

However, ultimately, I'm the one who puts the tour packets together: lays out the routes, creates the maps, writes the copy, etc.That being the case, you may want to know why I think I'm qualified to guide you on a bicycle tour. I'm not really comfortable tooting my own horn like this, but you have a right to know where this guy is coming from when he sets up shop as a tour guide. So, in the interest of truth in packaging, here is a brief bio on Bill..
.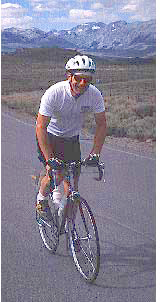 Bill Oetinger
Born: Portland, Oregon, 1947
Home: Sebastopol, California
Occupation: free-lance graphic artist and illustrator
(and writer)
Ride Director and newsletter Editor, Santa Rosa Cycling Club, Sonoma County, California
Director, Terrible Two Double Century, Santa Rosa, California
Board of Directors, California Triple Crown cycling series

• My qualifications as a cyclist:

I've ridden bikes all my life and have been cycling "seriously" for most of the past two decades. I currently ride about 7000 miles a year. I'm not a racer. The only vaguely competitive riding I do is centuries and double-centuries, and in these events, I'm mostly competing against myself..trying to do the best I can and see where that leads me. In spite of having completed many doubles–including some of the toughest ones out there–I can still recall the challenge and thrill of completing my first 50-mile ride.

My experience in long, hard rides has given me an understanding of what strong, fit riders are looking for in a tour. At the same time, my many years as an "average" rider have given me great empathy for those who still find that first 50-miler a huge undertaking.

My favorite kind of riding is touring with my friends..exploring new roads in beautiful places..taking a frisky flier at a hill, or chasing another rider down a twisty descent.

• My qualifications as a cycling tour guide:

As Ride Director for The Santa Rosa Cycling Club for most of the 90's, I have planned, coordinated, and led hundreds–perhaps thousands–of rides, from short jaunts for beginners to race-pace scorchers and ultra-marathon epics. As a result, I've gained a clear understanding of all the factors that go into making a ride a success.

For the past several years, I have also been organizing and leading the club's multi-day, cycle-tour vacations. I've had great advice and assistance in this endeavor from fellow members, in particular some who had led similar tours in other clubs. I've learned from their experience and have refined the formula into a very successful and popular package that keeps riders coming back, year after year. It was the many compliments and thanks from happy tour participants that first led me to consider the possibility of assembling these tours into packages available to a wider audience.

"We absolutely could not have done this trip without you....could never in a million years have found those roads....and we both feel it was the most exhilarating and gorgeous trip we've ever taken." – Robyn Landis, Vashon, WA

"I really enjoyed the cycling on this trip. I actually think it was better than the cycling we did in France." – Sharon Folkes, Victoria, BC

As Director of the Terrible Two double century, I have been instrumental in helping the event grow from a local cult-classic into one of the premier doubles in California..in fact, one of the most prestigious one-day cycling events in the United States. The event is held in high regard both for its level of difficulty and for the superb level of support we provide.

"The best ride in the U.S. and getting better every year!" – Chris Richards, Pleasant Hill, CA

"Thanks for an absolutely unforgettable ride. An experience I will be proud of all my life. The support was superb..I never felt that I was alone." – Paul Kopit, La Crescenta, CA

"..a great ride and great experience. You did a first class job throughout, and I have raved about the Two to my other cycling friends.." – Michael Ogul, Berkeley, CA

My directorship of the Terrible Two has been immensely helpful in teaching me how to support a ride. It has also brought me into contact with a large network of other cyclists from throughout California and the west. I have used these contacts to broaden my knowledge of great cycling locales in other parts of the state. (There is no substitute for local knowledge in finding great backroads for touring, and there is no better source for local knowledge than long-distance riders who train constantly on their local roads.)

I have lived, traveled, and cycled all over California and have extensive personal knowledge of most of the hidden corners of this state (knowledge now supplemented and refined by cyber-chats within my extended family of cycling pals). I have an insatiable curiosity about the world around me, and I love poring over maps and puzzling out their mysteries. I'm constantly traveling down the little roads I find on the maps–either by bike or car–just to see where they go. Finally, I have a fly-paper brain for acquiring and remembering encyclopedic quantities of little details about these roads and the treasures that I discover along them.

• My qualifications as a writer:

I was raised in a family–and educated in schools–where writing well was highly esteemed. I was Editor of my high school newspaper, and during the same period held a part-time job as a reporter for a local newspaper. I was a Journalism major at the University of Oregon, with a minor in Creative Writing.

In spite of this education, I became neither a journalist nor a writer. Instead, I pursued a career as a commercial artist, and this has been my primary occupation for most of my adult life.

Several years ago, I had an opportunity to dust off my writing skills when I became Editor of the newsletter of the Santa Rosa Cycling Club. Being the volunteer Editor of a bicycle club's monthly newsletter isn't quite in the same league with being E. B. White at the New Yorker. However, I believe I've done a good job of turning this modest publication into an entertaining, informative window on cycling in the North Bay. Many club members have told me that it was coming across the newsletter and enjoying my writing that first attracted them to the club.

Since my writing has achieved some minor, regional notoriety, I have been asked to write pieces for other cycling publications. My work has appeared in California Bicyclist, Bicycle Guide, and Cycle California!, as well as in the Santa Rosa Press-Democrat and other local publications.

The newsletter and associated articles are now available on our club website: www.srcc.com.

For several years I have been writing a monthly column called On the Road at BikeCal.com, a website focused on cycling in Northern Califonia. Topics for the columns range across the full spectrum of bikes and biking, from touring to racing; from wrenching to advocacy. All of the columns are collected at the site in an archive entitled Past Columns, and I encourage you to visit the site and browse through my back pages.

Put together my experience as a writer, my years of planning and leading bike tours, and my knowledge of California's backroads–enhanced by my network of connections within the cycling community–and it adds up to a package of skills and knowledge uniquely suited to this task. In addition, my graphics skills have been put to good use in creating high quality, detailed maps and simple, useful elevation profiles.