REQUIEM
FOR ORPHEUS
An Elegy in Honor of
Jaco Pastorius' Fourty-Fifth Birthday
a poem by Adam Ward Seligman
REQUIEM FOR ORPHEUS

a poem by Adam Ward Seligman
afterword by Peter Erskine

30 pages, illustrated, photographs, soft cover

ECHOLALIA PRESS 1996

Price $7.50
Distributed on the World Wide Web by Echolalia Press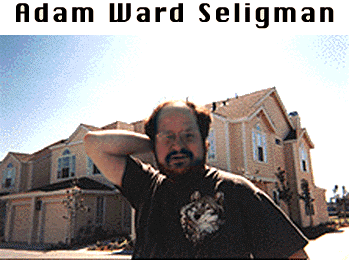 REQUIEM FOR ORPHEUS: A three part poetic elegy for the late electric bass player Jaco Pastorius will be released by Echolalia Press Jazz on December 1, 1996, which would have been the musicians 45th birthday. Pastorius was murdered nine years ago during a prolonged bout with Manic Depressive Disorder. Writer Adam Ward Seligman has covered jazz for many leading music publications and written a volume of poetry, but 'Requiem For Orpheus' is his first 'jazz poem.'

Peter Erskine, who won a Grammy Award along with Pastorius for the Weather Report album '8:30' provides an afterword that reflects on Jaco's life and music. Erskine produced the recent posthumous album, "The Birthday Concert" (Warner Brothers) originally recorded in 1981 on Jaco's 30th birthday. The poem features a section based on that recording.

Seligman is the author of the critically acclaimed novel 'Echolalia' (Hope Press 1991) and co-edited the Tourette Syndrome anthology "Don't Think About Monkeys." His most recent book is a collaboration with his wife of love poetry and essays: The Marriage Vow (Echolalia Press 1996). Seligman recently celebrated his twelfth year writing for Modern Drummer Magazine, and has written for Jazziz, downbeat, Keyboard, Music Technology and many other instrument and jazz publications






WHAT THE CRITICS SAY ABOUT
REQUIEM FOR ORPHEUS


"In "Requiem for Orpheus," a three-part elegy honoring the late jazz bassist Jaco Pastorius, poet Adam Ward Seligman fuses classical myth, modern legend and the modalities of human grief to mourn the "Song of the World" the Fates tore from us when they tore Jaco's life from him outside a Florida bar nine years ago. In drawing parallels between Pastorius and Orpheus, Seligman elevates legend to myth. The final section, Seligman's recounting of personal tragedies and the German pogrom against the Jews, uses the particularity of experience to underscore the universality of legend and myth as his lament transcends the music of grief to triumph on a resounding trumpet note."

---Vernon Frazer
Poet, Bass Player
SONG OF BAOBAB Recording