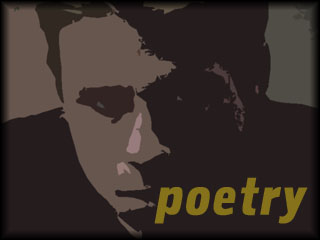 &nbsp &nbsp &nbsp &nbsp &nbsp I got into poetry a while back, after I took a Creative Writing class, and went to a couple of Poetry Slams in my town. The enjoyment I had in the class, and the success I had at the Slams encouraged me to continue working with poetry, and I'm certainly glad I did.
&nbsp &nbsp &nbsp &nbsp &nbsp For me, writing poetry has become an outlet. Because of that fact, a lot of my poetry is depressing. I'm generally not an unhappy person, but when I'm happy, I'm not going to sit around and write about it: I'm going to go out and be happy. But when I'm sad, I'm going to pull away and be by myself. That's commonly when I feel like writing poetry. I used to vent emotions by writing songs, but writing poetry was quicker, and the band I was in didn't get together a whole lot at the time.
&nbsp &nbsp &nbsp &nbsp &nbsp You can see how my poetry progresses, and I definitely got better as time went on. I've separated the poetry that I've written into different phases, to make things easier to navigate. If you actually intend to read everything, start at the first or second phase. If you just want to get a taste for my poetry, try reading something in one of the later phases.
| First Phase: Experiment | Second Phase: State of Being | Third Phase: Unexpected Depth |
| --- | --- | --- |
| This phase was mostly just me experimenting with poetry, and almost all of the content is from assignments from my Creative Writing class. | This phase was like a slice of my life at the time, from all the aspects that often go unexplored. Islands and oases in the midst of a sea of concerns. | The largest phase to date. It's an even wider version of State of Being, with issues ranging from incredibly deep to just plain silly. This phase is far from one track, and describes the inner me the best, I think. |
| Fourth Phase: Lacerations | Fifth Phase: Aftermath | Sixth Phase: Rebirth |
| This phase, however, is not widely ranged, but a collection of emotions that all stem from the same on-going incident. This is an incredibly depressing section, because there was nothing happy about the incident itself. | The post-depression phase. A lot of reflection, and moving on. Personal growth as well, but not always what I had hoped for. It was a shaky time, and easy to fall back into temporary depression. Even though I kept slipping and falling back down, I kept going. | Getting on with being a person and discovering new things . . . it's like refinding yourself, or making yourself into a totally new person. You still may look the same, but you don't think the same way as you did before. |
| Seventh Phase: Asunder | Eighth Phase: Indeterminate | Ninth Phase: One Step At A Time |
| The most painful, guilt-inducing experience that I had ever exerienced occurred on 6/19/02, and day that I had actually been looking forward to beforehand. That day will not only leave scars on me, but on those that I love, and all the families involved. | What do you do when you try to move on, but your life won't let you? Some parts of personal growth you are shoved into, and some never seem to come, no matter how badly you want them to. | Walking forward, being harassed from all sides, but still going on. Accepting that that's just the way it is, and doing the best I can with what I have now. |