| | |
| --- | --- |
| | ABOUT OUR MUSIC |
---

Home · About Us · Recordings · Order Form · Public Events · Private Events · Repertoire ·
Audio Samples · Video Samples · Small RSJO Ensembles · Party Services · Photo Galleries
---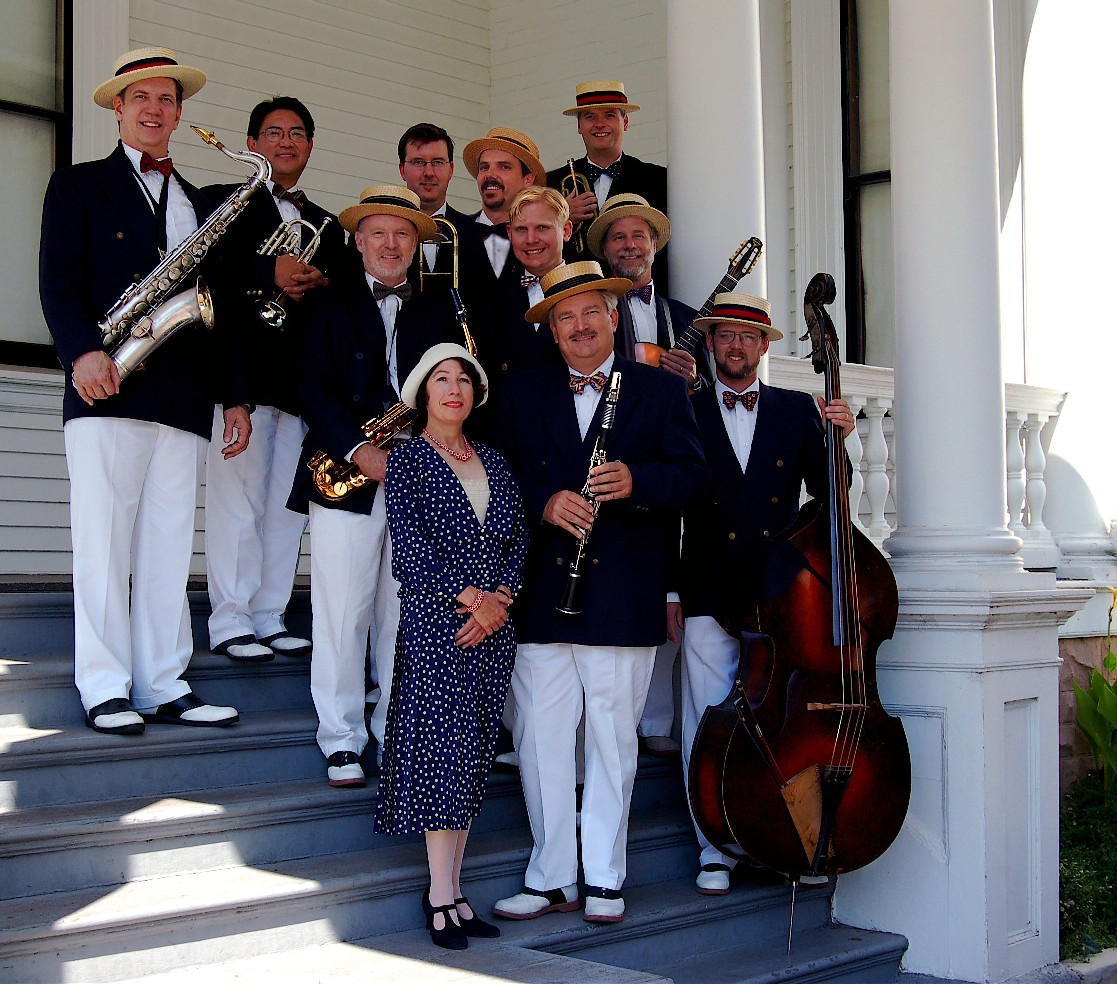 Drawing inspiration from the great bands, performers and composers of the 1920s and 1930s- often called the "Jazz Age," and "Swing Era," Don Neely and the Royal Society Jazz Orchestra affectionately and authentically recapture the excitement and fascination of that musical heyday. Guided by their affinity for the superb music of innovators such as Fletcher Henderson, Paul Whiteman, Louis Armstrong, Bix Biederbecke, Benny Goodman, Duke Ellington and songwriters like Harry Warren, Fats Waller, George Gershwin, Hoagy Carmichael, Johnny Mercer, Harold Arlen, and Walter Donaldson, the Royal Society Jazz Orchestra has captivated audiences all across the country.

The eleven-member RSJO present the colorful songs made famous by such greats as Bing Crosby, Cab Calloway, Ruth Etting, Eddie Cantor, Billie Holiday, Helen Ward, Dick Powell, Ethel Waters, Fred Astaire, Maurice Chevalier, the Boswell Sisters, Ella Fitzgerald and Al Jolson. And what songs! Avalon, Wrap Your Troubles In Dreams, Three Little Words, Truckin,' The Music Goes 'Round and 'Round, Walkin' My Baby Back Home, Moten Swing, Hello Beautiful, and Shakin' The Blues Away. Don Neely draws from several sources, including the best of Silver Screen and Broadway classics such as the Gold Diggers Of 1933, Top Hat, Shall We Dance, Cotton Club Parade, Anything Goes, Footlight Parade, Babes In Arms, The Wizard Of Oz, 42nd Street and The Blue Angel.

One of the many things that set this eleven-member ensemble apart is their genuine understanding of the music they perform. By going back and carefully studying the original musical ideas of the period, they have been able to achieve their remarkably authentic sound. The band's entertaining and talented soloists are creatively spotlighted in their exciting and varied show, providing many delightful surprises. And the RSJO plays it all-from the intricately-faceted, Syncopated Jazz of the 1920s to the ultra-sleek, Big Band Swing of the 1930s and 1940s.

When the saxophones and brass sound their first rousing phrases, the audience will know they are in for a rare experience. Projecting the original and exhilarating spirit of the music, they deliver each song, from high-flying barn burners, bitter sweet love ballads and earthy blues to whimsical novelties, in a fresh and dynamic style all their own. With propulsive rhythms and inventive harmonies, their sound captures audiences in its spell and tranports them to the "Jazz Age," setting their minds and feet to dancing. A journey with the RSJO covers a grand panorama of classic American music, from red-hot, Harlem nightclub revues and saucy Vaudeville shows to the Broadway extravaganzas of Florenz Ziegfeld and celluloid fantasies of Busby Berkeley. The artistically fertile time known as the "Art Deco" era, gave birth to some of the most stylish and intriguing music ever created. The RSJO presents a stirring array of selections drawn from this musical cornicopia-from the most celebrated and enduring songs to newly rediscovered gems. Experiencing a performance by the Royal Society Jazz Orchestra is a wonderful tonic, alive with fun, and guaranteed to lift the spirits.

The Royal Society Jazz Orchestra became a smash sensation in San Francisco, gathering a large following of enthusiastic fans. Their concerts and other performances have taken them all across the country and abroad and include engagements at Paramount Theatres in California, Illinois and Texas, Edinburgh Festival, Edinburgh, Scotland, San Francisco Symphony Pops Concert, Toronto Jazz Festival, Connecticut Jazz Festival, Sacramento Jazz Festival, St. Louis Jazz Festival, Monterey Jazz Festival, Great American Music Hall in San Francisco, and the San Diego Jazz Festival. The orchestra starred in an hour-long PBS television special, a first-rate production recreating an authentic 1930s-style night club. The RSJO is a prolific recording ensemble with several highly-acclaimed compact discs to their credit. In addition to concert appearances, they have enjoyed long-running engagements at several famous places including Turk Murphy's Earthquake McGoon's, The Peacock Court at the Hotel Mark Hopkins on Nob Hill, the Claremont Hotel in Berkeley and the San Francisco Press Club. They have played for several San Francisco Black and White Balls, opening night galas for the San Francisco Symphony, Opera, and Ballet, international cruises and scores of high profile San Francisco social events. In 1995, the orchestra was voted #1 Favorite Big Band in the Jazzology Poll and in 2000, was voted most popular Big Band in the American Rag music poll. The RSJO's popularity and authenticity inspire many large-scale Art Deco-era-themed events in the San Francisco Bay Area and beyond.
Critic' s Comments
"There is no better group in the land that specializes in Depression-era sounds-right down the line the Royal Society is solid, tight, brilliant...It is at once a first-rate dance orchestra, a fine jazz ensemble (with strong soloists)...Carla Normand is the band' s perfect singer (with her Depression-era inflections)...a bright, sure-pitched gem of a voice."
- Phillip Elwood, San Francisco Examiner, Music Critic

"Royal Society is a class act in every way...Among the high spots, Frederick Hodges continues to knock me out with his dead-center replications of the technically demanding novelty-rag-infused white pop piano licks of the twenties. Multi-instrumentalist Neely is not only a strong soloist but also an engaging vocalist, evoking various period male singers from Ted Lewis, Rudy Vallee on up...Carla Normand' s complete grasp of the idiom and just right pipes are impressive as always...she is the very model of a 1930s dance-band thrush, possessing impeccable diction, accurate pitch and a voice that has just the right blend of warmth and cutting edge...Carla is always a pleasure to hear"
- Tex Wyndham, American Rag

"lovingly and precisely recaptures the sound of the ' 20s and ' 30s and in a irrepressible, irresistible style...Neely deserves a national medal...for preserving this music with such affection and accuracy...the whole idea soars when Normand steps to the mike and, in her lithe ...voice, sings "Get Out and Get Under The Moon" (which is so Ettingish it' s spooky) "
- Gerald Nachman, San Francisco Chronicle

"the R.S.J.O. has matured and developed a tough, elegant art moderne surface to their work-they sound remarkably like a big-league hot dance band of the 1930s...Neely is excellent at reconstructing reed styles of the day, especially on clarinet and alto...the craftmanship here is excellent, and the music is consistently interesting, imaginative and varied. Don Neely has organized a highly entertaining show...Carla Normand...has clearly listened to the great song spinners of the ' 20s and ' 30s, Lee Wiley, Mildred Bailey, Billie Holiday, et al.-and absorbed their intuitive approaches to phrasing and intonation. Only a handful of stylists survived the test of time, and she has paid close attention to their work, continuing the tradition respectfully but with fire and personal elegance...She sings with confidence and elan and projects a solid feeling of mastery over the songs."
- William J. Schafer, Mississippi Rag, Jazz Critic

"perfect in capturing the full essence of the past...the band plays with an effervescence...Neely' s group really has the sound down pat...Carla Normand' s voice is akin to singers of that period-Leah Ray, Helen Rowland and Annette Hanshaw as examples. Normand is really the find."
- Rapport, Contemporary guide to Books Art & Entertainment, Los Angeles

"Capturing the feeling, phrasing and intonation of bands that recorded over fifty years ago is not easy, as is proven constantly by contemporary ensemble that try. But the R.S.J.O. is more successful and versatile...placing its primary emphasis on the spirit of the originals, not on slavish, note-for-note accuracy."
- John S. Wilson

"Carla Normand has a warm, rich voice and sings in a boldly confident style...She has a penchant for songs of the twenties and thirties, all of which she delivers with awareness of the lyrics and the nuances of the composer' s craft."
- Jazz Journal International, Great Britain

"Excellent...Splendid...First Rate...Fine...Wondrous"
- Herb Caen, San Francisco Chronicle

"It would be difficult to select a highlight from their program because each of the numbers was different and filled with zest. They seemed to have captured the best...of the big band era, keeping the audience interested in not only what was being played but in what they were doing as well."
- St. Louis Dispatch