Vintage 1920s Party Music Band San Francisco - Authentic 1920s Speakeasy Music San Francisco

1920s Flappers Music - Mardi Gras Music

- Great Gatsby Music San Francisco - Dixieland
1920s Flappers Music - Vintage 1930s -'40s Swing - Vintage Wedding Music - Dixieland Jazz San Francisco


1920s Wedding Music - Hot 1920s Jazz -

Western Swing
---

Home · About Us · Recordings · Public Events · Private Events · Repertoire
Audio Samples · Video Samples · Small RSJO Ensembles· RSJO Day In SF · Party Services
Photo Galleries
---
In addition to the eleven-piece Royal Society Jazz Orchestra, Don Neely also leads three superior small ensembles: the Royal Society Six, the Don Neely Quartet, and the Don Neely Trio. These groups are immensely popular at weddings, private parties, special events, jazz festivals, and public dances throughout the San Francisco Bay Area and beyond. Each of our ensembles perform light dinner music, cozy cocktail music, and hot dance music — for intimate soirees to big scale parties.
For Theme Parties — we have ensembles that fit the bill
Vintage Weddings - Speakeasies - Great Gastsby - 1920s Flapper - Elegant Vintage Balls -
Mardi Gras - Swing - Dixieland - Rat Pack - Big Band - 1930s Prohibition -
1930s Great Depression - Ragtime - Old Time Western - Masquerade Balls -
You can choose from our fun list of theme bands like Flappermania, Dixie DareDevils,
RatPack Gigolos, SwinginDingbats, Ragtime Radicals, and the Round-Up Boys .

Whatever size ensemble you require, all of our musical groups specialize in entertaining people with popular vintage Swing Standards, Old Time Jazz Classics, smart Broadway & Film melodies, and Latin favorites. From the trio to the sextet, we've got what it takes to add a sophisticated and jazzy touch to your party, with authentic vintage style.
What musical styles do you prefer? We will help you select the right music to make your party perfect.
From the eleven-piece Royal Society Jazz Orchestra to the Don Neely Trio, every ensemble provides the highest calibre music in the most fun and engaging style.
Visit our Audio Samples page to listen to samples of our trio, quartet, sextet, and eleven-piece dance orchestra.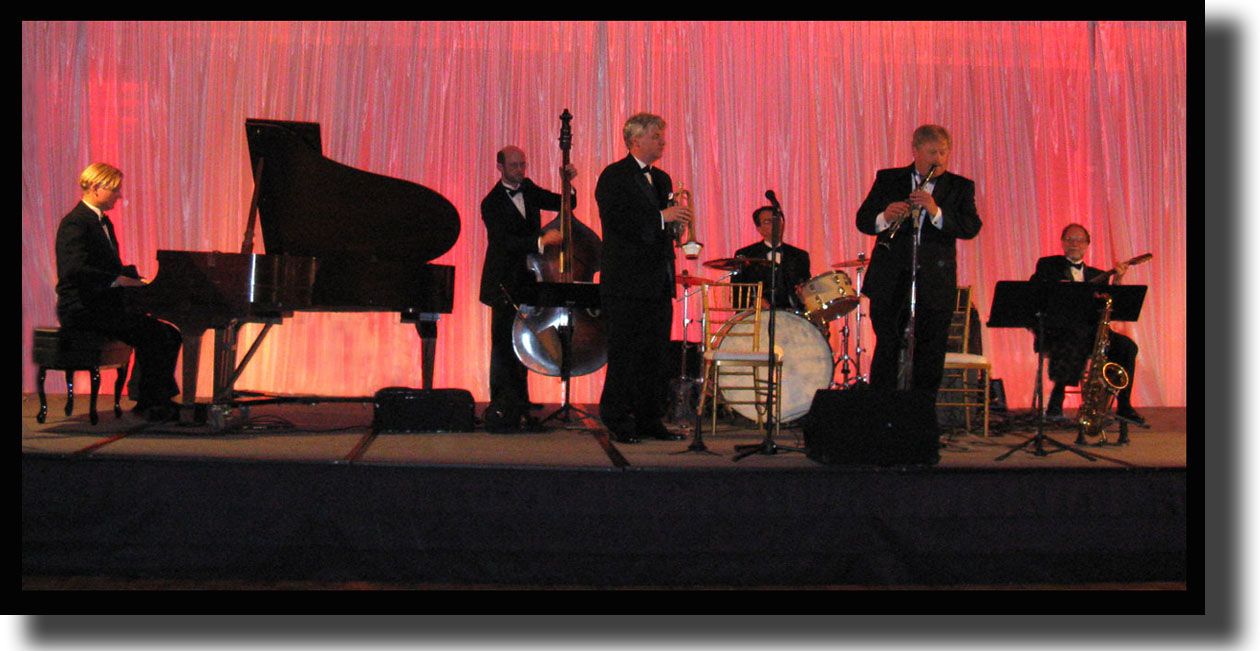 Vintage 1920s Party Music Band San Francisco - 1920s Speakeasy Music San Francisco

1920s Flappers Music - Mardi Gras Music

- Great Gatsby Music San Francisco - Dixieland
1920s Flappers Music - Vintage 1930s -'40s Swing - Vintage Wedding Music - Dixieland Jazz San Francisco


1920s Wedding Music - Hot 1920s Jazz -

Western Swing
---
Get the Latest Scoop!!!
---
Contact us via email or by phone
rsjo@sonic.net
Royal Society Jazz Orchestra
P.O. Box 750663
Petaluma, CA 94952
Telephone 707-765-2055